Back Doctor for Back Pain
According to the National Institute of Arthritis and Musculoskeletal and Skin Diseases, back pain is currently one of the most common medical issues in the U.S. Back pain can sometimes be acute and temporary, such as when you have a surface injury. In that case, you don't really have to see a back pain specialist because the pain will go away gradually even without treatment.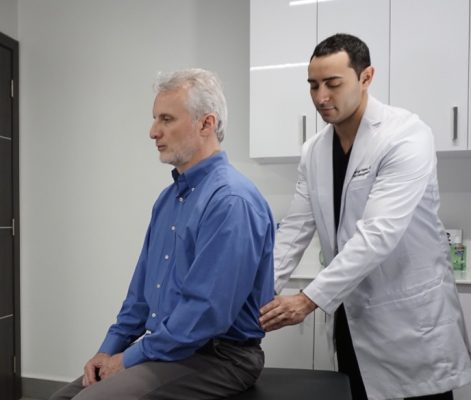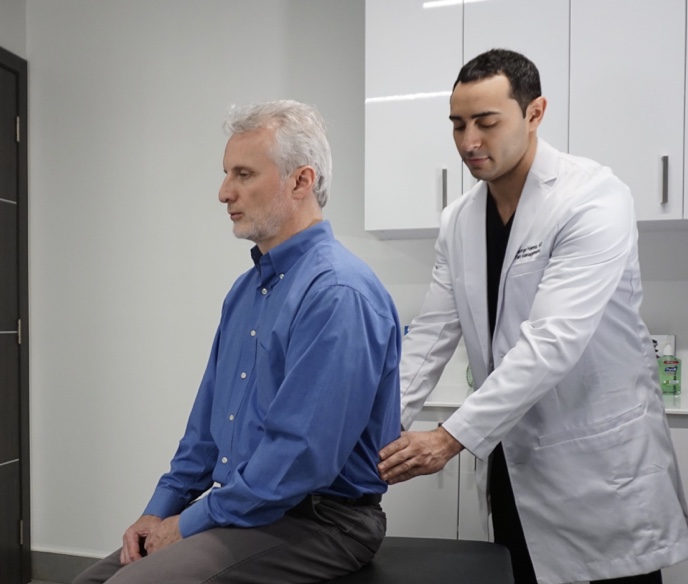 But if you experience prolonged back pain that intensifies over time or back pain accompanied by numbness and tingling, it's possible that you're suffering from chronic back pain. Furthermore, chronic back pain doesn't occur because of a surface injury but because of a deeper underlying issue. The number of back conditions that can cause chronic back pain are numerous. You may have chronic back pain because of a herniated lumbar disc, degenerative disc disease, facet joint dysfunction, spinal deformity, osteoarthritis, spinal stenosis, and so many other conditions.
The only way to truly and accurately treat chronic back pain is by diagnosing the root cause of your back pain and treating it. That's where a back doctor for back pain comes in. But all back pain doctors aren't alike. Different types of back pain doctors prescribe different types of treatments — so you need to know which type of back doctor for back pain you should visit for the best results.
In this article, we'll discuss the best type of chronic back pain doctor and who is the best back doctor for back pain.
The Best Type of Chronic Back Pain Doctor
There are a number of different types of chronic back pain doctors out there. The following are some of the different types of back doctors for back pain.
Primary Care Physician: In most cases, your treatment may start with a primary care physician such as a family practice doctor, internist, or obstetrician. While they can treat surface back pain issues, they can't treat chronic back pain issues.
Orthopedic Surgeons: They are back pain doctors who diagnose the root cause of your back pain and then treat it largely through surgical procedures. This isn't recommended because surgeries aren't necessary for back pain treatment — they are complex, invasive, and have a high risk of complications.
Therapists: There are a number of different types of therapists you can go to — physical therapists, occupational therapists, and clinical psychologists. Therapists generally specialize in rehabilitation for back pain or psychological help to deal with chronic back pain. They can either help you cope with the emotional stress of your back pain or help with rehabilitation — they can't treat the root cause of your back pain.
Chronic Pain Specialists: These back pain doctors don't really treat the back pain but rather prescribe medications and drugs to numb the pain temporarily. Using drugs to deal with back pain is extremely risky and not recommended. It doesn't treat the actual issue so your back pain returns as soon as the drugs wear off. This has the potential to become an addiction as well, as is the case for so many Americans struggling with opioid addiction.
Interventional Pain Specialists: They are back doctors for back pain who diagnose and treat the underlying root cause of your back pain. Once they've diagnosed the root cause of your back pain, they use minimally invasive procedures that are quick and completely safe.
Out of all of the different types of back pain doctors listed above, your best shot at proper treatment is by seeking an interventional pain specialist.
Who is the Best Pain Care Doctor?
VIP Medical Group has some of the best pain care doctors in the U.S. such as Dr. George Hanna, Dr. Namrata Khimani, and Dr. Michael Nguyen. They are all double or triple board-certified interventional pain specialists who have graduated from Ivy League Universities, mostly Harvard.
In addition to being highly qualified, they are also extremely friendly and patient — they take the time to listen to your concerns and address them so you're emotionally and physically comfortable during your back pain treatment.
Best Minimally Invasive Back Pain Treatments
The following are some of the best minimally invasive back pain treatments.
Epidural Steroid Injections: This is a simple procedure in which medicines are delivered to the epidural space of the back to relieve the inflammation caused by a disc herniation.
Facet Joint Injections: Also known as Facet Joint Nerve Blocks, this procedure is generally recommended for patients suffering from osteoarthritis and it includes the injection of an anesthetic fluid around the nerves of the small joints in the vertebrae.
Lumbar Radiofrequency Ablation: This procedure treats chronic lower back pain caused by facet joint osteoarthritis. During this procedure, heat energy is used to eliminate the nerves that are generating pain impulses, which can reduce pain for about one year.
Spinal Cord Stimulation: This is a procedure in which a device called spinal cord stimulator is used to modify the pain signals originating at the spinal cord. This prevents the pain signals from reaching your brain, which prevents you from experiencing pain.
Intrathecal Pump: During this procedure, a medicine is channeled into your spinal cord using a small pump that's surgically planted under your abdominal skin. This procedure, however, is used as a last resort because it's fairly uncomfortable and requires surgery.
Start Talking with your Doctor
Are you still looking for the best back doctor for back pain? Well, Pain Treatment Specialists has some of the best board-certified interventional chronic back pain specialists and they can treat your back pain issues immediately after a thorough diagnosis of the root cause of your problems. If you have any other questions, start talking with your doctor by scheduling an appointment!
Who is a Good Back Doctor for Back Pain? According to Pain Doctor
ultima modifica:
2019-06-29T00:33:17-04:00
da