Why Choose a Non-Invasive Knee Specialist in Central NJ?
Knee Specialists and Associates in Orthopedic Surgery Differ
Knee pain puts a real cramp in your life, limiting everything from exercise to simply standing up, depending on severity. If you're already struggling with limited knee mobility, the last thing you want is a surgery that limits it even further. But, the idea of taking pain medicine indefinitely is not appealing, particularly if your doctor prescribed narcotics.
Pain Treatment Specialists in Central New Jersey understands your plight. In fact, our Harvard-trained doctors started our practice to solve this critical problem. Our board certified knee pain doctors offer innovative solutions that eliminate the need for surgery and addictive medicine. Orthopedic surgery associates prescribe surgery that is often unnecessary and creates further complications. For quick pain relief without risky procedures, trust Pain Treatment Specialists.
Why a Non-Invasive Knee Specialist in Central NJ is Best
Several doctors in Central New Jersey prescribe pain medicine or recommend knee surgery without being certified in pain management. While these suggestions help them move quickly through appointments, they are not the quickest solution for you. In fact, both come with significant risks and side effects, including life-long pain or opioid dependence.
At Pain Treatment Specialists, we prevent such outcomes with minimally-invasive treatment plans. Each of our highly trained doctors holds multiple certifications in pain management, as well as branches of medicine like anesthesiology. Our doctors are highly sought after for their expertise on interventional pain remedies and they speak and teach around the world. Our Ivy League practitioners are privy to the most cutting-edge research and innovative technology to offer solutions other doctors simply can't. Trust the doctors at the forefront of pain medicine to prevent unwarranted surgery. Visit Pain Treatment Specialists near Essex Country Club today!
Is the Best Knee Doctor Near Me an Orthopedic Surgeon?
Orthopedic doctors and orthopedic surgeons are often mistaken as synonymous. "Orthopedic" refers to doctors who treat injuries and diseases of the musculoskeletal system- including bones, joints, ligaments, tendons, and nerves. While all orthopedic surgeons are orthopedic doctors, not all orthopedic doctors are surgeons.
If you've tried to relieve your knee pain without success, you might assume your next step is to schedule an appointment with an orthopedic surgeon. But, in actuality, a majority of knee joint conditions can be successfully treated without surgery.
If you book an appointment with an orthopedic surgeon, it's more likely you will be referred to surgery to support their surgeons on staff. But at Pain Treatment Specialists, we take a comprehensive medical history and conduct in-depth testing and imaging to prevent surgery whenever possible. Since knee pain stems from a variety of issues, we get to the root of the pain and find the most effective, least invasive resolution. We utilize X-ray, MRI scans, blood tests, and arthrocentesis as needed to identify the problem.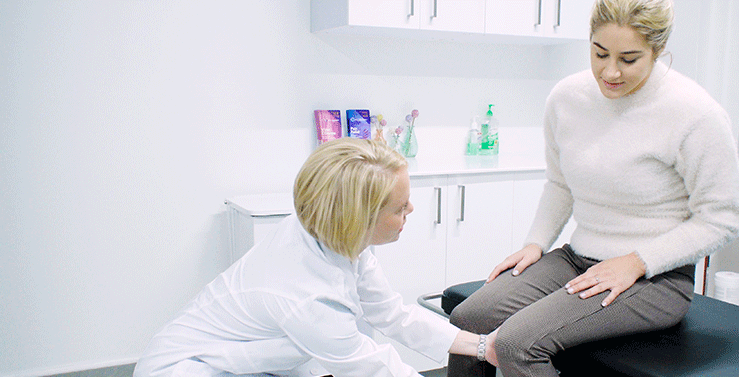 If you are searching for the "best doctors near me" to relieve knee pain, take note that many practices are prone to performing surgery without trying less invasive procedures. Only Pain Treatment Specialists of central NJ provides relief to get you back on your feet without downtime or costly surgery. Our award-winning physicians heal with gentleness, care, and compassion. 
How a Knee Specialist Heals Without Surgery
It's important to note that Pain Treatment Specialists of central New Jersey seeks to prevent surgery in all cases. But should you need surgical intervention, we can refer you to the best orthopedic surgeons. We do not advise against surgery when it is required. But, fortunately, many knee pain conditions have far less invasive remedies. Here are some ways our caring physicians treat knee discomfort quickly and painlessly.
Common Knee Pain Conditions:
Acute Injury 

Knee Osteoarthritis 

Patellofemoral Pаіn Syndrome/ Runner's Knee/ Jumper's Knee 

Pаtеllаr Tеndіnіtіѕ/ Pаtеllаr Tеndіnораthу 

Knee Bursitis 

Iliotibial Band Sуndrоmе (ITBS) 

Chondromalacia Patella
Non-Invasive Remedies at Pain Treatment Specialists:
Steroid Injection/ Cоrtісоѕtеrоіdѕ

Hyaluronic Acid Injection/ Viscosupplementation

Genicular Nerve Block

Genicular Nerve Radiofrequency Ablation

Physical Therapy

Non-Steroidal Anti-Inflammatory Medicine

Heat/ Ice Therapy
If you're looking for the best knee specialist in central New Jersey, take note of the doctor's specialties. If they're trained as a surgeon, it's less likely they will try less-invasive, innovative techniques. Each doctor at Pain Treatment Specialists is trained in pain management, making them experts at seeking the source of the pain and treating it accurately. 
Knee pain can originate in any of the bony structures of the kneecap, the knee joint, or the surrounding cartilage and ligaments. Causes include injury, disease, arthritis, wear and tear, or even acute conditions like overexertion from exercise. The best pain doctors know how to find an effective solution without undue financial expense, side effects, or downtime. Partner with a knee pain expert at Pain Treatment Specialists for swift and complete pain resolution today.
Book a Consultation
Scheduling a consultation with one of our pain treatment specialists is one of the best ways to determine the proper solution for pain relief.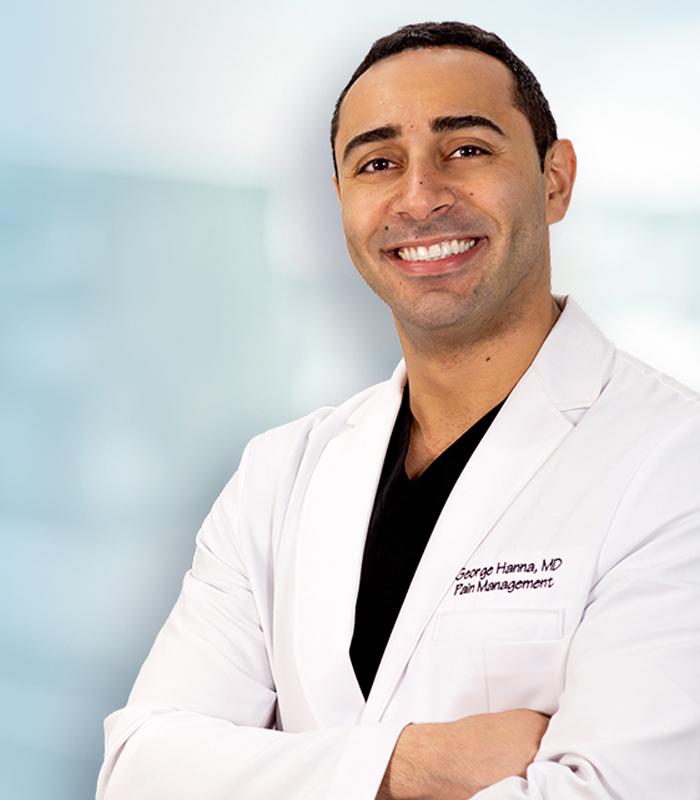 George Hanna
Harvard Medical School
Director of Pain Management
Dr. George Hanna is a nationally recognized pain management specialist and Double Board Certified in anesthesiology and pain management medicine. Dr. Hanna is currently available at Pain Treatment Specialists in Manhattan and Clifton, NJ. He is now accepting most major medical insurances, including Medicare.
Shane J. Volney
Harvard Medical School
NY & NJ PAIN SPECIALIST
Dr. Volney is double board certified in Anesthesiology and Pain Medicine by the American Board of Anesthesiology. He is currently seeing patients at our Pain Treatment Center in Manhattan and Clifton, New Jersey. Most pain treatments are covered by all major medical insurances and Medicare.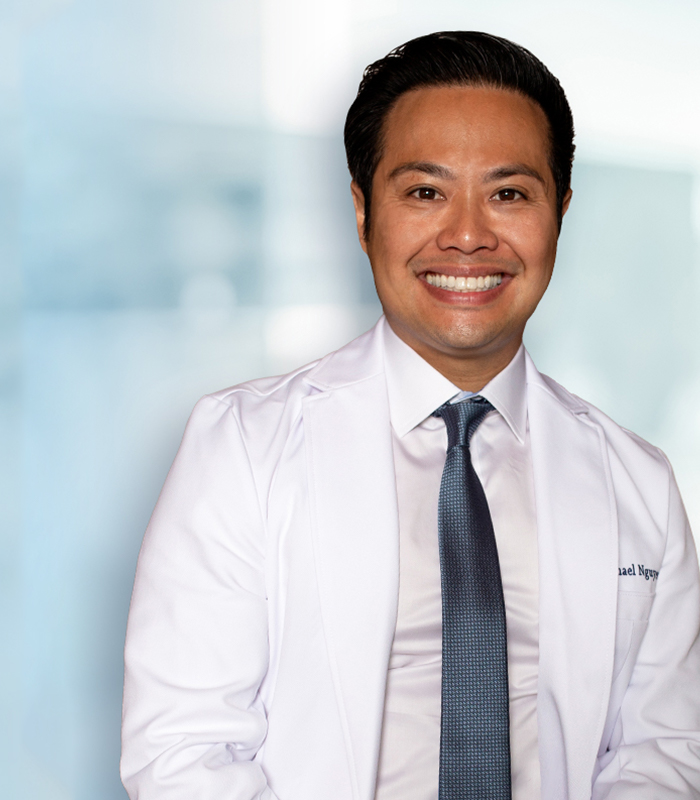 Michael Nguyen
Harvard Medical School
NY & NJ Pain Specialist
Dr. Michael Nguyen is world renowned in Pain Medicine. Dr. Nguyen completed his residency and advanced Pain fellowship training at Harvard Medical School. During his tenure at Harvard, Dr. Nguyen was awarded the "Mentor of the Year" and also "Teacher of the Year" award.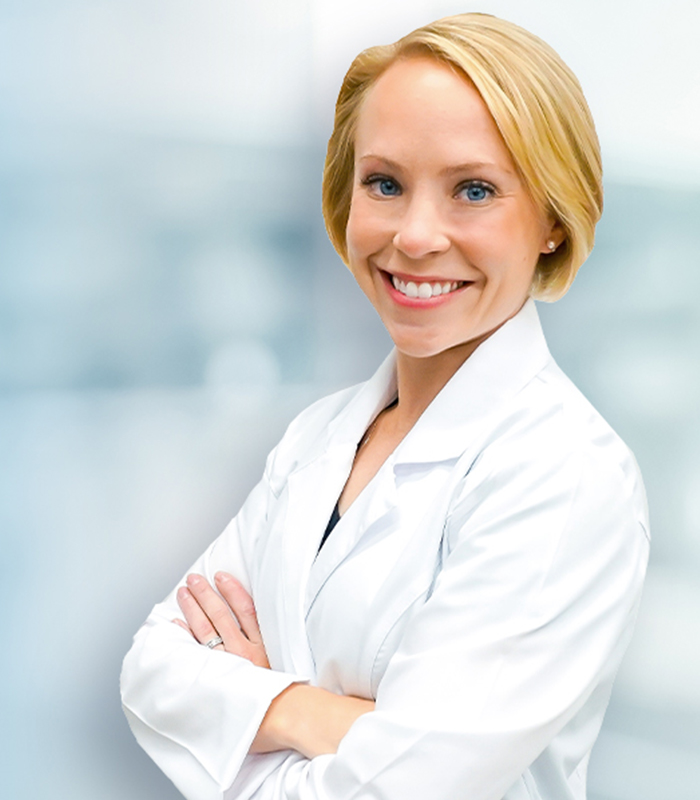 Dr. Laura Lombardi
Harvard Medical School
NJ PAIN SPECIALIST
Dr. Lombardi specializes in the treatment of back, neck, and joint pain. By using a range of minimally invasive modalities as well as advanced procedures, she helps patients achieve a pain free life without the need for surgery. Dr. Lombardi will be offering her pain treatment services in Clifton, New Jersey.
Why Choose a Non-Invasive Knee Specialist in Central NJ?
ultima modifica:
2020-04-22T13:05:47-04:00
da