The Best Back Doctor in NYC for a Non-Surgical Solution
Why You Need a Back Pain Specialist in NYC
Whether you've had a recent back injury or suffered from back pain for a long time, you know what a hindrance it can be. We use our backs for nearly every movement throughout the day, so the pain can be almost constant. Back pain is the second most common form of pain, following headaches- and it's one of the most persistent. It's tough to give your back a rest, unlike a foot you can elevate or a wrist you can wrap. That's why it's so important to choose a back doctor in NYC like the board certified experts at Pain Treatment Specialists, not just a primary care physician.
How to Find the Best Back Specialist in NYC
If you were searching for the "best dermatologist in NYC," or the "best obgyn in NYC," or the "top primary care physician near me," you would probably start with credentials, right? Where did they study? What are their certifications? How many years have they been in practice? With back pain doctors, credentials are just as important. The Harvard-trained back pain doctors at Pain Treatment Specialists are at the forefront of pain management technology. Each of our physicians holds multiple certifications and is a highly sought-after expert on chronic back pain, with years of experience.
Secondary to credentials is the quality of patient care. Look for pain specialists with positive patient reviews, since that's an unbiased way to learn what to expect. Pay special attention to why they receive a certain number of stars. Is it cost, bedside manner, follow-up after procedures, scheduling ease? The ideal doctors for back pain rank highly on all fronts, but patient care is especially important. Pain Treatment Specialists consistently receives 5-star reviews across all review platforms, and patients seek our services from all over the world. Don't just look for a catchy name like Zocdoc NYC or The Spine Institute. Dig deeper to determine the level of personal care you can expect from the team. Our physicians are with you every step of the way and form lasting relationships with each patient.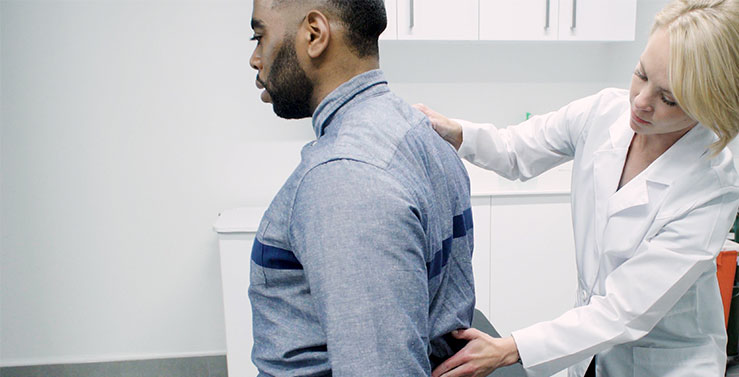 What a Back Pain Specialist in New York City Knows
Back pain stems from multiple sources, and sometimes presents in referred areas causing neck pain, hip pain, or headache. A back and spine doctor quickly determines the cause, whether it's a pinched nerve, herniated discs, stenosis, or even posture-related pain. Other doctors might prescribe medication, then jump straight to surgery if the medication doesn't work. If you're wondering what doctor to see for back pain, stick with certified back pain specialists. Our pain physicians avoid surgery since it often complicates the problem. We relieve your pain as quickly as possible, in the least-invasive way.
A Back Pain Doctor in NJ & NYC Looks for Things Others Don't
When your back hurts, the only thing you really care about is relief. Many doctors who aren't pain specialists feel the same way. With their short appointments and varied patients, they want to hand you a prescription and send you on your way. But back specialists know that back pain can be recurring and progressive if you don't address the underlying problem. While different causes of back pain can manifest similar symptoms, the treatment varies with the cause. Here are important things our back specialists always look for.
Age– Some types of back pain occur more frequently in certain populations. Patients between age 30 and 60 are more likely to experience pain from the disc space, such as lumbar disc herniation or degenerative disc disease. They also commonly experience strain in back muscles or surrounding soft tissues. However, adults over 60 are more likely to suffer pain from joint degeneration, such as osteoarthritis or spinal stenosis. Their injuries are more likely to result in compression fractures or bone breakage than just a sprain. Treatment for sprains vs. fractures, or discs vs. joints is different, making it essential to seek a back doctor in NJ or NYC.
Red Flags– Back pain is common, and in most cases, doesn't require urgent care. But some doctors who don't specialize in pain overlook symptoms that accompany back pain, assuming they're related to something else. Symptoms like fever, chills, unexplained weight loss, weakness in legs, and sudden incontinence (bowel or bladder) warrant immediate attention. Difficulty passing or holding urine or stool can be mistaken as a sign of aging. But when it accompanies back pain or other red flags, it's essential to seek prompt treatment. Our pain specialists know how symptoms are linked and address problems before they escalate.
How Our Pain Doctors Differ from Spine Institute Surgeons
Many spine specialists focus on spine surgery, versus conservative treatments. The Spine Institute of Long Island, for example, mentions conservative options, but their doctors specialize in surgical treatments. With spine surgeons on staff, you are far more likely to be referred for surgery than at a pain treatment practice that understands the risks and frequent ineffectiveness of surgery. Secondary pain, scar tissue, and failed results are common outcomes of surgery, in addition to more serious risks and time away from work and activity.
 The Ivy League-educated physicians at Pain Treatment Specialists know that surgery is often over-prescribed, as are narcotic pain medications. Rather than just treating the symptoms, we want to treat the source. We start with a comprehensive medical history and study previous diagnostic tests and imaging you've completed, performing more if needed. We take a specific interest in your individual lifestyle, needs, and opinions before we recommend treatment.
Our treatments are quick and effective with limited discomfort, side effects, or downtime. Since we treat pain all day, every day, we understand your symptoms and discomfort on an intricate level. We don't jump to a conclusion without extensive insight. We are a team of doctors who are also researchers, authors, speakers, and educators on pain. We draw not only from our own extensive knowledge, but from the knowledge of our team to find the best solution. We prescribe the full spectrum of pain relief, from safe medications, to physical therapy, to procedures like Epidural Steroid Injections, Facet Joint Injections, Lumbar Radiofrequency Ablation, and Spinal Cord and Nerve Stimulation. Visit a back doctor in NYC at Pain Treatment Specialists near Grand Central Station to see how surgery is rarely the answer.
Book a Consultation
Scheduling a consultation with one of our pain treatment specialists is one of the best ways to determine the proper solution for pain relief.
The Best Back Doctor in NYC for a Non-Surgical Solution
ultima modifica:
2020-04-10T11:06:25-04:00
da