NYC's Top Pain Doctor Reveals How To Fix Chronic Pain
Spring cleaning is a great way to uncover hidden treasures right inside your own home. Look! There's your guitar that you haven't picked up in ages, hiding right in plain sight beneath a pile of dirty laundry. You brush off your old friend, plug in, and immediately remember chords and choruses that you haven't tackled in years. Right after you hit the final chord, you end with a twisting and arm-swinging flourish– only to be reminded that it's been a while since you were a rock star. Your back and neck pain immediately rush into the spotlight.
For people who suffer from chronic pain, the awareness of your pain is always center stage. Every movement throughout your day makes it clear that your pain calls the shots about what you can, and cannot, do. You put down the guitar and decide it's time to seek the advice of a pain doctor. Searching the internet, you see phrases like "pain and injury center", "pain doctor New York", "back pain doctor Brooklyn, New York", "no fault doctors NYC", and "pain doctors near me." You want a pain doctor in NYC that's highly rated, professional, and compassionate to the fact that it was a guitar-based injury you've recently suffered. At Pain Treatment Specialists, our NYC pain doctors are not only Harvard-trained, but are also compassionate pain management practitioners.
Who Are The Best Pain Doctors in NYC?
At Pain Treatment Specialists, only the nation's best pain doctors are considered for our practice. Not only are our NYC pain management doctors Harvard-educated, they are also top of their class when it comes to providing kind pain management. A doctor who works on backs, and utilizes pain management treatments, is known as an interventional pain doctor. Here are some of our back pain doctors in NYC:
Dr. Shane Volney: A former faculty member at Harvard Medical School, Dr. Volney is also a double board certified pain doctor in New York. He also completed a pain fellowship at The Massachusetts General Hospital– Harvard Medical School. This fellowship training, along with his extensive training using minimally-invasive pain management techniques, makes Dr. Volney one of the top back pain doctors in NYC.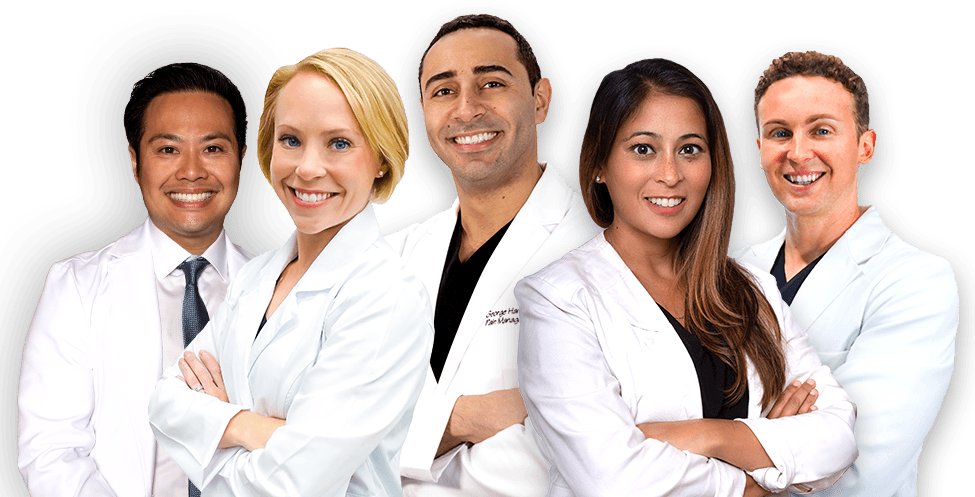 Dr. Laura Lombardi: Dr. Lombardi completed her Interventional Pain fellowship at Harvard University, and is also double board certified in pain medicine and anesthesiology. Her goal as a pain management specialist is creating individualized back pain treatments that utilize physical medicine and rehabilitation, as well as minimally-invasive pain management options.
Dr. George Hanna: Another graduate of Harvard Medical School, Dr. Hanna is well-known not only for his expertise in pain management, but also for treating pain with a kind and compassionate ear. Listening to patients' chronic pain concerns and types of pain allows him to use his medical training to tailor pain management plans for each person he sees.
If you're ready to see how a pain management clinic can get your inner rockstar back on stage, contact the pain doctors at Pain Treatment Specialists for an appointment.
What Types of Minimally-Invasive Treatments Are Used For Treating Pain?
Many people avoid searching for a "pain management clinic near me" because they fear that the discussion with a pain doctor will end with the word "surgery." However, pain management doctors do not want to see patients undergo back surgery, and prefer to use minimally-invasive methods to treat both acute pain and chronic pain. Here are some of the cutting-edge treatments used at Pain Treatment Specialists:
Epidural Steroid Injection: An ESI is a minimally-invasive procedure that relieves chronic pain in your neck, arm, back, or leg. A steroid injection is administered into the epidural space of your spine, which reduces swelling and inflammation.
Lumbar Radiofrequency Ablation: Pain relief at the speed of light? Yes, please! Lumbar radiofrequency ablation uses electromagnetic waves that travel at the speed of light. The resulting heat energy from this wave is delivered to the nerve endings that are emitting pain signals to the facet joint. High-tech, and also highly effective!
Physical Therapy: Your pain doctor works in conjunction with a physical therapist to create customized exercises and motions that provide pain relief. Ideally, your chronic pain stops after a series of appointments with a physical therapist, and you'll have ways to tackle any flare-ups at home.
Customized, cutting-edge treatments are only offered at a pain clinic near me, which is Manhattan's own Pain Treatment Specialists if you live in NYC. Contact these pain specialists to discuss what pain treatments work best for your chronic pain.
What Can I Do At Home To Treat Chronic Pain?
For both chronic pain and acute pain, it's best to contact a pain doctor and receive a professional consultation. However, you can try to treat chronic pain at home using the following methods:
Rest, Ice, Compress, and Elevate: This common acronym is also known as "RICE", and is often used as one of the first ways people try to treat chronic pain at home. Resting your body allows time to recover and prevents further injury. Icing the affected area relieves pain, pressure, and swelling. Compression with a bandage also provides support and relieves swelling. Elevation means keeping the injured or affected body part above your heart with pillows or furniture to reduce discomfort.
Over-the-counter pain relief: Using aspirin or ibuprofen is fine to treat pain, but not recommended for daily use. Follow the dosing instructions, and do not take more than is recommended. Chronic pain needs a long-term solution, which is exactly what your pain management doctor is ready to provide.
Don't let chronic pain be the reason you put your guitar back under the dirty laundry. Keep rock n' roll alive by making an appointment with a pain doctor, such as the caring experts at Pain Treatment Specialists, to keep your spine in perfect harmony with your chords.
Book a Consultation
Scheduling a consultation with one of our pain treatment specialists is one of the best ways to determine the proper solution for pain relief.
Harvard Medical School
Director of Pain Management
Dr. George Hanna is a nationally recognized pain management specialist and Double Board Certified in anesthesiology and pain management medicine. Dr. Hanna is currently available at Pain Treatment Specialists in Manhattan and Clifton, NJ. He is now accepting most major medical insurances, including Medicare.
Harvard Medical School
NY & NJ PAIN SPECIALIST
Dr. Volney is double board certified in Anesthesiology and Pain Medicine by the American Board of Anesthesiology. He is currently seeing patients at our Pain Treatment Center in Manhattan and Clifton, New Jersey. Most pain treatments are covered by all major medical insurances and Medicare.
Harvard Medical School
NY & NJ Pain Specialist
Dr. Michael Nguyen is world renowned in Pain Medicine. Dr. Nguyen completed his residency and advanced Pain fellowship training at Harvard Medical School. During his tenure at Harvard, Dr. Nguyen was awarded the "Mentor of the Year" and also "Teacher of the Year" award.
Harvard Medical School
NJ PAIN SPECIALIST
Dr. Lombardi specializes in the treatment of back, neck, and joint pain. By using a range of minimally invasive modalities as well as advanced procedures, she helps patients achieve a pain free life without the need for surgery. Dr. Lombardi will be offering her pain treatment services in Clifton, New Jersey.
NYC's Top Pain Doctor Reveals How To Fix Chronic Pain
ultima modifica:
2020-04-02T10:45:54-04:00
da