10 Prevention Tips from #1 Knee Pain Doctor in Hackensack
How to Prevent Knee Joint Pain from Occurring
If you haven't experienced knee pain yet, and hope to keep it that way, then you're wise to read through these preventative tips. And if you've already suffered from knee pain, here are tips to keep it at bay. Let's take a look at 3 prevention stages, beginning with the prevention of knee pain occurrence, followed by preventing recurrence, and lastly, preventing persistence of pain. We'll start with how to prevent it before it occurs.
1. Maintain a Healthy Weight
Being overweight stresses all of your joints, particularly the knees, ankles, feet, hips, and lower back. Your knees bear the pressure of one-and-a-half times your body weight with each step. So, the burden of obesity on your knees makes you more prone to injuries like sprains and fractures, and also increases degeneration of the knee joints, causing things like Osteoarthritis. Each pound you gain adds 4 pounds of pressure to your knees, so maintain your weight to prevent knee pain.
Wear Supportive Shoes
Knee damage can occur gradually, which is why wearing the right shoes is important from an early age. First, look for a shoe with the proper height. High heels put extra pressure on your knees and can pull the feet inward, causing you to overpronate. Shoes with 1-inch or shorter heels and a cushioned sole with a proper fit help prevent your foot from sliding around, which protects your knees. Look for rubber, non-slip soles to prevent slipping on smooth or wet surfaces, leading to injury. If you exercise often, rotate your workout shoes to prolong their integrity or replace them every few months to ensure the cushioning is sufficient to protect your knees.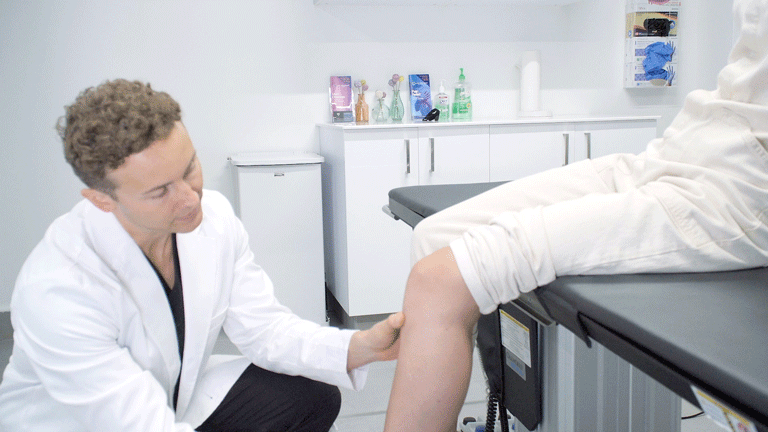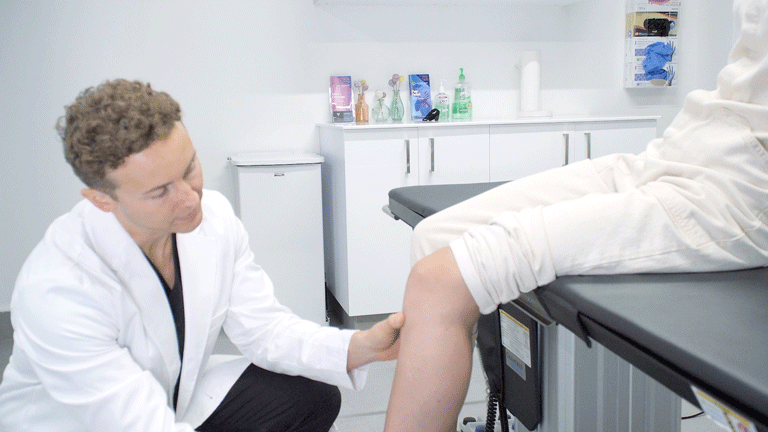 3. Perform Strength Training Exercises
Cardio exercise is important for maintaining your weight and keeping your knee joints flexible. But it's also important to incorporate strength training to keep your leg, hip, and gluteal muscles strong to protect your knees. When your muscles are strong, they relieve pressure from the knees and provide support against injury. In addition to strengthening your lower body, a strong core enables proper posture and skeletal alignment, which also protects your knees. However, seek advice from your knee pain doctor and work with a qualified trainer if you are new to exercise.
How to Prevent Knee Joint Pain from Recurring
Sometimes, despite our best efforts, we sustain a knee injury or knee condition. Here are some tips to prevent it from recurring once it's been relieved.
4. Stretch Regularly
Studies show that staying flexible is beneficial to the knee joint. Regularly stretch your calves, quadriceps, hip flexors, gluteal muscles, and hamstrings to encourage knee mobility. Use gentle stretches, particularly if you have recovered from an injury, and don't stretch to the point of pain. Stretching is especially helpful before or after exercise, so you don't injure yourself, and at the beginning and end of your day when muscles are tighter. You can perform light stretches before you get out of bed in the morning to prevent a painful first step.
5. Protect Your Knees
If you're someone who bears down on your knees often, whether from gardening, sports, or your job, protect them with cushioned pads before kneeling. Practice proper alignment as you kneel to engage your thigh muscles and prevent your upper body from leaning forward over your knees as you squat. Frequent kneeling, especially on hard surfaces, compresses and damages the bursae that are designed to cushion your ligaments and tendons. This leads to the common knee pain condition called Bursitis. If you already have Bursitis, use knee pads, padded mats, and proper positioning to prevent recurrence.
6. Stand up Straight
Turns out our grandmother's nagging was about more than looking than looking our best. When we slouch, our upper bodies curve forward at the waist, adding pressure to our knees. If we keep our shoulder back and heads centered over our shoulders and pelvis, we prevent strain on our muscles and knees. When we stand, sit, or walk in off-centered positions, our muscles tire of supporting the position, which strains our knee joints, prompting pain recurrence.
7. No Sudden Changes
Exercise is important in all phases of knee pain prevention. But, you don't want to jump into a new, challenging routine without your doctor's advice, or a proper warm up and cool down. If your knee is healing from an injury, lack of exercise can cause pain, stiffness, and fluid buildup, so you want to keep moving, per your doctor's orders. But ease into a new routine, allowing ample time for adjustment and recovery. Use ice and heat as needed after exercise to remain pain free. 
How to Prevent Knee Joint Pain from Persisting
For some people knee pain is acute and resolves with simple tactics. Others will experience ongoing pain without the right pain management methods. Reasons that knee pain persists include invasive procedures from orthopedic surgeons, chronic diseases like Rheumatoid Arthritis, and improper diagnosis and treatment. Here are 3 ways to prevent persistent knee pain.
8. Visit a Board Certified Knee Pain Doctor in Hackensack
Many people suffer from persistent knee pain because they haven't received a proper diagnosis. Knee pain stems from a multitude of things, and there is no one-size-fits-all cure. The team of Harvard-trained doctors at Pain Treatment Specialists uses minimally invasive procedures to eliminate pain at the source. Pain often persists unnecessarily when you see orthopedic surgeons, or narcotics-prescribing orthopedists for pain. Our doctors use interventional tools to identify the problem and eradicate it quickly.
9. Demand Interventional Treatment
Surgical intervention and opioid pain relief can cause pain as often as they relieve it. Triggering serious complications like dependence, scar tissue, infection, and subsequent surgery, these are no longer the first line of treatment for knee pain, even though some orthopedic surgeons still practice that way. Our Ivy League team offers gentle, interventional methods that relieve pain on the spot, rather than systemically. Many of our patients seek pain relief from surgery they endured elsewhere. So, visit Pain Treatment Specialists near Hackensack first, to avoid additional pain. We're located near Garden State Plaza, just minutes away from Hackensack.
10. Choose a Doctor Who Listens and Follows Up With You
At Pain Treatment Specialists, many of our patients experience complete pain relief with a single treatment. But for some patients, the pain is more complex, if it stems from coexisting conditions or chronic or autoimmune diseases. These patients need a doctor who takes the time to understand their complete medical history and all correlating factors like stress levels, sleep, medications, diet, and lifestyle. Our expert physicians take a comprehensive health history and build extra time into appointments to investigate your individual condition. We always follow up with our patients and offer services like telemedicine when you can't leave home. Our offices are convenient to all major transit systems, so you can reach us quickly when you're in pain. We will never just hand you a prescription and send you on your way. We build a relationship with each of our patients.
Visit a Bergen County New Jersey Knee Specialist Today!
To prevent the occurrence, recurrence, or persistence of knee pain, choose the top knee pain doctor in Hackensack- Pain Treatment Specialists. Each of our award-winning doctors uses state of the art tools to treat pain with minimally invasive procedures. Our pain management tactics are world-renowned, and we're thrilled to share our expertise with our neighbors in Bergen County New Jersey. With locations in Paramus, Clifton, West Orange, and Manhattan, you can be pain free today!
Book a Consultation
Scheduling a consultation with one of our pain treatment specialists is one of the best ways to determine the proper solution for pain relief.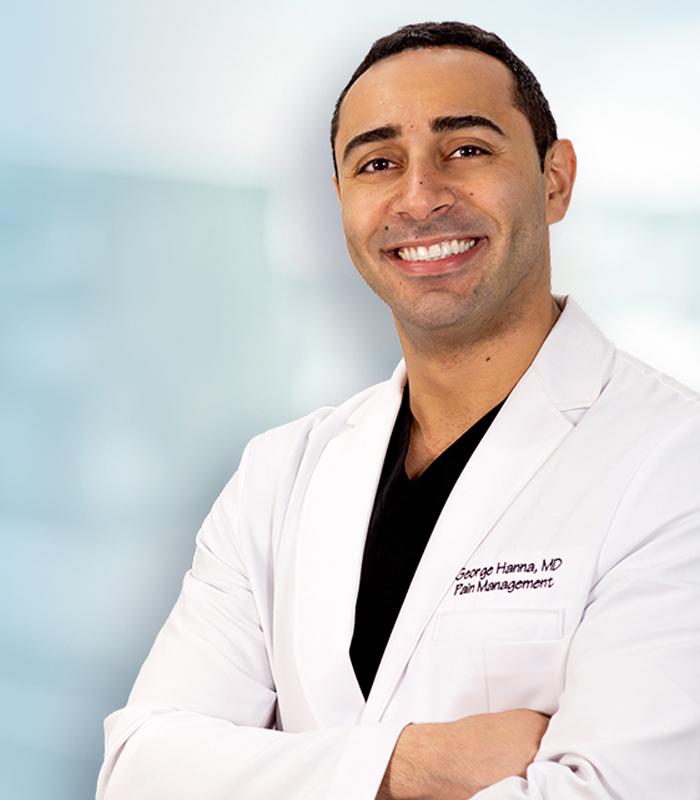 George Hanna
Harvard Medical School
Director of Pain Management
Dr. George Hanna is a nationally recognized pain management specialist and Double Board Certified in anesthesiology and pain management medicine. Dr. Hanna is currently available at Pain Treatment Specialists in Manhattan and Clifton, NJ. He is now accepting most major medical insurances, including Medicare.
Shane J. Volney
Harvard Medical School
NY & NJ PAIN SPECIALIST
Dr. Volney is double board certified in Anesthesiology and Pain Medicine by the American Board of Anesthesiology. He is currently seeing patients at our Pain Treatment Center in Manhattan and Clifton, New Jersey. Most pain treatments are covered by all major medical insurances and Medicare.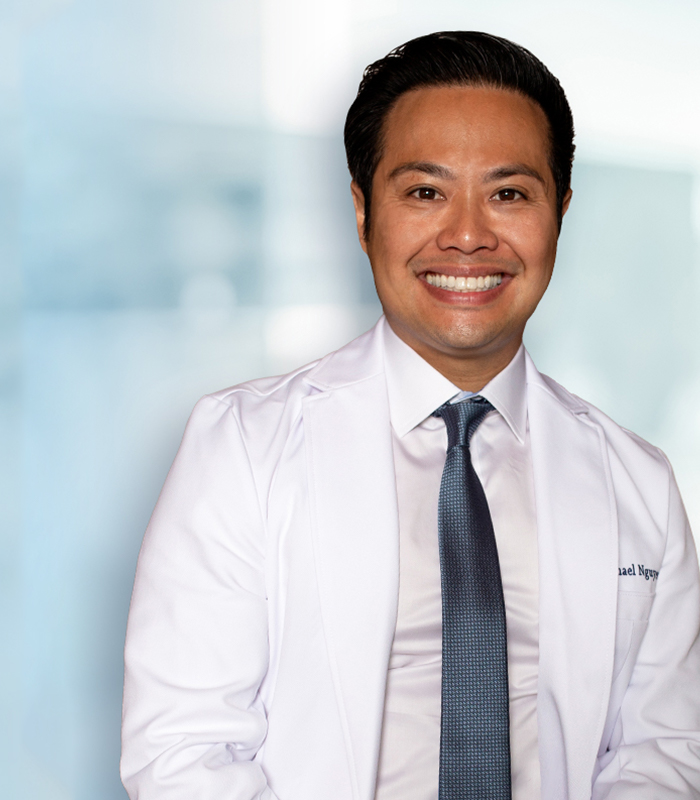 Michael Nguyen
Harvard Medical School
NY & NJ Pain Specialist
Dr. Michael Nguyen is world renowned in Pain Medicine. Dr. Nguyen completed his residency and advanced Pain fellowship training at Harvard Medical School. During his tenure at Harvard, Dr. Nguyen was awarded the "Mentor of the Year" and also "Teacher of the Year" award.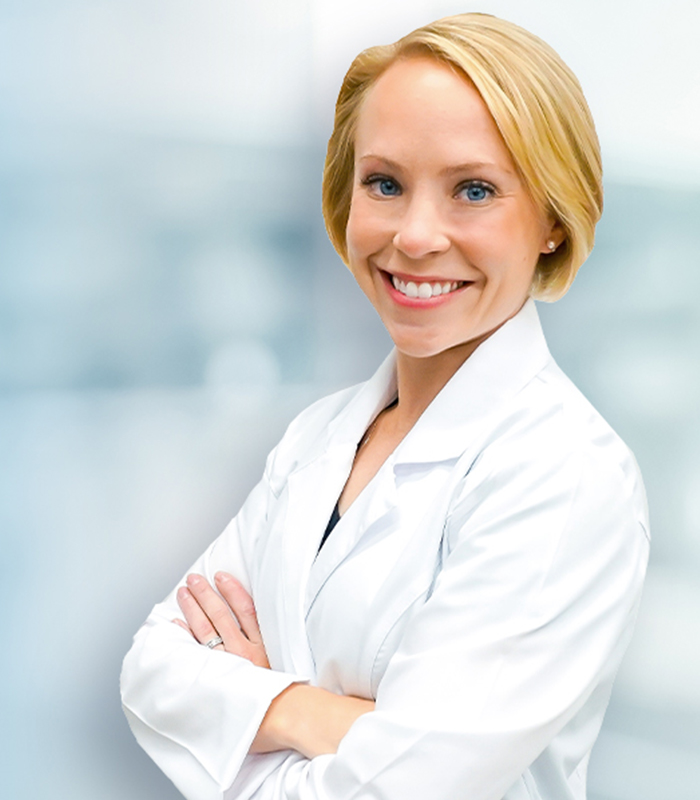 Dr. Laura Lombardi
Harvard Medical School
NJ PAIN SPECIALIST
Dr. Lombardi specializes in the treatment of back, neck, and joint pain. By using a range of minimally invasive modalities as well as advanced procedures, she helps patients achieve a pain free life without the need for surgery. Dr. Lombardi will be offering her pain treatment services in Clifton, New Jersey.
10 Prevention Tips from #1 Knee Pain Doctor in Hackensack
ultima modifica:
2020-10-05T15:09:01-04:00
da