Top Knee Specialist Explains Why Cause Determines Treatment
The Best Knee Doctor in NYC Explains Why the Cause Matters
When you have knee pain, you're anxious to get rid of it! It's not just painful, it also limits your mobility and productivity. But, it's important to determine the cause before trying different treatments. Your knee is a hinge joint, composed of several components working together for movement. Tendons, ligaments, bones, muscles, nerves, fluid, cartilage, and soft tissue form an intricate system that enables the knee to function. If you take the wrong approach to treatment, you could worsen the pain or compromise other components.
Imagine if you had a problem with one employee and you fired the whole staff. You'd be left with a much bigger problem. Performing knee replacement surgery is a similar misstep if knee pain can be treated at the source. Interventional knee specialists, like the doctors at Pain Treatment Specialists, use minimally invasive procedures to alleviate pain by first determining the cause.
How an Orthopedic Knee Doctor in My Area Determines Cause
● Arthroscopic Knee Surgeons Near Me Are Invasive
If you're looking for a "knee specialist near me," be sure to do your research. A knee doctor's specialty yields different diagnostic techniques. "Knee surgeons near me" are trained in surgery, whereas pain specialists are fellowship trained in pain medicine. Since knee surgeons and sports medicine doctors are trained to perform surgery, rather than minimally invasive treatment options, they might suggest knee surgery before determining the cause of your pain.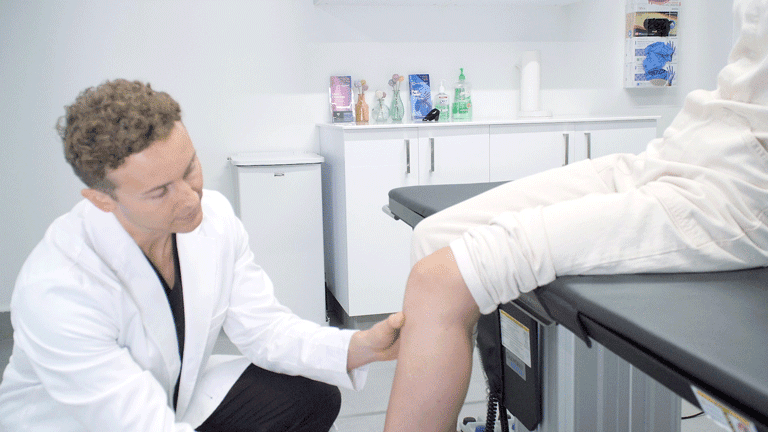 ● Chiropractic Specialist Doctor for Knee Pain Is Experimental
A chiropractor can't perform surgery, but also can't treat pain caused by disease, infection, chronic illness, or knee injuries like fractures, dislocation, or torn ligaments. Chiropractors often assess pain by manipulating the body to see if it helps. But with many knee conditions and knee injuries, this is a dangerous approach. Manipulating inflamed, irritated, or broken elements of the knee is not only harmful, it won't bring relief.
Don't visit a chiropractor without a clearly defined cause of pain. Chiropractic care poses particular risks for those with Osteoporosis, cancer, herniated discs, and risk of stroke. Choose an interventional knee pain specialist instead, who won't worsen knee conditions or knee injuries by failing to properly diagnose them.
How Our Specialist Doctor for Knee Pain Determines Cause
The best "knee doctor near me" is the one who takes an interventional approach. The pain experts at Pain Treatment Specialists are Harvard-trained doctors who conduct a thorough investigation of your knee pain. Through diagnostic imaging, fluoroscopic-guided procedures, and a comprehensive medical history, they determine the cause before offering a solution. They're also equipped with state of the art techniques that locate the source of pain while simultaneously treating it with a single injection.
Since we don't perform invasive knee surgery, our treatment options are performed with little or no anesthesia. As such, our patients can confirm the source of the pain immediately when we locate it. All of our treatment options are minimally invasive and performed in an outpatient setting. Our methods are not only safer, quicker, and more affordable, they're also more effective.
Our Knee Specialists' Treatment Options Are Based on Cause
Knee pain is caused by a variety of things, including Osteoarthritis, knee injuries like a torn ACL, and chronic knee conditions like Bursitis, Patellar Tendonitis, and Iliotibial Band Syndrome. These causes are very different in origin and also require different treatment. Even arthritis is treated differently, depending on the subtype. Rheumatoid Arthritis is inflammatory, and affects multiple joints, whereas Osteoarthritis is degenerative, and might only affect a single joint. Each knee doctor on our team is careful to provide treatment options based on the cause. Here are some gentle treatment options we provide.
Corticosteroid injections
Viscosupplementation
Lubricant injections
Arthrocentesis
Physical therapy
NSAID medications
Assistive braces and devices
Why Pain Treatment Specialists is the Best Ortho Near Me
Pain Treatment Specialists' award-winning team is composed of medical leaders offering the latest techniques for pain. Each knee specialist in our practice holds distinguished titles like Chief Resident, Medical Director, Clinical Instructor, and Teacher of the Year acquired during their Ivy league academic tenure. They're each fellowship trained and board certified in fields like pain medicine, pain management, anesthesia, and palliative care, so they're uniquely qualified to gently relieve knee pain. If you're seeking "the best orthopedic near me," avoid knee surgeons and head to Pain Treatment Specialists. 
Find a Doctor for Knee Pain with Interventional Diagnostics
● Knee Surgeon Los Angeles vs. Knee Doctor Los Angeles
How do you know the difference in treatment options when you look for a "knee doctor near me?" Check out their website to determine their fellowship training. If the doctors are listed as orthopedic surgeons, it's a good bet surgery is their preferred treatment option. If they're just listed as a knee doctor, dig a bit deeper. Check out their bio and see what they're board certified in. If you're looking for a knee specialist in L.A., Pain Treatment Specialists is the world-renowned pain expert, and we treat patients from every corner of the world.
● Knee Specialist Los Angeles vs. Providence Knee Specialists
It's important to look for a board certified pain specialist, not just a knee specialist, regardless of where you live. A knee specialist in Los Angeles or Providence might use physical therapy, acupuncture, or chiropractic methods, while our fellowship trained pain specialists in NY and NJ use state of the art, minimally invasive procedures these other knee specialists aren't trained to use. Contact us to learn more about the best knee pain specialist for you.
● Knee Doctor in Baton Rouge vs. Our NYC & NJ Doctors
Pain Treatment Specialists is the preeminent pain care practice for knee pain, as well as many types of pain. Patients and physicians from all over the world seek our care and expertise. Whether you need a knee doctor in Baton Rouge, Los Angeles, or Paris, we offer superior treatment options as a "Center of Excellence" for interventional pain relief.
Call us today to schedule a visit to our NYC headquarters or our many locations in NJ. Our doctors routinely treat patients with complicated knee pain from every city. If you want the best knee pain care, visit the #1 knee specialist— Pain Treatment Specialists.
Book a Consultation
Scheduling a consultation with one of our pain treatment specialists is one of the best ways to determine the proper solution for pain relief.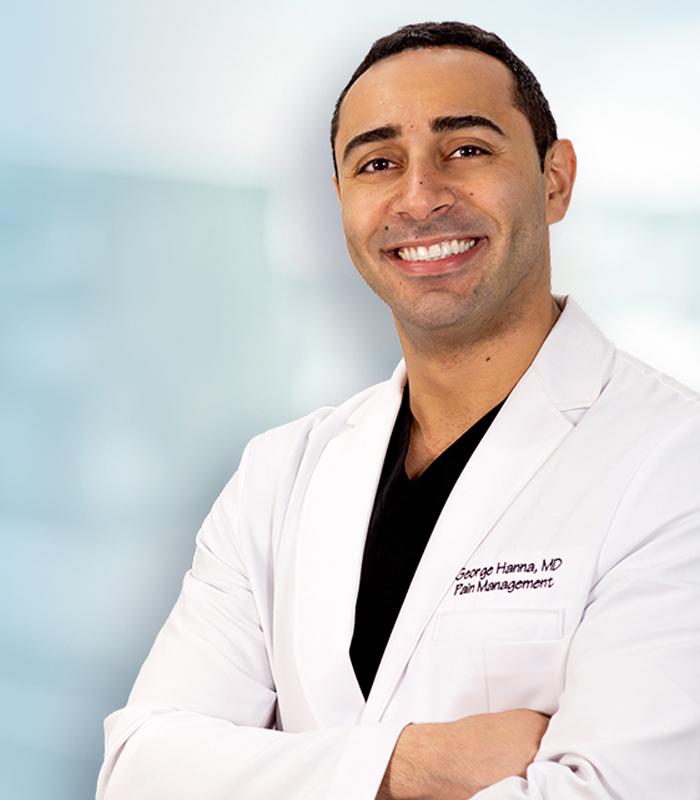 George Hanna
Harvard Medical School
Director of Pain Management
Dr. George Hanna is a nationally recognized pain management specialist and Double Board Certified in anesthesiology and pain management medicine. Dr. Hanna is currently available at Pain Treatment Specialists in Manhattan and Clifton, NJ. He is now accepting most major medical insurances, including Medicare.
Shane J. Volney
Harvard Medical School
NY & NJ PAIN SPECIALIST
Dr. Volney is double board certified in Anesthesiology and Pain Medicine by the American Board of Anesthesiology. He is currently seeing patients at our Pain Treatment Center in Manhattan and Clifton, New Jersey. Most pain treatments are covered by all major medical insurances and Medicare.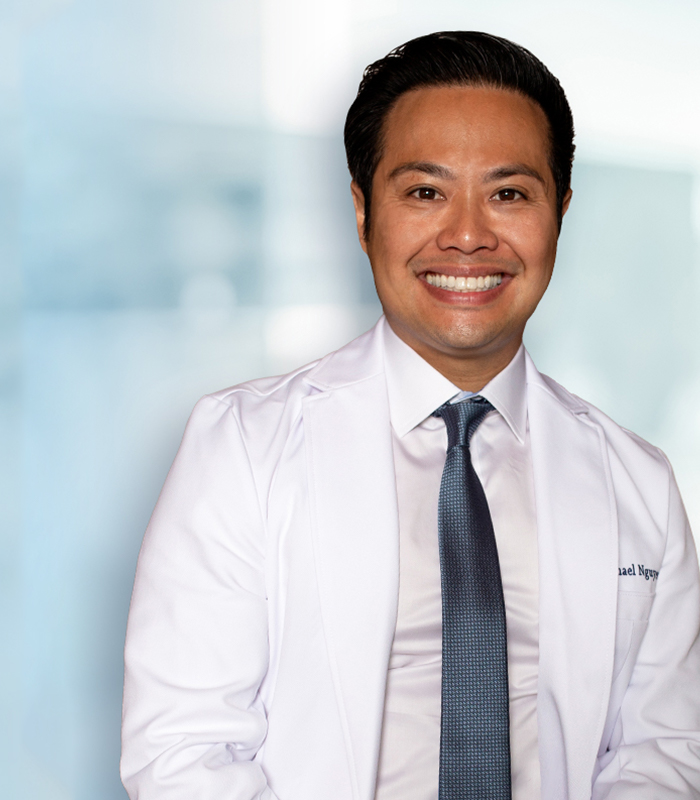 Michael Nguyen
Harvard Medical School
NY & NJ Pain Specialist
Dr. Michael Nguyen is world renowned in Pain Medicine. Dr. Nguyen completed his residency and advanced Pain fellowship training at Harvard Medical School. During his tenure at Harvard, Dr. Nguyen was awarded the "Mentor of the Year" and also "Teacher of the Year" award.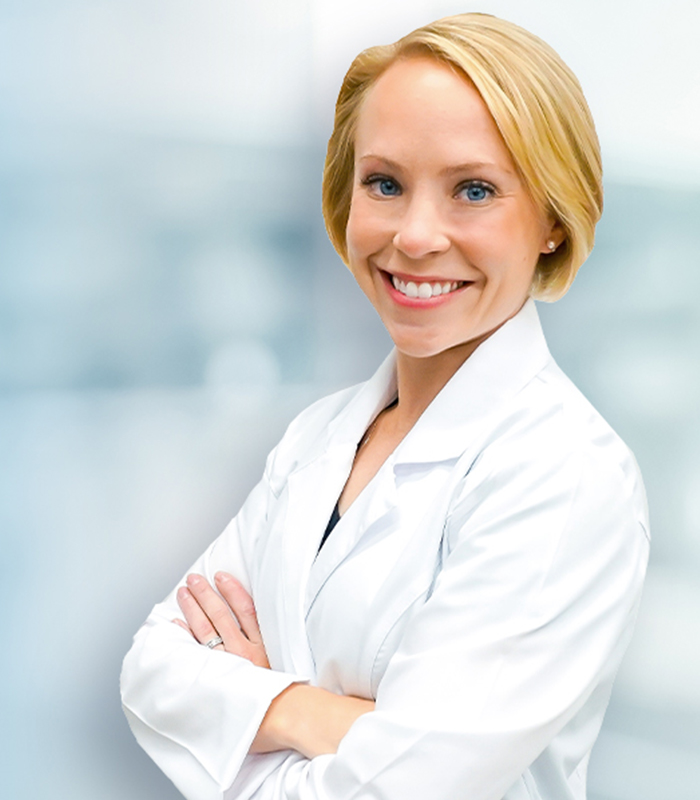 Dr. Laura Lombardi
Harvard Medical School
NJ PAIN SPECIALIST
Dr. Lombardi specializes in the treatment of back, neck, and joint pain. By using a range of minimally invasive modalities as well as advanced procedures, she helps patients achieve a pain free life without the need for surgery. Dr. Lombardi will be offering her pain treatment services in Clifton, New Jersey.
Top Knee Specialist Explains Why Cause Determines Treatment
ultima modifica:
2020-11-05T03:55:06-05:00
da