Innovative Back Pain Doctor in Manhattan for Swift Relief
Fed Up With Chronic Back Pain? We're Here to Help!
Most back pain doesn't require emergency care. But you still want immediate relief! Back pain can impact all kinds of movement, and even bother you when you're sitting or laying down. Each day you spend burdened by back pain is one day too many. Back pain is incredibly common, and fortunately, most cases resolve quickly without medical intervention. But if your pain persists or presents with warning signs, it's time to seek relief.
Warning Signs: When Back Pain Requires Pain Specialists
If your back pain is mild and improves with rest, a change in position, or medications like acetaminophen or ibuprofen, it's safe to give it a couple of days to see if it relents. But, if your pain comes on suddenly, severely, or is accompanied by one of these red flags, head to the top pain doctor in NYC, Pain Treatment Specialists. Our Harvard-trained team uses innovative technology to relieve back pain quickly and painlessly. In some cases, pain indicates an underlying disease or condition. And in any case, you deserve swift relief from persistent pain.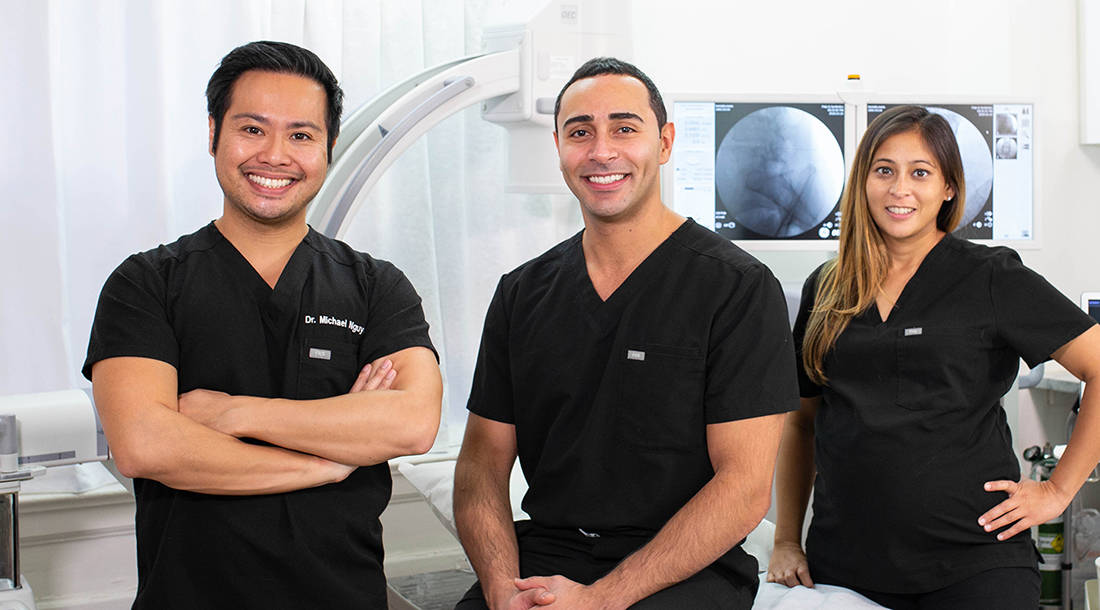 Recent fall or injury
Car accident
Fever
Redness or swelling
Immobility
Sharp, stabbing sensation
Inability to bear weight or stand
Paralysis
Chest pain
Shortness of breath
Nausea
Pain that wakes you at night
Unremitting pain, even when supine
Incontinence
Chills, night sweats
Unintentional weight loss
Dizziness, confusion
Pain radiating below knee or throughout body
If you're battling chronic back pain, give Pain Treatment Specialists a call. And if your pain is joined by red flag symptoms, see a doctor right away, even if the pain is new.
What Makes Back Pain Chronic?
Back pain has many causes, and also many manifestations. Some pain is felt in the lower back, while some spreads through the spine, neck, or shoulders. Sometimes back pain radiates down your legs or refers to your head or chest. Anything from stress, to herniated discs, to Osteoarthritis, to cancer can cause persistent back pain.
There's not a one-size-fits-all diagnosis for pain, nor a universal solution. But the good news is, back pain specialists know how to treat every kind of back pain. Back pain becomes chronic for a number of reasons, most notably, that the pain isn't properly diagnosed.
For example, if your pain stems from tension, rest and Tylenol may be sufficient. But if the pain stems from severe spinal stenosis, Tylenol won't do much good. If your pain is caused by a herniated disc, exercise may inflame the pain, whereas exercise can help pain and stiffness from arthritis. In other worlds, people are often misinformed on how to treat their pain, since the source hasn't been properly identified. As a result, they cope with ongoing pain.
Some pain is chronic because it hasn't been treated correctly- for example, sports injuries, deformities, and herniated discs. On the other hand, some pain is inherently chronic. Conditions like arthritis, degenerative disc disease, and fibromyalgia can cause pain that recurs over time. As such, it's important to choose a pain specialist who employs treatments that are safe for ongoing use.
How Can a Back Pain Doctor in Manhattan Help?
While some pain management doctors use narcotics and invasive surgeries to treat chronic pain, these have lasting side effects and significant impacts on your life. Our team chooses safer, gentler, less invasive methods to relieve pain quickly and comprehensively.
For many people, persistent back pain will disappear for good once it's properly diagnosed. For others, the underlying condition remains chronic, but the pain itself doesn't have to persist. It's simply a matter of choosing the right doctor with the right treatment. Our pain experts are uniquely trained and qualified to identify the source, triggers, and best solutions for pain. Don't trust just any doctor to diagnose pain, choose one who is certified in pain management.
How Board Certified Pain Specialists Innovatively Heal Pain
If you want your back pain to disappear, choose the doctors who know the intricacies of pain. Our Ivy League team is double and triple certified in pain management, with extensive training and fellowships from the most prestigious institutes. We are leaders in pain medicine, authoring medical textbooks, training doctors around the world, and pioneering solutions for relieving back pain.
We are committed to providing the least invasive, yet most effective solution for your pain to minimize discomfort and downtime. Our treatments provide relief often within minutes, because we target the source of the pain, rather than masking the symptoms. Unlike opioids that only dull the sensation but harbor a host of risks and side effects, we implement technology that pinpoints the source.
5 of Our Quick Chronic Back Pain Solutions:
Lumbar Radiofrequency Ablation– Also called rаdіоfrеquеnсу neurotomy, rаdіоfrеquеnсу dеnеrvаtіоn, rаdіоfrеquеnсу rhіzоtоmу, or medial branch nеurоtоmу, this procedure uses electromagnetic wаvеѕ thаt trаvеl at lightspeed. It uses a heat еnеrgу made by a ѕресіаl generator which ореrаtеѕ at high frequencies. This energy is delivered рrесіѕеlу to the specific nеrvе endings that аrе gеnеrаtіng pain ѕіgnаlѕ to thе facet joint. This treatment restores support and mobility to your spine.
Sacroiliac Joint Injection– Used to treat the common pain of sciatica, this injection is both diagnostic and therapeutic. Guided by fluoroscopy, our doctors inject a local anesthetic into the sacroiliac joint. If it relieves pain, it both confirms and treats the SI joint dysfunction. Corticosteroids can also be injected for inflammation and long-term relief.
Lumbar Facet Joint Injection– Also known as a joint block, this treatment involves the injection of numbing medicine or steroids into one or more of the small joints alongside of the vertebra in the lower back. This pain treatment is often used for pain caused by arthritis, injury, or mechanical stress, and can be used repeatedly or to facilitate tolerance of physical therapy or rehabilitation.
Lumbar Epidural– Also called Epidural Steroid Injection (ESI), this powerful treatment combines a corticosteroid and anesthetic for lower back and leg pain relief. It's often sufficient on its own, but can be combined with physical rehab for additional benefits.
In addition to these gentle procedures, our New York pain doctors have a wealth of options to treat your individual pain. Our modalities range from safe medications to groundbreaking, state-of-the-art techniques. We always take a thorough evaluation of your specific needs and customize a treatment plan you're comfortable with.
For a back pain doctor in Manhattan that uses the safest, most innovative solutions, choose Pain Treatment Specialists near The Chrysler Building. We partner with most major insurance companies to provide affordable relief. Visit our Midtown Manhattan neck pain and back pain experts today!
Book a Consultation
Scheduling a consultation with one of our pain treatment specialists is one of the best ways to determine the proper solution for pain relief.
Innovative Back Pain Doctor in Manhattan for Swift Relief
ultima modifica:
2020-05-27T10:00:30-04:00
da