Who Are The Best Back Doctors NYC? | A Harvard Doctors Answers
Where Can I Find The Best Back Doctors NYC?
Back pain is incredibly common and will affect up to 80% of individuals. It has even been reported that back pain is one of the leading causes of disability worldwide. Up to one half of working Americans have had to take a sick day due to back pain problems.
Back pain can range from a general ache, to sharp shooting pains which can be debilitating. Back problems have a range of causes. Some examples include: an acute injury, sporting injuries, chronic health conditions, or other forms of ailment. If left untreated, your back pain can get worse over time or even lead to further health complications. That's why it is important to book an appointment with a board certified, Harvard trained pain doctor.
Pain doctors (also called pain specialists or pain physicians) are leaders in the field of interventional pain medicine. They use the latest minimally invasive techniques to diagnose and treat a range of pain conditions. Pain doctors believe in combining the body's natural healing abilities with the latest advancements in regenerative medicine to provide the best treatment outcomes. The best back doctors nyc will advocate minimally invasive medical procedures for maximum effect.
Nowadays, many orthopedic surgeons are quick to suggest surgery to treat back pain. However, surgery can be very risky and is not a decision that should be taken lightly. Some risks and complications of surgery include:
Allergic reactions/ problems with anesthesia
Blood clots
Infections
Pneumonia
Long recovery periods
Over-reliance on opioids, narcotics and NSAIDs
Due to these risks, it is important to explore all back pain treatment options with the best back doctors nyc at The Pain Treatment Specialists. The Pain Treatment Specialists are a team of Harvard trained pain doctors offering the latest techniques in regenerative medicine in our state of the art clinic. The clinic is conveniently located in the heart of the Big Apple and is also providing video visits at the moment.
Now that we have explored why it's important to book an appointment with an expert pain doctor, we'll review the credentials and experience of our top team. We'll also discuss the best minimally invasive back pain treatments to help you.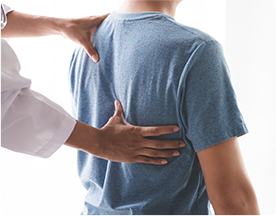 Dr Shane Volney
Dr Volney is a double board certified pain doctor and is an expert in Anesthesiology and Pain Medicine. He is passionate about establishing healthy doctor-patient relationships to ensure that he can provide information and support regarding all aspects of well-being. Dr Volney was a Clinical Instructor at Harvard Medical School for seven years where he taught Anesthesiology, Palliative Care and Pain Medicine. He continually contributes to medical education and regularly attends medical conferences. Dr Volney is well-known for using platelet rich plasma treatment as well as neurostimulation.
Dr Laura Lombardi
Dr Lombardi is an exceptional pain doctor with a passion for using the latest minimally invasive techniques to treat pain. She attended Harvard Medical School and continually contributes to medical education by writing chapters for medical textbooks and attending conferences. Dr Lombardi believes in spending time with her patients so that she can establish unique treatment choices for each patient. She is particularly skilled at using fluoroscopic guidance to treat pain in the best minimally invasive way.
Dr Namrata Khimani
Dr Khimani is a triple board certified pain doctor and leader in her field. Dr Khimani is a native to NYC and enjoys spending time with her patients to get to the root of their pain complaint. In addition to being a graduate of Harvard Medical School, Dr Khimani is one of an elite group of pain doctors who has undertaken rigorous examinations to achieve her triple board certified status. She continues to educate others about the advantages of using the latest minimally invasive treatments and invites individuals to view her work in her state of the art clinic.
Dr George Hanna
Dr Hanna is an expert in Anesthesiology, Interventional Pain Management and Pain Medicine. He received his medical training from Harvard Medical School and went on to achieve double board certification. Dr Hanna has worked as a Clinical Instructor at Harvard Medical School as well as serving as Chairman of Anesthesiology and Pain Medicine at Chilton Medical Center. He strongly believes in using the latest minimally invasive treatments to treat a range of pain conditions.
Dr Michael Nguyen
Dr Nguyen is an internationally-recognized pain doctor. He has achieved triple board certification and is known for pioneering many of the minimally invasive treatment options currently available! Dr Nguyen regularly welcomes athletes from around the world to his state of the art pain clinic. He believes in contributing to the advancement of minimally invasive pain treatments and providing exceptional patient care. Whilst a faculty member at Harvard, he was voted 'Teacher of the Year' and 'Best Mentor.'
The Top Five Back Pain Treatments
Now that we've looked at the best back doctors nyc, let's take some time to explore conservative treatment options. The following treatments are all provided by our board certified Harvard pain doctors in our state of the art clinic. 
Lumbar Epidural – this is when a pain doctor injects medicine directly into the epidural space in your back. The epidural space is the area between your protective sac of spinal nerves and the bone. Injecting medicine directly into this space provides fast and effective pain relief which can last for several days.
Lumbar Facet Joint Injections – lumbar facet joints are located on each side of the vertebra in the lower back. These injections provide fast and effective pain relief as local anesthetic is delivered directly to the facet joints. These injections are popular amongst individuals who have back pain due to arthritic alterations or who have mechanical low back pain. Lumbar facet injections are used both diagnostically and therapeutically – this means they can help doctors to establish a diagnosis as well as be used as an effective treatment.
Lumbar Radiofrequency Ablation – rfa treatment is an effective non-surgical treatment that is used for chronic low back pain. It works by using alternating current technology to generate heat which is transmitted directly to the nerve endings of the facet joints in the back. This stops nerves from sending pain signals to the brain and provides long-lasting pain relief.
SI Joint Injection – sacroiliac joint injections are an excellent treatment option. During this procedure, a pain doctor injects the patient with local anesthetic to ensure they are comfortable. They then use dye and X-ray guidance to inject pain relief medicine directly into the sacroiliac joint.
As well as providing exceptional patient care and the best minimally invasive treatments, our pain specialists can recommend a physical therapist to work with you. Physical therapy helps to strengthen muscles, increases flexibility and provides gentle exercise to areas affected by pain problems.
Our state of the art clinic is conveniently located near Grand Central Station and Penn Station. We are situated in the heart of Manhattan, next to the Flatiron neighborhood. We are currently providing video visits and look forward to helping you get back to full health as soon as possible.
Book a Consultation
Scheduling a consultation with one of our pain treatment specialists is one of the best ways to determine the proper solution for pain relief.
Who Are The Best Back Doctors NYC? | A Harvard Doctors Answers
ultima modifica:
2020-04-15T13:02:46-04:00
da