Who Are The Best Knee Doctors In NJ? | A Harvard Doctor Answers
Where Can I Find The Best Knee Doctors In NJ?
Looking for orthopedic doctors in Northern New Jersey can be a daunting task. There are many different medical groups offering the best knee treatments across Clifton, Paramus and Hackensack NJ. Your search may have taken you to the Summit Medical Group Orthopedics where you will have seen Summit Orthopedic Specialists list their top doctors. Or you might have explored University Orthopedics Physical Therapy Somerset NJ. Even a top orthopedic doctor union nj will promote knee surgery and narcotics to target knee pain. Despite the knowledge and experience of many orthopedics, surgery and narcotics are not the only treatment options on the market. The best knee pain doctor will use the latest minimally invasive treatments to diagnose and alleviate knee pain without surgery or over-reliance on narcotics.
Nowadays, many nj orthopedics rely on surgical treatments and narcotics, NSAIDs and opioids to treat knee pain. However, knee surgery and narcotics can be extremely risky and do not always optimize health. Some examples of risks to consider include:-
Blood clots
Infections
Problems with anesthesia during the operation
Secondary problems e.g. pneumonia and sepsis
Long post-operative recovery periods
Potential over-reliance on NSAIDs, narcotics and opioids
It is no secret that the U.S. is in the midst of an opioid epidemic. Addiction rates and negative side effects associated with pain medication are on the rise. That's why it's important to explore your treatment options with the best knee doctors in nj at The Pain Treatment Specialists.
The Pain Treatment Specialists are a team of board certified, Harvard pain doctors. They combine the latest techniques in regenerative medicine with a holistic approach to health to get you back on your feet as soon as possible. Rather than committing to risky and potentially unnecessary knee surgery, it's important to explore all available knee treatments. If you're wanting to explore the best doctors near me, then let's take a look at the top knee pain doctor nyc and nj.
Who Is The Best Orthopedic Near Me? | The Pain Treatment Specialists
If you're struggling with knee pain and looking for the best knee doctors in nj, then look no further. Our team of board certified, Harvard doctors are leaders in the field of pain medicine. They have access to the latest cutting-edge techniques at the forefront of regenerative medicine to get you back to full health as soon as possible. Let's introduce you to expert Ivy League knee pain doctors.
Dr Laura Lombardi
Dr Laura Lombardi is a double board certified knee pain doctor with expertise in Anesthesiology and Pain Medicine. She achieved her medical training from Yale University and her Interventional Pain Medicine fellowship from Harvard Medical School. Dr Lombardi regularly presents medical research at conferences and has written many chapters of medical textbooks used amongst future physicians. She is passionate about spending time with her patients to gain an overall picture of the problem area. Dr Lombardi is extremely skilled at using the latest minimally invasive treatments and tailors her approach to the needs of each individual patient. In particular, Dr Lombardi is well-known for using fluoroscopic guidance during her treatment procedures.
Dr Shane Volney
Dr Shane Volney is a double board certified leader in Anesthesiology and Pain Medicine. He completed his residency at Vanderbilt University Medical Center where he was appointed Chief Resident. He then achieved his fellowship training in Palliative Medicine at Harvard Medical School in addition to a Pain Management fellowship at The Massachusetts General Hospital – Harvard Medical School. Dr Volney is highly experienced in his field and speaks at national conferences. He is also an experienced Clinical Instructor at Harvard Medical School. Dr Volney is extremely passionate about maximizing all aspects of his patients' well-being and advocates using minimally invasive procedures to treat pain. He regularly uses platelet rich plasma treatment as well as neurostimulation.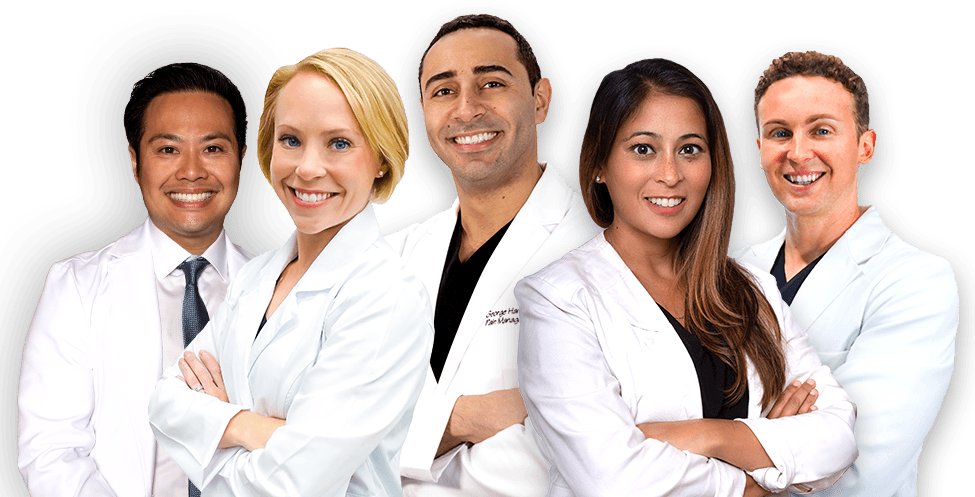 What Happens When I Visit The Pain Treatment Specialists?
Now that we've looked at why it's important to book an appointment with the best knee doctors in nj at The Pain Treatment Specialists, let's see what happens when you visit our clinic in nj and nyc.
Our state of the art clinic in Northern New Jersey regularly welcomes celebrity athletes and patients from around the world. We pride ourselves on being a Center of Excellence which offers expert minimally invasive procedures that combine the best of pain medicine with a holistic health approach.
One of the top knee pain doctors will physically examine your knee joint. They will also take a verbal medical history from you to explore the pain complaint in full. Sometimes pain doctors order blood tests or scans (like X-rays and ultrasound) to rule out other underlying health conditions. Then, using all of this information, your pain doctor will provide you with a diagnosis and subsequent treatment plan. This will involve R.I.C.E. (rest, ice, compression, elevation) as well as a minimally invasive procedure like the ones we have already explored. Our top knee pain doctors nj may also recommend the best physical therapist to work with you in conjunction with your treatment plan.
At The Pain Treatment Specialists, our pain doctors understand why you may have concerns about your knee pain. That's why they spend time with their patients to establish healthy doctor-patient relationships and do their best to alleviate any worries that may be on your mind.
Book a Consultation
Scheduling a consultation with one of our pain treatment specialists is one of the best ways to determine the proper solution for pain relief.
Who Are The Best Knee Doctors In NJ? | A Harvard Doctor Answers
ultima modifica:
2020-04-26T08:37:28-04:00
da