Get Top Care from a World-Renowned Pain Specialist in Clifton
World-Renowned Pain Management Specialists in Your Hometown
Some people have to travel thousands of miles for quality healthcare. Others have a local primary care doctor, but travel to seek the wisdom of a revered specialist for persistent problems like chronic back pain. At Pain Treatment Specialists in Clifton, we treat such patients from around the world. But the residents of New Jersey, as well as New York, have access to our award-winning care in their own hometown.
Global Expertise in Locations Convenient to You
Our doctors have studied at the most prestigious universities and hospitals in cities around the globe. They bring a depth of research, cultural immersion, population studies, and multiple fields of expertise to their care. With a broad scope of experience, our board certified physicians have a well-rounded approach to pain medicine. Each doctor and staff member on our team extends substantial knowledge to our patients. 
We know how pain limits productivity, mobility, and even your overall physical and mental health. It's our goal to simplify care by providing convenient locations for treatment. Our Clifton clinic is located just off Route 46 and NJ-3 near Fette Infiniti. With multiple offices in New Jersey and New York, we bring world-class care to your doorstep. Learn more about our high level training below. Then book an appointment to see how we can help!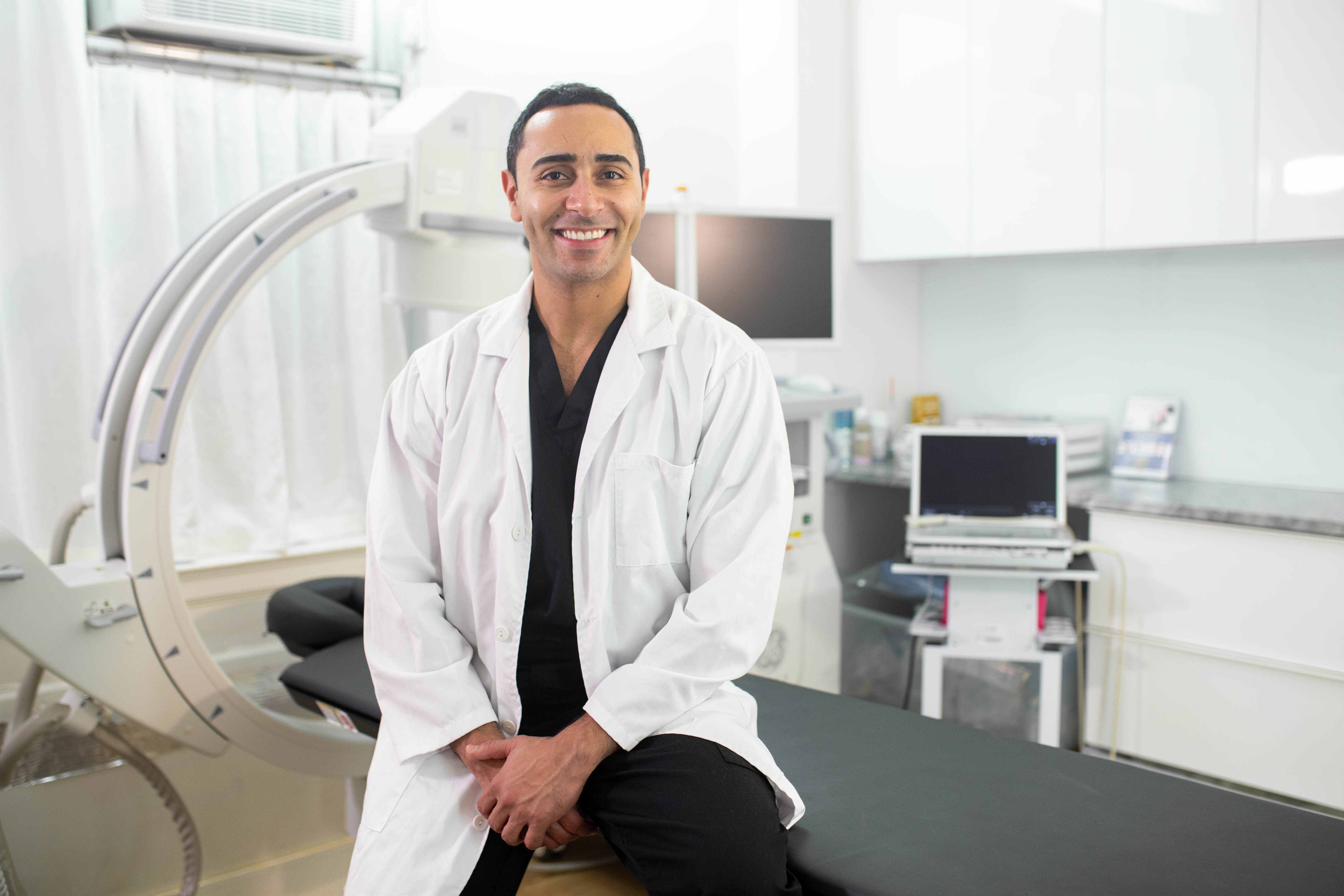 Where Our Pain Treatment Specialists Received Their Training
Each doctor at Pain Treatment Specialists holds supplemental certifications, additional training, and extensive fellowships in medicine. Our doctors are highly sought after as lecturers, authors, and instructors on interventional pain treatment. Take a look at some of the prestigious locations our pain specialists earned their stripes.
Dr. Michael Nguyen's Training:
Dr. Nguyen completed his residency and advanced pain fellowship training at Harvard Medical School. Dr. Nguyen received the "Mentor of the Year" and the "Teacher of the Year" awards while at Harvard. Upon completing residencies and fellowships, he also taught for two years at Harvard, training in the most modern advances in interventional pain management. He is certified by the American Board of Anesthesiology: Pain Medicine and is the world-renowned Medical Director of Pain Treatment Specialists.
Dr. George Hanna's Training:
Dr. Hanna earned an undergraduate degree from Cornell University and a medical degree from the University of Pennsylvania School of Medicine. He completed a residency at Massachusetts General Hospital – Harvard Medical School and a fellowship at Brigham and Women's Hospital – Harvard Medical School. He completed both a Clinical Instructorship and Directorial position at Harvard, as well as a Medical Directorship at Martha's Vineyard Hospital. He also served as Chairman of Anesthesiology and Pain Management at Chilton Medical Center.
Dr. Shane Volney's Training:
Dr. Volney completed his residency at Vanderbilt University Medical Center as Chief Resident. He completed fellowships in both pain management and palliative medicine at The Massachusetts General Hospital – Harvard Medical School and Harvard, respectively. At Mass General, he served as Director of Resident Education in Pain Medicine and Chairman of the Massachusetts General Hospital Pain and Sedation Committee. He also served as an instructor to providers in underserved communities throughout Kenya.
Dr. Namrata Khimani's Training:
Dr. Khimani earned an undergraduate degree at Columbia University and graduated Harvard Medical School with honors. She served as Chief Resident at New York Presbyterian Hospital – Columbia University. She completed an advanced fellowship at Brigham and Women's Hospital – Harvard Medical School and is nationally recognized by the American Board of Anesthesiology.
Dr. Laura Lombardi's Training:
Dr. Lombardi earned an undergraduate degree from Yale University and a medical degree from Wayne State University School of Medicine. She completed her residency at Columbia University – New York Presbyterian Hospital and a fellowship at Harvard University. She has additional training in minimally invasive, fluoroscopic guided pain treatment injections. She is board certified in anesthesiology and pain medicine.
Board Certified Pain Doctors Who Care About Clifton Residents
Residents of the great Garden State are our neighbors, coworkers, and friends. We are passionate about providing high level care to our beloved community in Clifton, NJ. Each of our doctors is double or triple-certified in pain medicine and complementary fields like anesthesiology. We take our global experience and pair it with local connection to Clifton residents like you.
We Take Our Time With You
Some medical practices cram as many patients as possible into their schedules to maximize profit. We're more interested in getting to know you and finding the source of your pain. That means we take our time with your visit and conduct a comprehensive assessment to determine the best plan overall. We take your pain personally and we aren't satisfied until you get relief. Our thorough analysis of imaging, lab work, tests, and medical histories yields the best results.
We Extend Assistance Beyond Doctor's Office
Our practice offers virtual visits, telemedicine, and convenient hours for your visit. We conduct follow-up procedures and maintain a relationship with our patients. We don't send you out the door with a prescription or piece of paper to handle your pain on your own. At Pain Treatment Specialists, you're part of an award-winning team who treats pain successfully together. We recommend home care techniques and best practices to keep you pain from returning. We are always available to answer questions and adjust treatment as needed.
We Combine World-Class Education with Local Compassion
Our combination of world-class education and local compassion brings Clifton the best care available. We have a focus on global medical advances, groundbreaking research, and state of the art techniques. But we're just as focused on knowing how your pain feels today, and how we can make it better.
No matter where we've learned, taught, or served around the world, our community of patients is what drives us each day. We look forward to sharing our knowledge with you and bidding your pain farewell. We accept most major insurance plans and will find the least invasive, least expensive way to treat your pain. Trust the pain specialist in Clifton who's setting the standard for other pain doctors. Contact our office today!
Book a Consultation
Scheduling a consultation with one of our pain treatment specialists is one of the best ways to determine the proper solution for pain relief.
Get Top Care from a World-Renowned Pain Specialist in Clifton
ultima modifica:
2020-05-07T06:40:30-04:00
da