Where's The Best Pain Specialist West Orange? A Harvard Doctor Responds
Who's The Best Pain Specialist West Orange?
If you're looking for the best pain specialist west orange, then we can help you. Pain specialists (also known as pain management doctors) are expert pain doctors who have an abundance of experience in treating a range of pain conditions. Regardless of whether you have chronic pain or have acquired an injury, pain specialists can help get you back on your feet.
However, many orthopedic surgeons can rely too heavily on using surgery and other invasive procedures to treat different pain conditions. Surgery can be extremely risky and can involve several complications. Some examples of the most common risks include issues with anesthesia, secondary infections and long recovery periods. As well as having to consider the risks of surgery, there is also heavy use of narcotics involved. NSAIDs, opioids and other narcotics can have negative health consequences if taken for long periods of time.
The good news is that there are many innovative and exciting non-invasive treatments that can be used to diagnose and treat pain conditions. Surgery is not always necessary and can often create more problems that it solves. That's why it's important to understand why you're in pain and how best it can be treated.
At The Pain Treatment Specialists West Orange, our board certified Harvard pain doctors are experts in their field. Their state of the art clinic provides the perfect opportunity to explore the latest minimally invasive treatment choices which minimize risk and maximize your health. Rather than relying on risky and invasive surgeries, these Harvard pain doctors use the latest cutting-edge techniques which will get you looking and feeling your best.  Let's take a look at the best pain specialist west orange.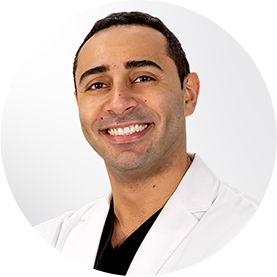 Dr George Hanna
Dr George Hanna is a double board certified Harvard doctor. He is a leader in Interventional Pain Management, Pain Medicine, and Anesthesiology. He is a highly experienced pain specialist and is passionate about delivering exceptional non-invasive treatments. Dr Hanna is an experienced Chairman of Anesthesiology and Pain Medicine at Chilton Medical Center as well as Director of Pain Innovations and Technology whilst at Harvard. He has delivered lectures and written many scientific articles and textbook chapters on anesthesiology and pain management.
Dr Laura Lombardi
Dr Laura Lombardi is double board certified in Anesthesiology and Pain Medicine. She is an exceptional pain specialist who received her medical training from both Yale and Harvard. She is highly skilled in using the latest minimally invasive techniques to treat patients. She is particularly well-known for using fluoroscopic guidance in her treatment protocols. Dr Lombardi spends time with her patients to create a custom care plan. She contributes widely to medical education and is passionate about using the latest minimally invasive pain procedures to get her patients looking and feeling their best.
Where Are The Pain Treatment Specialists?
The Pain Treatment Specialists are located in a state of the art clinic near Essex Country Club. If you're wanting to combine a holistic approach to health with the latest minimally invasive procedures, don't hesitate to book an appointment with the best pain specialist west orange.
What Are The Best Pain Treatments?
As we've discussed so far, it's important to explore all of the latest treatment options available with the best pain specialist west orange. These Harvard pain doctors are experts in pain medicine and are passionate about using cutting-edge technology to minimize any risk and maximize your health.
It's important to understand what's causing your pain. If you leave your pain complaint untreated, it could get worse over time or even lead to further health complications. Choosing treatments which promote health and are low risk are the best way to get you back to your usual activities. Regardless of whether you have acute pain or long-term pain, one of these exceptional Harvard pain doctors at The Pain Treatment Specialists West Orange will be able to explore treatments with you. Let's take a look at some of the latest innovative procedures.
Steroid Injections
Steroid injections are a popular and effective treatment choice for many pain conditions. Steroid injections contain a mix of local anesthetic and corticosteroid medicine which reduces inflammation and redness in the joint. Reducing swelling is an effective way to feel long-term benefit from pain relief.
Platelet Rich Plasma Injections
Prp treatment is an innovative and exciting area in regenerative medicine. Plasma is the liquid component of blood. It contains proteins and water and is a medium for both white and red blood cells. Prp treatment is when a pain specialist takes blood from a patient and puts the blood through a centrifuge to create a higher concentration of platelets. These platelets are then injected into the patient's area of pain. This stimulates the growth of healthy, new cells and tissue in the affected area.
Radiofrequency Treatments
Rfa treatment is another exciting area of regenerative medicine. It is based on the principle that increasing the temperature of nerves that are responsible for sending pain signals to the brain will stop the signals from being sent. A pain specialist can use alternating heat technology to heat up nerves, thereby preventing pain information from registering in the brain. Rfa treatment is an excellent choice for long-term pain conditions and boasts high success rates.
Genicular Nerve Block
A genicular nerve block is when a pain specialist injects local anesthetic near the genicular nerves in the knee joint. The local anesthetic numbs the genicular nerves and stops them from transmitting pain information to the brain. Genicular nerve blocks are low risk and highly effective in providing long-lasting pain relief.
What Happens When I See A Pain Doctor?
Before committing to risky and potentially unnecessary surgery, it's vital you explore the best treatment options in west orange, nj. The best pain specialist west orange will spend time with you to understand your pain complaint. This may involve taking a verbal medical history as well as ordering scans and blood tests. Once this information has been collected, the board certified pain specialist NJ will then be able to rule out potential underlying health conditions and can customize a treatment plan.
At The Pain Treatment Specialists, these top Harvard pain management specialists are passionate about spending time with their patients. Rather than viewing patients as a collection of symptoms, these top doctors value establishing excellent professional relationships and creating a treatment plan to suit your needs. Regardless of the types of therapy and treatment you've experienced in the past, the best pain specialist west orange nj will recommend a suitable minimally invasive procedure.
As well as prescribing a minimally invasive procedure, you will be encouraged to rest, ice, compress and elevate (R.I.C.E.) your area of pain. This can help to reduce any redness, pain and swelling. You may also receive a recommendation for a top physical therapist to work with you in conjunction with your minimally invasive procedure.
It's important to understand what's causing your pain and how best to treat it. That's why it's highly recommended you explore all of the best conservative treatment choices with the best pain specialist west orange nj.
Book a Consultation
Scheduling a consultation with one of our pain treatment specialists is one of the best ways to determine the proper solution for pain relief.
Where's The Best Pain Specialist West Orange? A Harvard Doctor Responds
ultima modifica:
2020-05-15T11:31:27-04:00
da