Knee Doctor in Manhattan Minimizes Arthritic Complications
Fellowship Trained Doctors Who Minimize Arthritic Symptoms
If you suffer from Osteoarthritis, Rheumatoid Arthritis, Gout, or any other form of arthritis, you know how painful the symptoms are. If you've had arthritis for a while, you've likely also encountered some unpleasant side effects and problems caused by the disease and certain treatment options. Arthritis is not a single disease– there are over 100 types of arthritis. And unfortunately, there are also many symptoms of each type. That's why it's so important to choose fellowship trained pain doctors to minimize both the arthritis itself, as well as the concurrent symptoms. If your knee pain stems from arthritis, visit the top knee doctor in Manhattan— Pain Treatment Specialists. Our team of pain medicine experts tackles arthritis from every angle.  
Why Proper Treatment Options Are Essential for Arthritis
The many forms of arthritis stem from different issues. Rheumatoid Arthritis (RA), for example, is an autoimmune and inflammatory disease, whereby your immune system attacks healthy cells in your body by mistake, causing painful swelling in your knees and additional joints. Osteoarthritis (OA) is not autoimmune, but degenerative, presenting as either primary or secondary. This means that Osteoarthritis originates on its own (primary), or as a result of another disease or injury (secondary). Osteoarthritis causes wear and tear on your knee joint, resulting in pain and complications. OA might occur in just one of your knees, whereas RA typically affects multiple joints at once. In addition, RA affects more than just joints– often impacting things like your eyes, skin, heart, lungs, and blood vessels. Since these are only two types of arthritis, you can see why receiving the right diagnosis and treatment is crucial to relief. Arthritic forms also include metabolic, infectious, and septic, to name a few.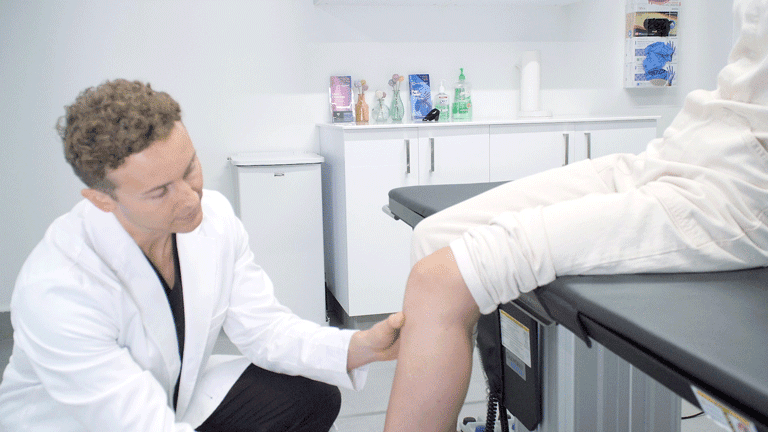 Sports Medicine & Orthopedic Surgeons Aren't the First Stop
If your knee hurts after exercising, you might consider seeing a sports medicine doctor. However, sports medicine is typically not the best course for effective arthritis treatment. A sports medicine doctor might recommend physical therapy, surgery, or narcotic pain relief, but depending on your form and severity of arthritis, these options may be inadequate, or even harmful. Likewise, orthopedic surgeons aren't the best choice for someone with knee pain, except in rare cases. Most types of arthritis respond well to conservative treatment options like corticosteroid injections, lubricant injections, nerve blocks, heat/ice therapy, weight loss, and immunosuppressive medicines. Surgery is a last resort when other treatment options don't suffice, or when arthritis has gone undiagnosed and untreated for too long. That's extra incentive to head to your knee doctor in Manhattan sooner than later!
Complications of Untreated Osteoarthritis
Osteoarthritis results in joint damage. It's caused by wear and tear of cartilage, which is the tissue that protects your bones and joints. Without such protection, nerve endings are exposed in bones, causing pain. When the structural integrity of your knee is compromised, these nerve endings will continue to cause pain. While this is an unpleasant sensation, it's great that the knee is designed to signal pain when this occurs. That's how we can prevent further damage, for example, bones grinding together worsening deterioration.
The pain of Osteoarthritis is difficult enough to endure, but the disease also causes additional complications. Here are just a few issues associated with Osteoarthritis, increasing the need to choose a qualified knee doctor in Manhattan.
Pain
Exhaustion
Debilitation
Anxiety
Depression
Falls & Injuries
Disability
Stress Fractures
Work Absence
Sleep Disruption
Weight Gain
Bleeding & Infection
Hampered Productivity
Isolation
Weakening of Tendons & Ligaments
Diabetes
Heart Disease
Hypertension
Complications of Untreated Rheumatoid Arthritis
Just like OA, RA has significant symptoms to contend with, in addition to serious complications. Both diseases are chronic, meaning they are long-term, and may be constant, or have flare-ups, depending on your course of treatment. It's important to visit our award-winning knee doctor in Manhattan to ensure that your form of arthritis is properly diagnosed. The treatments are quite different, so choose your doctor wisely. In addition to widespread pain, here are complications of untreated RA.
Warm, Swollen Joints
Widespread Inflammation
Pain & Inflammation
Joint Stiffness
Fatigue
Fever
Loss of Appetite
Osteoporosis
Rheumatoid Nodules
Dry Eyes & Mouth (Sjogren's Syndrome)
Inflammation Around Heart
Disproportionate Fat to Lean Mass
Infections
Carpal Tunnel Syndrome
Lymphoma
Lung Disease
Hardened or Blocked Arteries, Compromised Blood Vessels
Damage to Skin, Eyes, Kidneys, Salivary Glands, Nerves, or Bone Marrow 
Our Minimally Invasive Doctors Offer Conservative Treatment
Considering the multiple symptoms and complications of arthritis, you might assume an invasive treatment plan is best. But the opposite is true. When dealing with delicate joints and knees that are already inflamed or degenerating, you want to take a minimally invasive, yet targeted approach. Our Ivy League team uses innovative tools like fluoroscopic guided imagery and injections that simultaneously locate and treat pain to prevent damage to the joint.
Our doctors have a unique advantage in treating arthritic knee pain, since they're fellowship trained in interventional pain management. They understand how and why the varied symptoms of arthritis present and how to eliminate them at the source. Rather than systemic pain killers or surgery, they eradicate pain at the trigger, for example, the offending nerve ending or the bone that needs lubricant for painless mobility.
Minimize Your Arthritis With the #1 Knee Doctor in Manhattan
If you're ready to live your life fully, uninhibited by knee pain, call Pain Treatment Specialists in Manhattan today! With an office right near Penn Station, relief is only moments away. We offer minimally invasive, interventional, orthopedic care for all kinds of knee pain, not just arthritis! We'll provide an accurate diagnosis and create customized treatment options for your specific condition. And we only use conservative treatment methods, preventing the pain, expense, and downtime orthopedic surgeons incur. We'll minimize your arthritis to prevent the varied symptoms and complications of the disease.
Book a Consultation
Scheduling a consultation with one of our pain treatment specialists is one of the best ways to determine the proper solution for pain relief.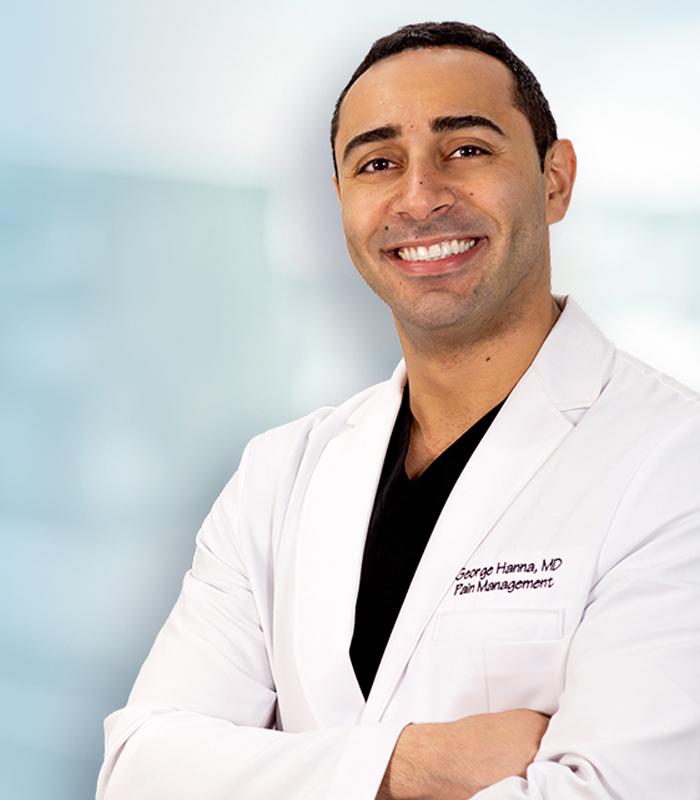 George Hanna
Harvard Medical School
Director of Pain Management
Dr. George Hanna is a nationally recognized pain management specialist and Double Board Certified in anesthesiology and pain management medicine. Dr. Hanna is currently available at Pain Treatment Specialists in Manhattan and Clifton, NJ. He is now accepting most major medical insurances, including Medicare.
Shane J. Volney
Harvard Medical School
NY & NJ PAIN SPECIALIST
Dr. Volney is double board certified in Anesthesiology and Pain Medicine by the American Board of Anesthesiology. He is currently seeing patients at our Pain Treatment Center in Manhattan and Clifton, New Jersey. Most pain treatments are covered by all major medical insurances and Medicare.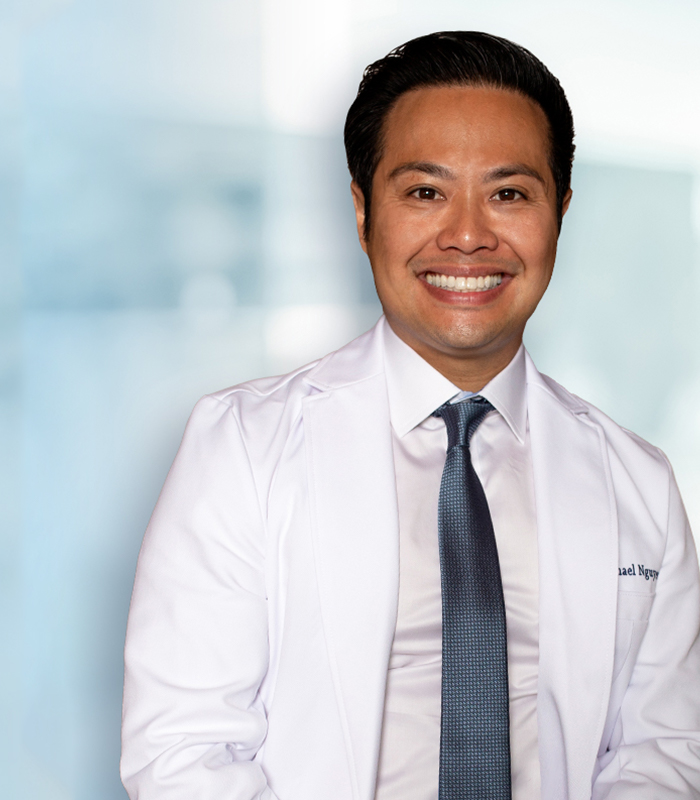 Michael Nguyen
Harvard Medical School
NY & NJ Pain Specialist
Dr. Michael Nguyen is world renowned in Pain Medicine. Dr. Nguyen completed his residency and advanced Pain fellowship training at Harvard Medical School. During his tenure at Harvard, Dr. Nguyen was awarded the "Mentor of the Year" and also "Teacher of the Year" award.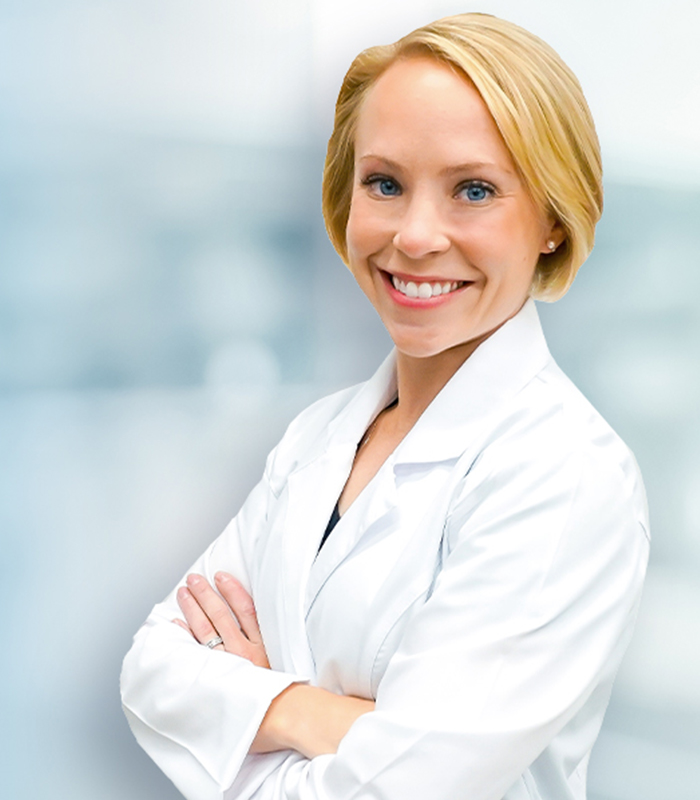 Dr. Laura Lombardi
Harvard Medical School
NJ PAIN SPECIALIST
Dr. Lombardi specializes in the treatment of back, neck, and joint pain. By using a range of minimally invasive modalities as well as advanced procedures, she helps patients achieve a pain free life without the need for surgery. Dr. Lombardi will be offering her pain treatment services in Clifton, New Jersey.
Knee Doctor in Manhattan Minimizes Arthritic Complications
ultima modifica:
2020-10-27T11:38:38-04:00
da