Who's The Best Knee Doctor New Jersey? | A Pain Doctor Responds
Where Can I Find The Best Knee Doctor New Jersey?
If you're struggling with a knee injury or general knee pain, then you aren't the only one. Knee pain has become more common in recent medicine and can drastically affect quality of life. Some pain doctors believe this is due to our modern sedentary lifestyles as well as diet choices.
Knee pain can be a symptom of many different health conditions, ranging from knee injuries like a meniscus tear, to arthritis. Knee joint pain can also get worse if left untreated or even lead to secondary health problems. Due to these reasons, it is highly recommended to seek medical advice from a board certified knee doctor new jersey at The Pain Treatment Specialists. Your search for a top knee doctor new jersey may have taken you to doctors across Toms River NJ, Clifton and Paramus. However, the best Harvard pain doctors offering exceptional treatments that promote health and avoid surgery are located at The Pain Treatment Specialists.
The Pain Treatment Specialists advocate the latest minimally invasive treatment plans that minimize risk and maximize health. By drawing upon the latest techniques in regenerative medicine and a holistic approach to health, these highly trained Harvard pain doctors can get you back on your feet in the best way possible.
Nowadays, many orthopedic surgeons rely on surgical treatments and narcotics to treat knee pain. However, surgery can involve many different complications and risks. Surgery also requires long recovery periods and can lead to over-reliance on narcotics, opioids and NSAIDs. Knee replacements and other types of surgery are not always necessary and do not always maximize health. Rather than committing to risky and potentially unnecessary surgery, consider exploring treatment choices in full with our top knee doctor new jersey. Our expert team will spend time understanding your pain complaint and can recommend the latest minimally invasive procedure to get you back on your feet. Let's take a look at some of our top knee pain doctors.
Dr Laura Lombardi
Dr Laura Lombardi is a graduate of Yale University and Harvard Medical School. She is an exceptional pain doctor with expertise in Anesthesiology and Pain Medicine. In addition to achieving double board certification, she regularly contributes to medical conferences as well as authoring several chapters of medical textbooks that help future physicians. Dr Lombardi values spending time with her patients to understand their pain complaint. She tailors her treatment approach to the needs of each individual patient to maximize positive outcomes. Dr Lombardi is very skilled at using minimally invasive treatment options. In particular, she is renowned for using fluoroscopic guidance during her treatments.
Dr Shane Volney
Dr Shane Volney is an expert in Pain Medicine and Anesthesiology. He has achieved double board certification and attended Harvard Medical School as a medical student and faculty member. He achieved the role of Chief Resident during his residency program at Vanderbilt University Medical Center. He then went on to complete his Palliative Medicine fellowship at Harvard Medical School. Dr Volney is a leader in pain medicine and regularly speaks at national medical conferences. He is also an experienced faculty member at Harvard Medical School where he taught Anesthesiology, Pain Medicine and Palliative Care. Dr Volney is passionate about using the latest minimally invasive treatments to treat pain and is an expert in using platelet rich plasma treatment as well as neurostimulation.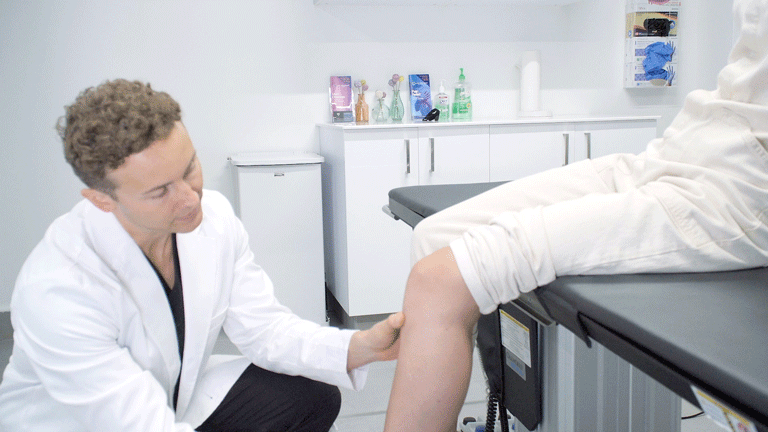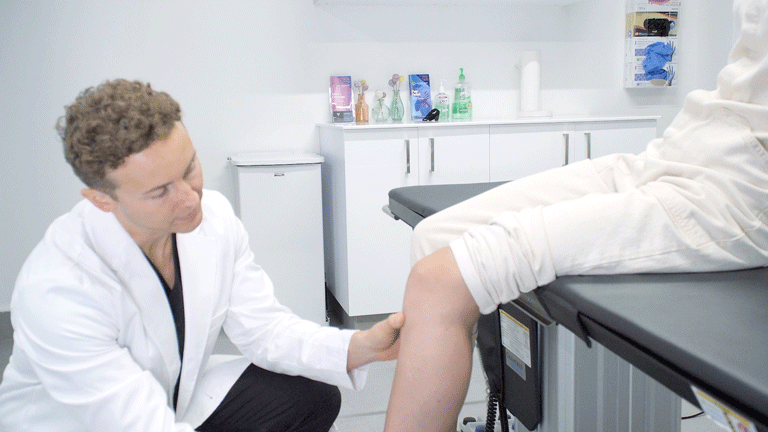 What Are The Best Knee Treatments?
As we've seen, it's important to seek medical advice from a board certified Harvard doctor. At The Pain Treatment Specialists, our Ivy League medical team advocates maximizing health via minimally invasive treatments. Minimizing risk and maximizing health is at the heart of our pain doctors. They enjoy spending time with their patients to receive a comprehensive overview of the problem area before recommending the latest cutting-edge treatments. Let's explore some examples of the latest treatment plans on offer from our top knee doctor new jersey:
Steroid injections – steroid injections are usually the first line of treatment for knee pain. They are a popular, fast and effective treatment which can be administered 2-3 times for full effect. Steroid injections contain a mixture of local anesthetic and a corticosteroid medicine to alleviate inflammation and pain in the knee joint.
Genicular nerve block – a genicular nerve block describes when a pain doctor stops the transmission of pain signals from the knee joint to the brain. The genicular nerves are located around the knee joint. By applying local anesthetic near the genicular nerves, pain information can no longer be sent to the brain. This enables the patient to enjoy effective and low risk pain relief.
Radiofrequency ablation of the genicular nerve – rfa treatment is an exciting and innovative area of pain medicine. During rfa treatment, a pain doctor uses alternating heat technology to increase the temperature of the genicular nerves around the knee. By heating up the genicular nerves, it stops the transmission of pain information from the knee joint to the brain. Just like a genicular nerve block, the patient can enjoy long-lasting pain relief with minimal risk.
If you are interested in exploring the latest minimally invasive treatments with one of our Ivy League pain doctors, consider scheduling an appointment at our state of the art clinic nj and nyc. The clinic in Northern New Jersey is located on Route 46 E, right off NJ-3 and not too far from Montclair State University. 
Why Should I Visit A Pain Doctor?
Pain doctors are leaders in the field of pain medicine. They are experts in diagnosing and treating a range of pain complaints and have access to the latest techniques at the forefront of regenerative medicine to help you. Rather than relying on risky and sometimes unnecessary total knee replacements, a pain doctor combines modern medicine with a holistic approach to health to get you back to your daily activities with minimal risk.
At The Pain Treatment Specialists, our pain doctors view their patients are more than just a collection of symptoms. They are truly passionate about combining the latest techniques in modern pain medicine with the body's own ability to heal. That's why patients travel from around the world to visit our Center of Excellence in Northern New Jersey. Here are some reasons to consider booking an appointment with our highly-trained Harvard doctors:-
Board certification – every single pain doctor at The Pain Treatment Specialists has a minimum of board certification. Many of our doctors have achieved double (and sometimes even triple) board certification! This shows that our pain doctors have achieved the highest possible levels of medical training in the field of pain medicine.
Harvard alumni – our Ivy League pain doctors are graduates of some of the top medical schools in the world. Harvard Medical School and Yale only accept applicants who have exceptional academic and personal standards to excel throughout the medical program at their institutions.
Diagnosis – it's important to understand what is causing your knee pain and how best to treat it. If you leave your knee pain untreated, it could get worse over time or even lead to further health complications. Our highly-trained pain doctors are experts in diagnosing and treating a range of pain conditions.
Minimally invasive treatments – the top knee doctor new jersey offers the latest minimally invasive procedures at the forefront of modern medicine. By drawing upon the body's natural healing ability and the best techniques in regenerative medicine, our pain doctors can promote health and minimize risk. Before committing to risky and potentially unnecessary knee surgery, be sure to explore all of the available treatment options on the market.
Book a Consultation
Scheduling a consultation with one of our pain treatment specialists is one of the best ways to determine the proper solution for pain relief.
Who's The Best Knee Doctor New Jersey? | A Pain Doctor Responds
ultima modifica:
2020-04-26T08:25:24-04:00
da