How to Find a Reputable Knee Pain Doctor in NY
Finding Accomplished Knee Pain Specialists in NY
New York is the land of opportunity, where anyone with the drive and means can set up shop and sell goods or services. It's also a state boasting some of the best medical schools and hospitals in the world. As such, knee pain specialists in NY run the gamut from amateurs to world-class physicians.
Some so-called knee pain specialists in NY recommend experimental methods and supplements not approved by the FDA. Yet there are also knee pain doctors in NY offering state of the art, innovative, and proven treatment for knee pain. So, how do you filter through the options to find a reputable doctor? Here are some tips to narrow your search.
5 Tips for Choosing a Reputable Knee Pain Doctor in NY
Investigate Their Training– Surprisingly, patients often overlook this step when choosing a doctor. While many people search the internet for answers to health questions, they don't all search the internet to determine their doctor's education and training. Look for doctors who trained at renowned medical schools and hold necessary degrees like M.D. Some doctors practice as chiropractors, D.O.s, or N.D.s, as well, so it's important to know the difference.
Investigate Their Certifications– Before accepting medical advice for acute or chronic knee pain, determine your doctor's certification. Look for a doctor who is board certified in an applicable field, like pain medicine or pain management. Being board certified is important, but so is the field of study.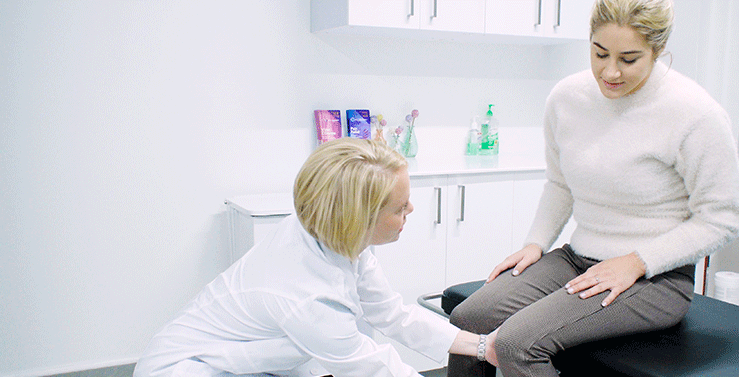 Investigate Their Experience– Inquire about the doctor's level of experience with your condition. Have they treated a handful of patients with knee pain, or hundreds? This is particularly important if they'll be performing a procedure on your knee. If you aren't comfortable with their breadth of experience, look elsewhere.
Investigate Their Methods– Not every knee pain specialist who is an M.D. uses the same treatment methods. The treatments vary even more widely with knee pain specialists who aren't M.D.s. Some practitioners perform surgery, some prescribe narcotics, and others, like Pain Treatment Specialists in NY, avoid both, in favor of innovative, minimally invasive solutions. Choose doctors who have necessary diagnostic tests and imaging tools onsite to expedite your relief.
Investigate Their Patient Reviews– While there will occasionally be outliers, look for a trend of positive reviews. When a doctor has negative reviews, read the reason, and see if it would be an issue for you. Don't hesitate to seek clarification, by contacting the doctor's office for their response to a negative review. And if there are consistently negative reviews, it's best to steer clear. See 5 more helpful tips below!
5 More Tips for Choosing Knee Pain Specialists
Investigate Their Peer Reviews– There are a variety of ways that satisfied and disgruntled patients can review their doctors. Most people who search for a knee pain doctor in NY make note of patient reviews. But what is even more compelling are peer perceptions. In other words, what do other esteemed doctors think of your knee pain specialist. Do they come highly recommended by your primary care physician? Have they received distinctions among their peers like Chief Resident, Clinical Instructor, "Castle Connolly Top Doctor," or "Center of Excellence?" If other doctors would choose your knee pain doctor, it's a good bet you're in good hands.    
Investigate Their Team– Does your doctor work alone, or are they part of a collaborative team? Is the team of physicians equally qualified, or are some less educated or trained? Is the team mostly staffed with NPRs and PAs, or are there multiple doctors on staff? All members of a medical team are essential to your health, but if you prefer to see an M.D. at each visit, choose a well-rounded team of physicians.  
Investigate Their Philosophy– What is your doctor's philosophy on pain management? While they might indicate it on their website, be sure to read the fine print. For example, if they advertise minimally invasive procedures, but also perform surgery, you're more likely to end up in surgery. If they recommend narcotic pain medicine or chiropractic care, they might not be certified in pain management. Look for a doctor who avoids surgical and opioid treatments for pain, and uses interventional methods instead.
Investigate Their Accessibility– How easy is it to see your doctor? Do they have convenient locations? Is scheduling a hassle? Do you have to wait months for an appointment? Do they offer telemedicine or virtual visits? Can you reach your doctor after hours or in an emergency? Knee pain can be disabling, and can also be an emergency situation, so a reputable doctor will make themselves easily accessible.
Investigate Their Affordability–Ethical doctors seek to provide care that isn't unnecessarily expensive for patients. Pain Treatment Specialists accepts most insurance plans and works to find the best price for your treatment, so you have little to no out-of-pocket expenses. We also use preventive and interventional tools that help eliminate the need for costly surgery. Choose a doctor who seeks to save you money, rather than pocket your money.
Schedule an Appointment With a Reputable Knee Pain Doctor  
Knees are not only complex, they're also essential to daily activity. Don't trust your medical care to knee pain specialists who aren't board certified pain management doctors. Whether you have knee arthritis, meniscus tears, or joint pain, our doctors have minimally invasive solutions for your pain. Here are some common knee pain conditions we relieve on the spot.
We Provide Minimally Invasive Relief For:
Patellar Tendinitis
Bursitis
Knee Arthritis
Patellofemoral Pain Syndrome
Iliotibial Pain Syndrome
Ligament Injuries
Meniscus Tears
Fractures
Muscle Strains
Infections
With state of the art tools for acute and chronic knee pain, our physicians provide outpatient care with superior results. Schedule an appointment online, or call our New York office at (646) 493-5890 to receive the highest level of treatment for knee pain. Our offices are conveniently located near major transit stops, including our NY knee pain clinic at 290 Madison Avenue, near Grand Central Station. End chronic knee pain within minutes by visiting New York's most reputable knee pain experts.
Book a Consultation
Scheduling a consultation with one of our pain treatment specialists is one of the best ways to determine the proper solution for pain relief.
How to Find a Reputable Knee Pain Doctor in NY
ultima modifica:
2020-09-23T12:25:00-04:00
da