8 Tips for Everyday Knee Pain from Hackensack Knee Experts
Is Your Knee Pain Lingering? Here Are 8 Tips to Relieve It
The first step to stop that nagging knee pain from resurfacing is figuring out why it's there. If your knee pain has lingered for more than a couple of weeks, even if it's mild, let our Hackensack knee pain doctors take a look. Knee pain commonly stems from one of three things: injury, a medical condition, or overuse. Determining the cause is crucial to getting relief. Once you've had a formal assessment, our doctors offer minimally invasive treatment options and share things you can do at home to keep pain away. Here are 8 tips to try with your doctor's approval.
1. Stop What You're Doing
Some pain stops people in their tracks, but a surprising number of patients push through knee pain when they're exercising, gardening, or climbing stairs. Forget the old saying, "no pain, no gain." That might hold some truth for muscle growth, but it doesn't apply to bones and joints. If your knee is throbbing, aching, cracking, bruising, or swelling up with certain activities, press pause and ask our Hackensack knee pain doctors whether to proceed, or try a different, doctor-recommended activity.
2. Reduce the Impact on Knee Joints
Are your knees regularly subjected to high-impact activities? Do you kneel to lay flooring, sod, or plumbing equipment for your job? Do your knees take a beating in your workouts (long-distance running, basketball, volleyball, CrossFit)? Start reducing impact on those crucial hinge joints with simple substitutions. Use pads under your knees for kneeling work and take periodic breaks to relieve pressure. Alternate high-impact sports with swimming and cycling a few days a week to give your knees time to recover.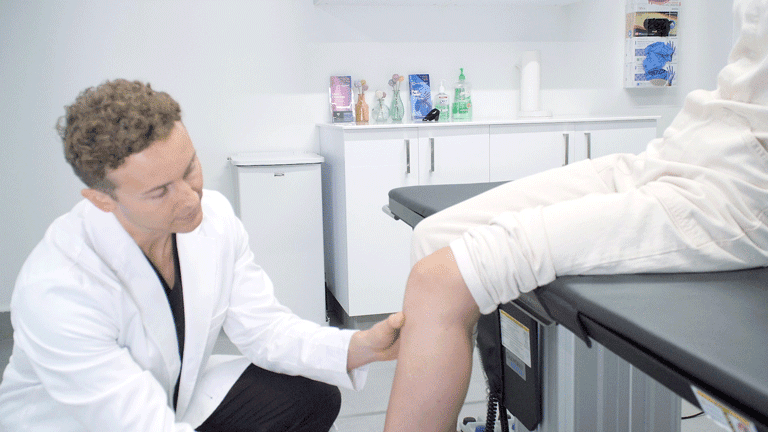 3. Take a Load off
Our knees bear the weight of our whole bodies, and they also have to bend and twist under all that pressure. If your job involves standing all day, make sure you take breaks to lighten the load on your knees. Some patients assume that means sitting all day if your knee hurts, but that bent position can also tax your knees and worsen the stiffness in certain conditions like Osteoarthritis. The key is to alternate positions and give your knees a change of pace throughout the day. Get daily exercise, if your doctor approves, but also take time to rest and unburden your knees.
4. Use Heat and Ice Correctly
You've probably heard the acronym R.I.C.E. (rest, ice, compression socks, elevation). However, these 4 steps aren't necessarily correct for your condition. Some types of knee pain do respond to ice, but others require heat or the alternation of both. Ice reduces inflammation, so it's helpful for swelling. Heat increases blood flow to the area and feels soothing for achy joints. So, talk to your doctor about the right application of heat and ice, since some conditions don't involve inflammation (no ice needed) and some feel worse with increased blood flow (heat not advised).
5. Elevate Effectively
Some patients take the phrase "elevate" to mean simply propping a pillow or rolled up blanket under their leg. But the point of elevation is to assist blood flow up and away from the feet, back to the heart, to reduce swelling in the knee. You need to actually elevate your knee above heart level for this to work properly. This might require a few pillows, a foam block, or a larger blanket rolled to an adequate thickness. Check to see that your leg is high enough, so you can maximize the benefits while you rest. Elevation is particularly helpful for certain knee conditions that produce swelling, like torn ligaments or arthritis, but it won't do as much good for things like Iliotibial Band Syndrome or Osgood-Schlatter Disease. So, ask our knee pain Hackensack specialists if elevation makes sense for you. 
6. Use Customized Compression
Some knee conditions should not be subjected to compression, but others respond quite well to it, particularly those that involve chronic swelling. Compression devices are not one-size-fits-all, and the ones you'll find on the shelf aren't designed for all knee issues. Request a custom fitting from our knee doctors for compression stockings, knee braces, or compression sleeves. The right fit is essential to make sure the compression is adequate for your condition. You don't want it to be too tight, or it could have an undesirable impact on circulation. Our knee experts are highly trained and will recommend the perfect compressive solution for you.
7. Don't Self-Prescribe Medication
Some patients pop whatever over-the-counter painkillers they have on hand when knee pain flares up. But each pain medicine works differently, and they aren't all safe for everyone. For example, if your knee injury involves significant bruising, bleeding, or the possibility of immediate surgery, non-steroidal anti-inflammatories (ibuprofen, Advil, Motrin, Aleve) aren't a good idea until the bleeding is under control. And if you have an inflammatory condition like Rheumatoid Arthritis or Fibromyalgia, analgesic pain medicines (acetaminophen, Tylenol) might numb the pain a bit, but they won't reduce the inflammation. Rather than taking whatever you have to dull the knee pain, ask our doctors which painkiller (if any) is advised. Our minimally invasive, painless procedures relieve knee pain in a single, 5-10 minute procedure, so you can kick those painkillers to the curb.
8. Don't Ignore It
One of the worst things you can do for knee pain is to grin and bear it or pretend it's not there. If you continue to exercise on injuries like fractures, torn ligaments, and dislocations, you're in for serious complications or invasive tactics like joint replacement surgery. In addition, conditions like arthritis, tendinitis, and bursitis become chronic and progressive if left untreated. So, take 30 seconds to book an appointment at Pain Treatment Specialists in Bergen County, right near Paramus Park Mall. After a thorough analysis, you'll likely just need a 5-10 minute outpatient procedure (corticosteroid injection, viscosupplementation, RF ablation, or genicular nerve block) to keep knee pain from becoming a serious problem.
Treating knee pain sooner than later dramatically improves the outcome. Schedule a visit with our award-winning doctors to learn which of these 8 tips apply to you. We'll teach you everything you need to know to keep your knee joints functional and healthy for the long run.
Book a Consultation
Scheduling a consultation with one of our pain treatment specialists is one of the best ways to determine the proper solution for pain relief.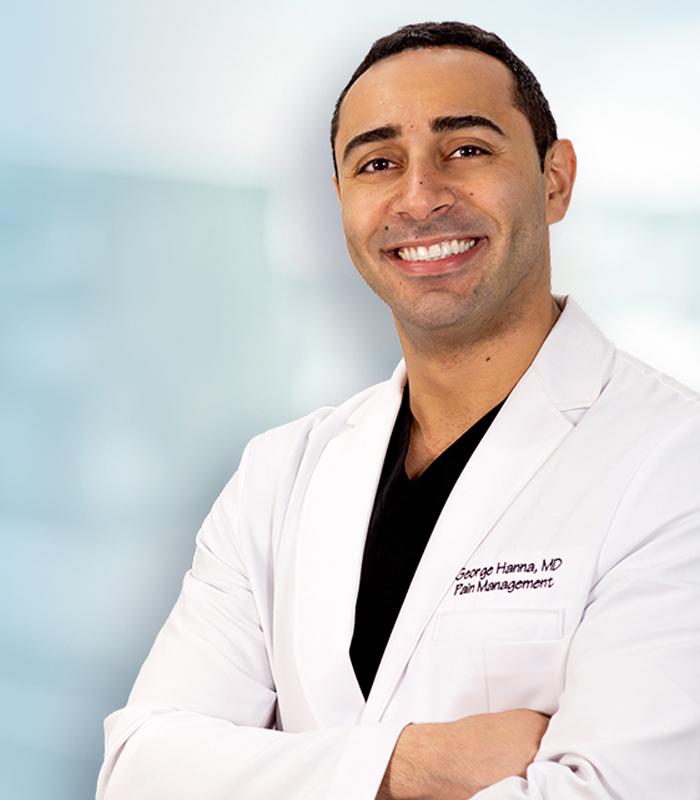 George Hanna
Harvard Medical School
Director of Pain Management
Dr. George Hanna is a nationally recognized pain management specialist and Double Board Certified in anesthesiology and pain management medicine. Dr. Hanna is currently available at Pain Treatment Specialists in Manhattan and Clifton, NJ. He is now accepting most major medical insurances, including Medicare.
Shane J. Volney
Harvard Medical School
NY & NJ PAIN SPECIALIST
Dr. Volney is double board certified in Anesthesiology and Pain Medicine by the American Board of Anesthesiology. He is currently seeing patients at our Pain Treatment Center in Manhattan and Clifton, New Jersey. Most pain treatments are covered by all major medical insurances and Medicare.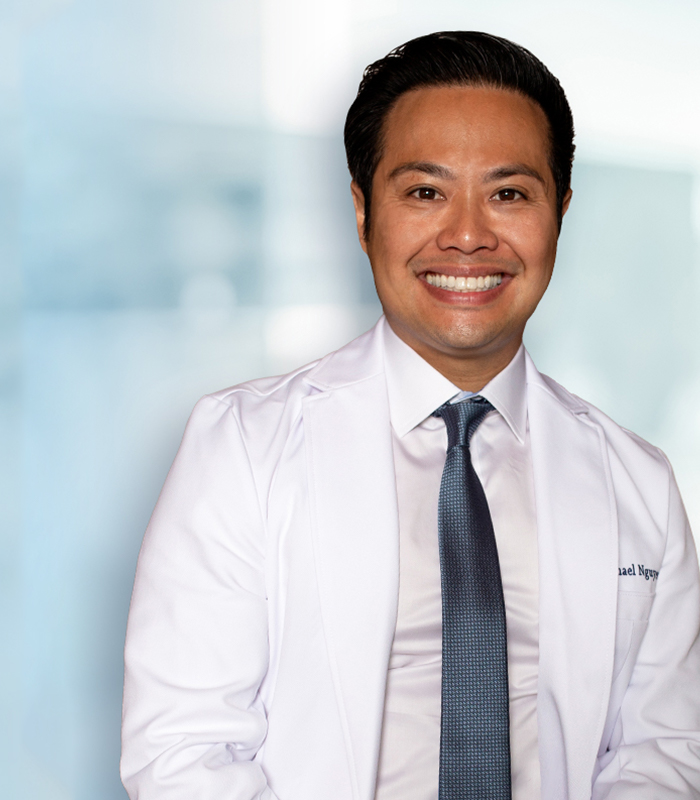 Michael Nguyen
Harvard Medical School
NY & NJ Pain Specialist
Dr. Michael Nguyen is world renowned in Pain Medicine. Dr. Nguyen completed his residency and advanced Pain fellowship training at Harvard Medical School. During his tenure at Harvard, Dr. Nguyen was awarded the "Mentor of the Year" and also "Teacher of the Year" award.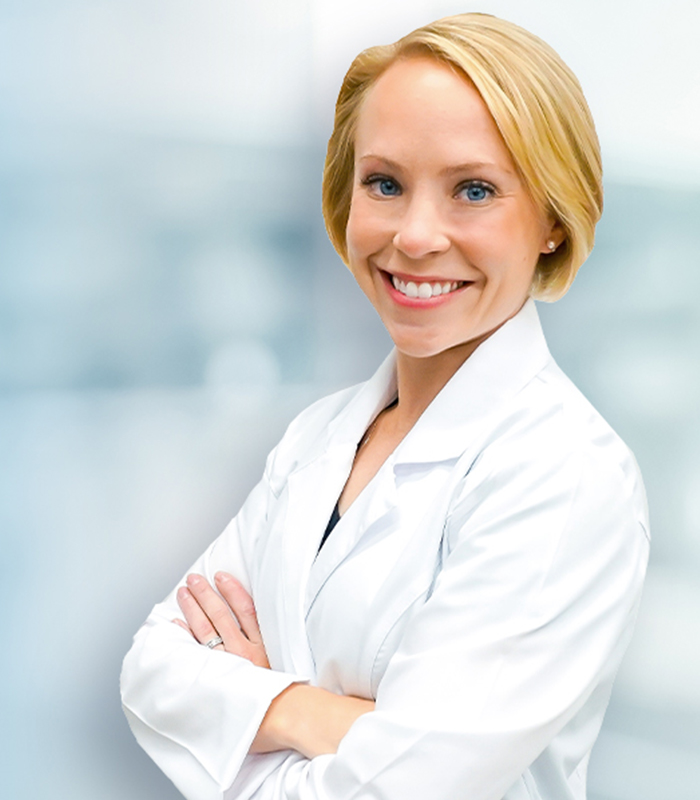 Dr. Laura Lombardi
Harvard Medical School
NJ PAIN SPECIALIST
Dr. Lombardi specializes in the treatment of back, neck, and joint pain. By using a range of minimally invasive modalities as well as advanced procedures, she helps patients achieve a pain free life without the need for surgery. Dr. Lombardi will be offering her pain treatment services in Clifton, New Jersey.
8 Tips for Everyday Knee Pain from Hackensack Knee Experts
ultima modifica:
2021-02-04T13:19:30-05:00
da