How a Neck and Spine Specialist Near Me Treats Chronic Pain Issues
Your neck and back carry a lot of weight throughout your day. Most of the movements you make with your head and torso are controlled by these muscles, and when they ache, it makes your day excruciatingly painful. Back and neck pain is one of the leading causes of calling in sick to work, and the residual effects from this pain also affect your personal life. When just turning your head is painful, you're unlikely to have any desire to meet your friends out after work for dinner and drinks. Instead of canceling plans and missing work days, it's best to meet with a neck and spine specialist in your area to find relief from your chronic pain.
At Pain Treatment Specialists, our team of neck pain doctors are also back pain specialists. Their intimate knowledge of the back, neck, shoulders, hip, and spine allows them to customize a treatment plan for each patient based on their specific pain concerns. When you schedule an appointment at one of their pain clinics in NYC or northern NJ, you'll meet with a highly-trained back pain specialist who uses minimally invasive treatments for back and neck pain. Our team of interventional pain doctors understand how chronic back and neck pain interferes with your life, and want to find solutions for your chronic pain concerns.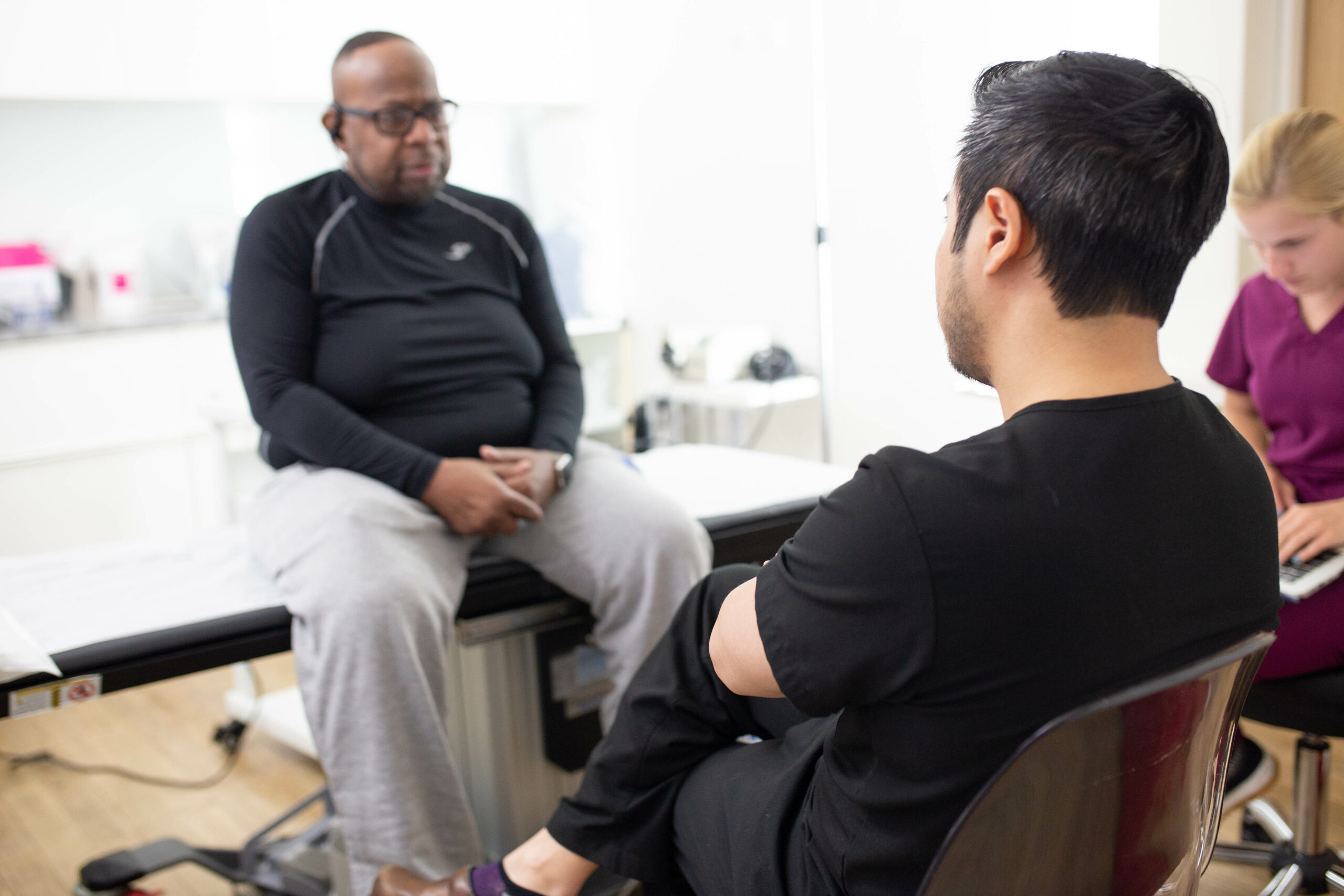 Who is the Best Neck and Spine Specialist Near Me?
When looking for a pain doctor, you might search for "who is the best neck and spine specialist near me?" You don't want to entertain surgery as an option for your chronic pain, and are instead looking for minimally invasive options for your treatment. This narrows down your search to an interventional pain doctor. Pain Treatment Specialists is your best choice for a back doctor in your area, since their spine care solutions do not involve surgery. In fact, their team of neck doctors only recommend surgery when it is medically necessary, and utilize more conservative treatments for neck and back pain.
One of their pain clinic's top neck and spine doctors is Dr. Shane Volney. One recent patient review describes his care as "how doctor's offices used to practice–when they had more time to spend with patients and actually talk to patients." This is because Dr. Volney is committed to providing each patient the best level of care while in his pain clinic. Dr. Volney completed his pain management fellowship at The Massachusetts General Hospital, Harvard Medical School followed by a palliative medicine fellowship, also at Harvard. He regularly speaks at national medical conferences about the latest advances in pain medicine, and also authors scientific articles and textbook chapters about pain management. His expertise in this field is matched by his kind and thorough bedside manner. Dr. Volney ensures that each patient feels "heard" during their appointment, and has plenty of time to discuss their neck and back pain concerns.
Dr. Volney is just one of the outstanding pain doctors who staff Pain Treatment Specialists. Book an appointment and meet with their team of nationally recognized spine care doctors who treat chronic pain conditions.
What are the Top Neck and Spine Treatment Plans
The board-certified back pain doctors at Pain Treatment Specialists know that making the decision to finally seek help for your chronic pain is a brave decision. Many patients spend too much time looking online for results instead of scheduling an appointment with a pain specialist. Your own search history might be littered with phrases like "spine hospital NYC", "spine and neuro center", "spine specialist NYC", "top rated cervical spine surgeons", and "back doctor near me."
During your initial consultation at Pain Treatment Specialists, you'll learn the diagnosis of your neck and back pain, as well as how it's best treated. Our state-of-the-art pain clinic offers the following neck and spine treatment plans:
Trigger Point Injections: When your muscles are overworked or overused, they may develop "knots" that occur deep within your muscles. A trigger points injection uses a local anesthetic and a corticosteroid injection to deposit medicine that deactivates these tight spots.
Cervical Facet Block Injection: For patients suffering from neck pain due to arthritis, a cervical facet block injection numbs pain radiating from the facet joint. This treatment uses a fluoroscope guide to locate the exact area for injection, ensuring an accurate procedure.
Cervical Epidural Steroid Injection: This injection is given in the epidural space of your spine, and soothes irritated nerves with a corticosteroid injection. This treatment helps reduce pain and swelling in your shoulders, neck, and back, and is useful for patients suffering from spinal stenosis or herniated discs.
After your examination and discussion with your pain doctor, you'll receive an accurate diagnosis and treatment plan. Request an appointment at Pain Treatment Specialists and begin the process of neck and spine pain relief.
What are Common Types of Neck Pain?
Pain is typically categorized into 2 categories: acute and chronic. Acute neck pain occurs as the result of an accident, fall, or injury and is traced to a specific traumatic event. Muscle strains and ligament sprains are examples of acute neck pain. They may be caused by sleeping in an awkward position, a car accident, or carrying a heavy bag on one side of your body.
Chronic neck pain may be due to an underlying cause such as herniated discs or arthritis, but can also develop with no cause. It is often described as a dull ache or a sharp sensation that moves through the neck and down through the shoulders and arms.
No matter the cause of your neck and back pain, the team at Pain Treatment Specialists has a diagnosis and treatment plan that works for you. Book an appointment at one of our conveniently located pain clinics and begin improving your quality of life with minimally invasive treatment plans.
Book a Consultation
Scheduling a consultation with one of our pain treatment specialists is one of the best ways to determine the proper solution for pain relief.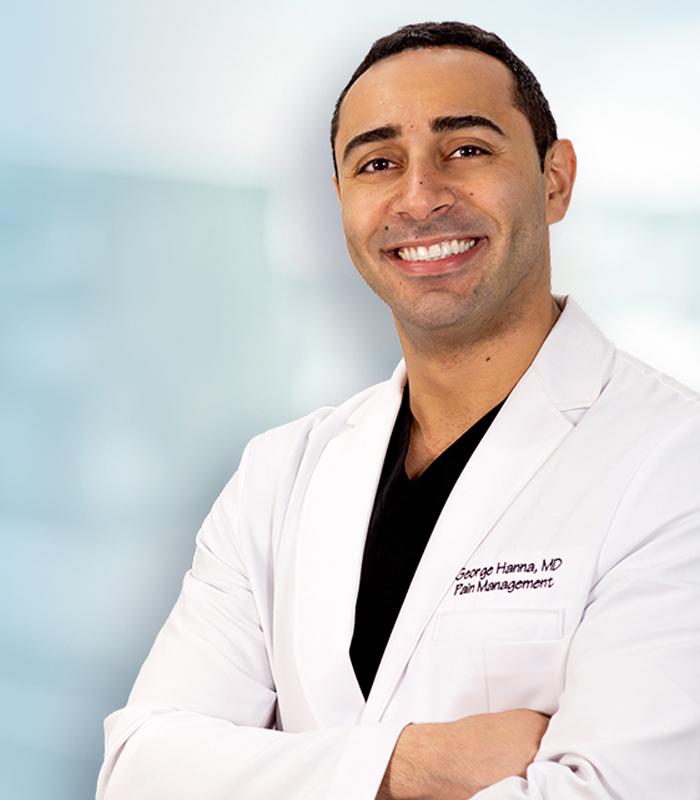 George Hanna
Harvard Medical School
Director of Pain Management
Dr. George Hanna is a nationally recognized pain management specialist and Double Board Certified in anesthesiology and pain management medicine. Dr. Hanna is currently available at Pain Treatment Specialists in Manhattan and Clifton, NJ. He is now accepting most major medical insurances, including Medicare.
Shane J. Volney
Harvard Medical School
NY & NJ PAIN SPECIALIST
Dr. Volney is double board certified in Anesthesiology and Pain Medicine by the American Board of Anesthesiology. He is currently seeing patients at our Pain Treatment Center in Manhattan and Clifton, New Jersey. Most pain treatments are covered by all major medical insurances and Medicare.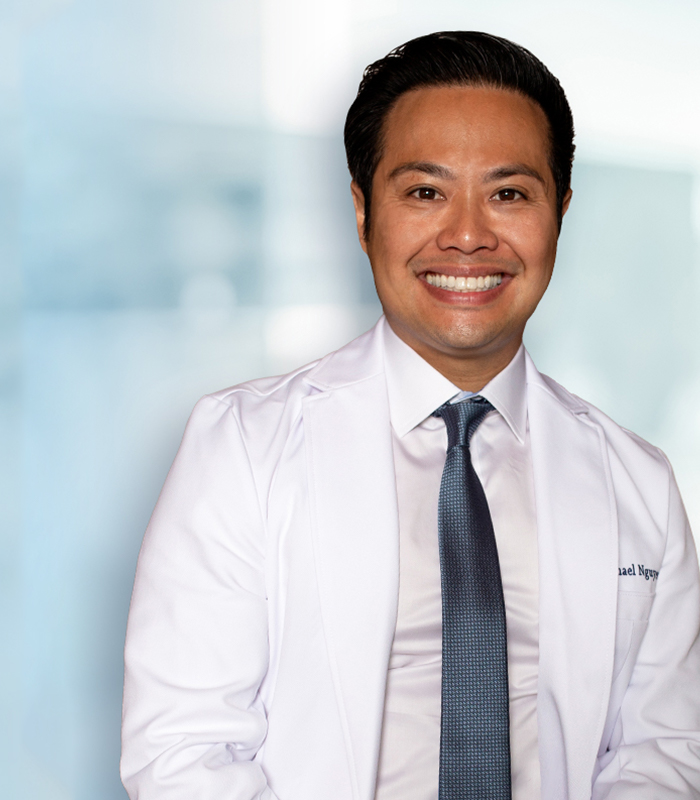 Michael Nguyen
Harvard Medical School
NY & NJ Pain Specialist
Dr. Michael Nguyen is world renowned in Pain Medicine. Dr. Nguyen completed his residency and advanced Pain fellowship training at Harvard Medical School. During his tenure at Harvard, Dr. Nguyen was awarded the "Mentor of the Year" and also "Teacher of the Year" award.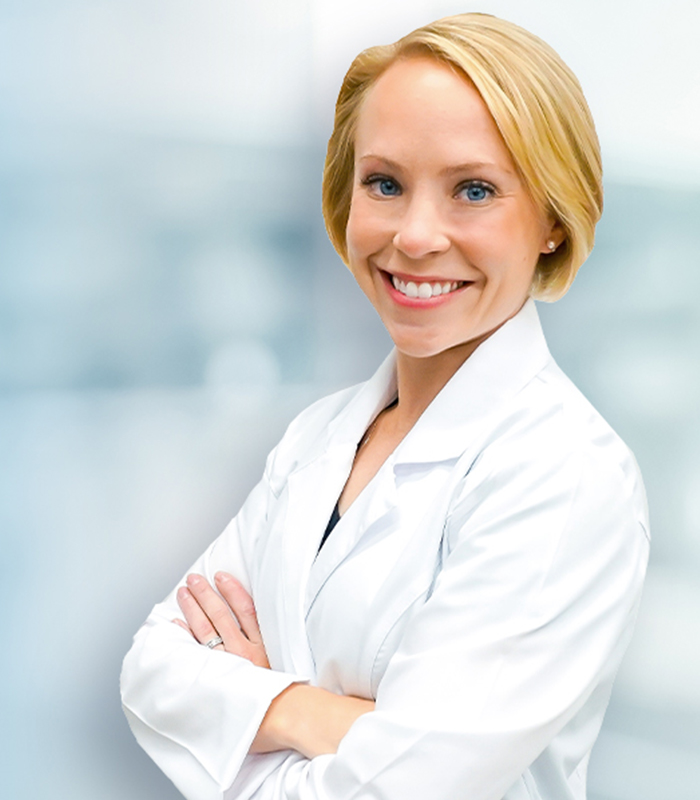 Dr. Laura Lombardi
Harvard Medical School
NJ PAIN SPECIALIST
Dr. Lombardi specializes in the treatment of back, neck, and joint pain. By using a range of minimally invasive modalities as well as advanced procedures, she helps patients achieve a pain free life without the need for surgery. Dr. Lombardi will be offering her pain treatment services in Clifton, New Jersey.
How a Neck and Spine Specialist Near Me Treats Chronic Pain Issues
ultima modifica:
2022-05-19T12:51:50-04:00
da