Searching for a Pain Doctor in NYC? Lower Back Specialists Reveal What They Can Do For Chronic Back Pain
Finding fun new activities to complete with your friends requires a lot of legwork. Not only do you have to coordinate everyone's schedules, but you also have to find something that you all agree on. Once you've got the green light to go play a game of pickleball, tackle the town's newest rock climbing course, or take a bike trip to a local winery, you're ready for everything to run smoothly so you can enjoy time with the people you love.
The one thing that can derail a new activity is chronic back pain, which affects millions of people on a daily basis. It might cause you to cancel plans, or alter your activities for the day so you don't have to be quite as active as your companions. However, your loved ones will surely notice that you're holding back, wincing in pain, or avoiding specific motions. When one of them asks you what's wrong, you reply, "I don't know what dr to see for back pain, and the best sports doctors in NYC seem out of reach for someone like me." Your friend pats your arm and says, "The best pain doctor in NYC is not only a lower back specialist, but also a back pain specialist doctor. Let me give you their card."
On the card, you see Pain Treatment Specialists, and your friend tells you that these back pain doctors in NYC are not only board certified and Ivy League-educated, but also the best back pain specialist doctors he's seen. Now, you have a solid direction to contact a pain doctor in NYC and see what they can do for your chronic back pain.
What Can a Pain Doctor in NYC Do For Chronic Back Pain?
At Pain Treatment Specialists, our back pain specialists are called pain management doctors, and their goal is to avoid addictive narcotics and invasive surgeries to treat lower back pain. Instead, their back pain doctors focus on interventional pain management techniques and minimally-invasive procedures to treat sports injuries, herniated discs, degenerative disc disease, and neck pain. Some of the cutting-edge pain management treatments include:
Lumbar Radiofrequency Ablation: Lumbar radiofrequency ablation is highly effective for patients who experience lower back pain as a result of lumbar facet joint arthritis. This treatment uses electromagnetic waves that travel at the speed of light, and the resulting heat energy precisely delivers pain relief to affected nerve endings. These nerve endings are sending pain signals to the facet joints, which allows lumbar radiofrequency ablation to quickly and effectively treat chronic lower back pain.
Sacroiliac (SI) Joint Injection: This treatment provides relief and reduces inflammation in the SI joint, which is located above the tailbone. A special X-ray guides guides a local anesthetic into the sacroiliac joint, and if pain subsides, then it is confirmed that there is an SI joint issue, and the anesthetic provides substantial pain relief.
Lumbar Epidural: Also known as an epidural steroid injection, a lumbar epidural combines a corticosteroid with a local anesthetic for pain relief. This is both a minimally-invasive and highly-effective way to treat chronic lower back pain.
In order to properly diagnose and treat your chronic back pain, it is critical to consult with a pain management specialist or a pain management doctor in New York who treats patients with kindness, compassion, and expert care.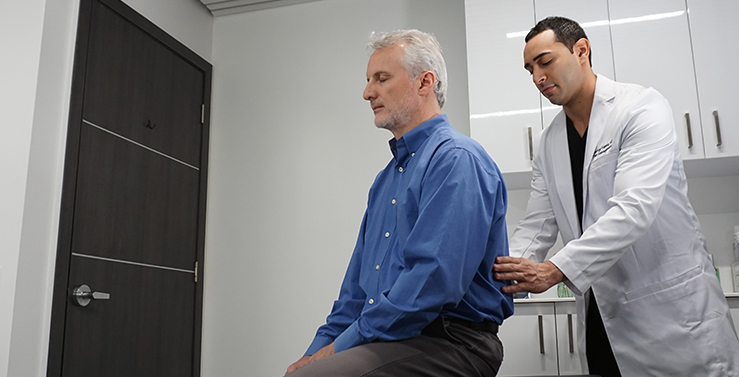 What Are Common Symptoms Of Back Pain?
A pain management physician can properly diagnose issues such as pinched nerves or sciatica that are causing your back pain. When you search for a "back pain specialist near me", know that a consultation also requires that you honestly discuss the symptoms of your back pain. Some common symptoms of back pain include:
A dull ache in the lower back that is either constant or increases with specific motions
Stabbing or shooting pain in the back
Pain that travels down the legs
Pain felt after physical exertion that is not part of your daily routine, such as a highly-repetitive motion (ex: biking or rock climbing)
Pain felt after routine physical exertion that is a part of your daily routine (ex: bending over, standing up, sitting upright)
A back pain doctor in NYC should not only be a back specialist and pain management dr, but also a compassionate practitioner who listens closely to your concerns, creating a treatment plan that works with your specific symptoms.
Can a Back Pain Doctor Near Me Diagnose the Cause of My Back Pain?
The short answer is… absolutely! A lower back specialist is specifically-trained to give an accurate and detailed diagnosis of your back pain. Some common causes of back pain include:
Degenerative Disc Disease: This age-related condition is when normal wear-and-tear on a spinal disc causes lower back pain. With use and age, our discs naturally stiffen, so this is a natural progression that everyone will eventually face. Degenerative disc disease can also lead to complications such as herniated discs and ruptured discs, which cause chronic back pain.
Spinal Stenosis: Spinal stenosis refers to the constriction or narrowing of spaces within your spine, which adds pressure on spinal nerves. Also due to age and wear-and-tear, spinal stenosis is related to degenerative disc disease and osteoarthritis.
Herniated Discs: Herniated discs can happen anywhere along the spine, but occur most often in the neck or lower back. Also known as bulging or ruptured discs, herniated discs are the most common cause of sciatica and lower back pain.
After you thank your friend for giving Pain Treatment Specialists' contact information, you vow that first thing tomorrow, you're going to contact the pain doctors in NYC who can offer you the best treatment for your chronic back pain. Don't put off fun activities with your friends any longer– contact Pain Treatment Specialists today to see how much easier, and pain-free, your life can be.
Searching for a Pain Doctor in NYC? Lower Back Specialists Reveal What They Can Do For Chronic Back Pain
ultima modifica:
2019-08-25T14:03:35-04:00
da