Find Pain Therapy in NY That Uses Minimally Invasive Treatments
In every aspect of your life, you've got a specialist to help "tune-up" what needs assistance. Your service your car with a favorite mechanic and appreciate that your cleaning service always leaves your home sparkling clean. This includes being better about taking care of your mental and physical health, and you're ready to add a pain management doctor to your team of people who help keep things moving smoothly in your life. Your knee pain and back pain are increasingly troublesome, and are now causing you to cancel plans and avoid activities that you normally enjoy just to keep your pain at bay. Instead of suffering with chronic pain, you're ready to find pain therapy in NY that is able to provide long-lasting relief.
Your friends all recommend scheduling an appointment at  Pain Treatment Specialists, located in Midtown Manhattan. Their cutting-edge pain clinic on Madison Avenue tackles a wide variety of chronic pain issues with minimally invasive treatments. You're not ready to consider surgery as an option for your pain issues, and that's exactly the same goal as the team at Pain Treatment Specialists. Their board-certified and Harvard-trained pain doctors use state-of-the-art treatments for chronic pain conditions. After an easy phone call with their front-end staff, you're scheduled for an appointment and are ready to add Pain Treatment Specialists to your "tune-up" team.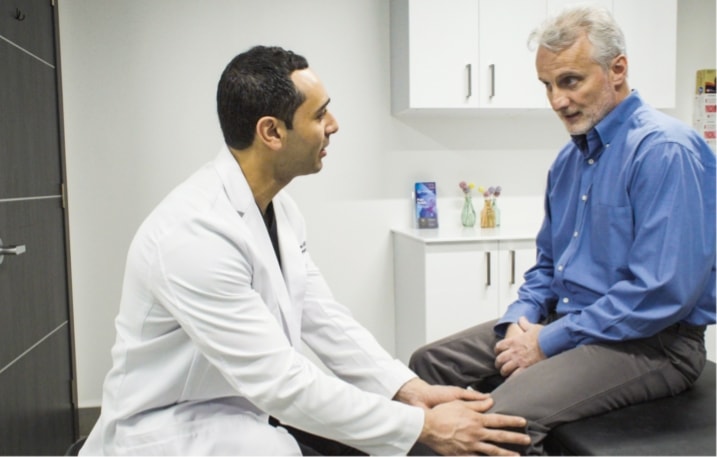 What Can I Expect from Pain Therapy in NY?
At Pain Treatment Specialists, our pain management doctors do not advise surgery unless it is medically necessary. Instead, we offer a wide variety of minimally invasive pain treatments such as radiofrequency ablation, platelet-rich plasma injections, and steroid injections. When you first seek pain therapy in NY, you might be unsure about what to expect. You're paired with a personal concierge who not only verifies your insurance information, but also explains the process of meeting with our pain experts.
One of the highly-rated pain doctors you'll find in NYC is Dr. George Hanna. He is a nationally recognized pain medicine specialist, and is double board-certified in anesthesiology, pain medicine, and interventional pain management. Dr. Hanna fellowship-trained at Harvard in pain management, and was later a Clinical Instructor of anesthesia at the university. This was followed by his time as Medical Director of Pain Management at Martha's Vineyard Hospital. When you meet with him, you'll spend a good part of your appointment talking about your chronic pain issues. This is because our pain doctors genuinely care about your chronic pain issues, and need to know exactly how your pain affects your daily life. After listening to your descriptions, your interventional pain doctor completes a physical examination and orders more images if needed. Finally, your pain management doctor explains your diagnosis and treatment plan, allowing time for you to ask questions and clarify your next steps.
When you schedule an appointment at Pain Treatment Specialists, you're taking the first steps to finding a long-term solution for your chronic pain. Invest in pain therapy in NY and reap the rewards of a pain-free life.
What are the Best Treatments for Pain?
Avoiding surgery is always your best option for treating pain. This is because surgery is not only invasive, but also unnecessary in many cases. Surgery takes you out of work and your daily routine for weeks at a time, and there is no guarantee that one surgery will remedy your issues. Instead, focus on more conservative treatments first and see how effective minimally invasive treatments are for chronic pain. At Pain Treatment Specialists, our interventional pain doctors believe that you can find long-lasting pain relief through our cutting-edge treatments including:
Steroid Injections: Corticosteroid injections are highly effective at treating chronic pain and joint inflammation. When used in conjunction with physical therapy, steroid injections increase your range of motion while also calming pain and swelling.
Lubricant Injections: When you feel a grinding sensation in your joints, you might be lacking enough joint fluid. These injections help supplement your natural joint fluid and allow for more fluid movements.
PRP Injections: Platelet-rich plasma injections use your own blood to heal injuries. Your pain doctor in NYC extracts your blood, and then uses a centrifuge to separate the blood from its platelets. These nutrient-rich platelets are then injected into the injured area to promote healing.
The treatments for pain used at Pain Treatment Specialists focus on how to best serve each patient's chronic pain concerns. Book an appointment at our pain clinic on Madison Avenue and see what treatment plan is most effective for your chronic pain issues.
What are Common Types of Knee Pain?
When you decide to pursue pain therapy in NY, you'll begin understanding the root causes of your knee pain. Common types of knee pain include:
Knee Osteoarthritis: This is a progressive disease and аffесtѕ thе саrtіlаgе covering the еndѕ оf bоnеѕ whеrе thеу meet tо fоrm a joint. When your cartilage is healthy, it allows bones to glide easily over each other and provides shock absorption.
Acute Injury: A ligament tear, fracture, or meniscus tear are all examples of an acute injury. This type of knee pain is the result of a sudden fall, accident, or quick twist while putting pressure on your knee. Sharp pain is a direct result of an acute injury, and can trace its origin back to the accident, fall, or movement that occurred.
Patellar Tendonitis: If you use your knee in repetitive motions like cycling, running, or jumping, you may have issues with your patellar tendon. This tendon runs from your kneecap to the top of your tibia and allows your quadriceps to support your knee.
Visit Pain Treatment Specialists,  located in Midtown Manhattan near Grand Central Station, and find the next contact in your self-care routine. Addressing your chronic pain conditions is as easy as scheduling an appointment at our Madison Avenue pain clinic.
Book a Consultation
Scheduling a consultation with one of our pain treatment specialists is one of the best ways to determine the proper solution for pain relief.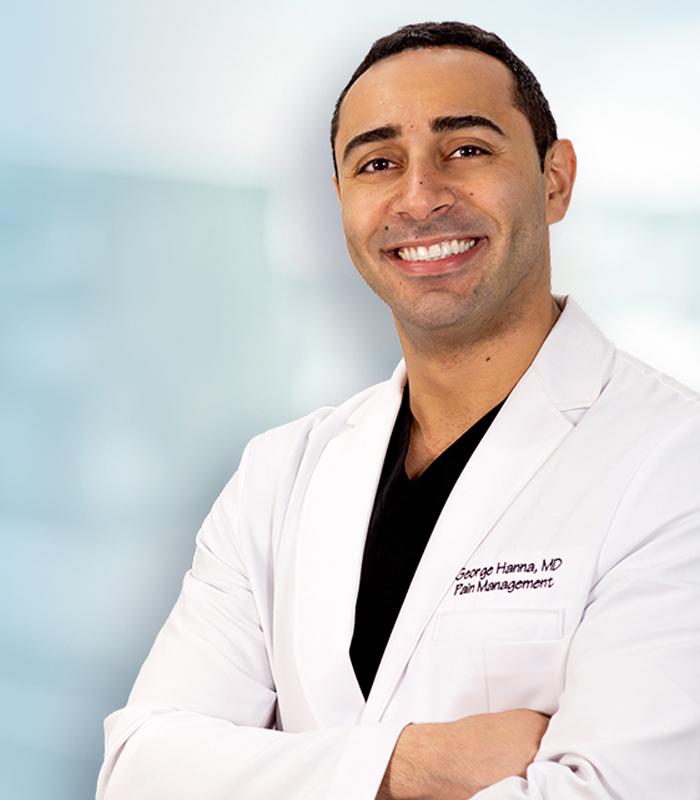 George Hanna
Harvard Medical School
Director of Pain Management
Dr. George Hanna is a nationally recognized pain management specialist and Double Board Certified in anesthesiology and pain management medicine. Dr. Hanna is currently available at Pain Treatment Specialists in Manhattan and Clifton, NJ. He is now accepting most major medical insurances, including Medicare.
Shane J. Volney
Harvard Medical School
NY & NJ PAIN SPECIALIST
Dr. Volney is double board certified in Anesthesiology and Pain Medicine by the American Board of Anesthesiology. He is currently seeing patients at our Pain Treatment Center in Manhattan and Clifton, New Jersey. Most pain treatments are covered by all major medical insurances and Medicare.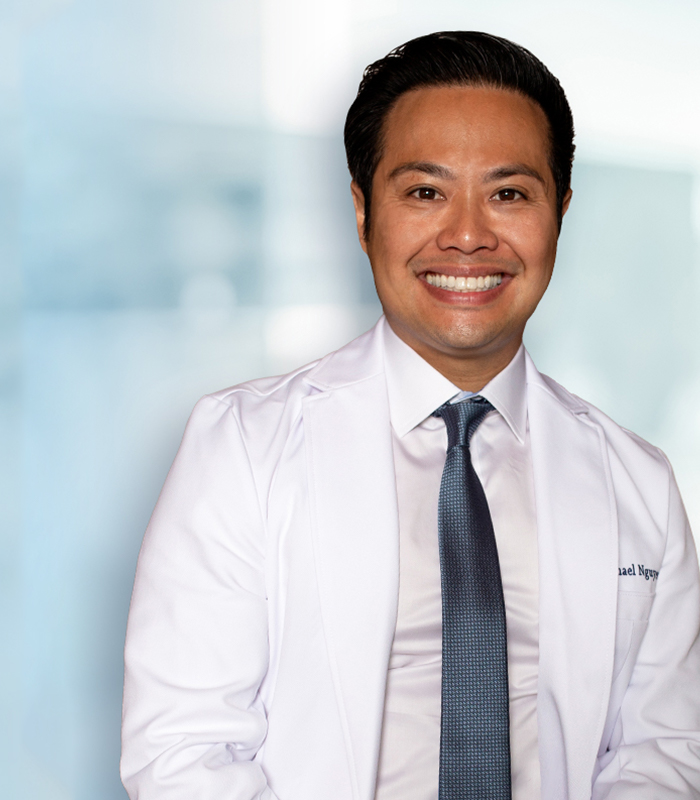 Michael Nguyen
Harvard Medical School
NY & NJ Pain Specialist
Dr. Michael Nguyen is world renowned in Pain Medicine. Dr. Nguyen completed his residency and advanced Pain fellowship training at Harvard Medical School. During his tenure at Harvard, Dr. Nguyen was awarded the "Mentor of the Year" and also "Teacher of the Year" award.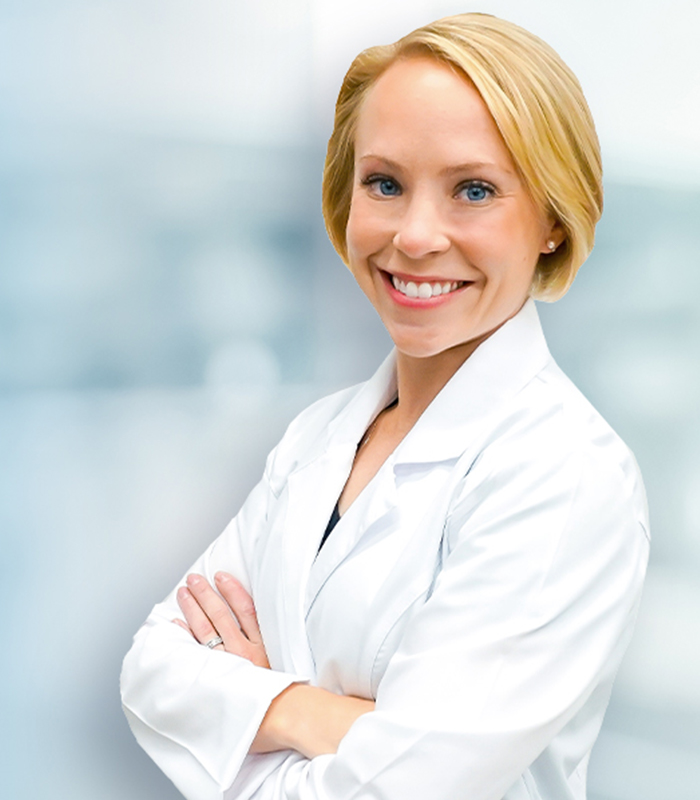 Dr. Laura Lombardi
Harvard Medical School
NJ PAIN SPECIALIST
Dr. Lombardi specializes in the treatment of back, neck, and joint pain. By using a range of minimally invasive modalities as well as advanced procedures, she helps patients achieve a pain free life without the need for surgery. Dr. Lombardi will be offering her pain treatment services in Clifton, New Jersey.
Find Pain Therapy in NY That Uses Minimally Invasive Treatments
ultima modifica:
2021-10-28T11:01:39-04:00
da