What Kind of Doctor Do I See for Back Pain? A Harvard-Trained Back Specialist Answers Your Questions
Sometimes you don't know how much better life can be until you take the steps to try something new. When you finally trade in your old clunky car for a new vehicle, you realize that having heated seats and a remote starter are now things you can't be without. The same goes for chronic pain. You often become distracted by your daily responsibilities and don't notice that your sciatica pain is actually becoming worse. It's only when you find lower back pain relief that you begin to appreciate how much pain you were actually living with.
What is the most effective pain relief for sciatica? At Pain Treatment Specialists, our team of Harvard-trained back pain doctors customize treatment plans based on each patient's specific needs. A herniated disc, spinal stenosis, and sciatica are all types of lower back pain, but may not all respond to the same type of treatment. This is why it's critical to schedule an appointment at one of our top-rated back pain clinics and see what type of treatment plan is best suited for your sciatic nerve pain. Our team focuses on providing minimally invasive solutions for lower back pain that do not include surgery or addictive narcotics. Instead, our back pain doctors use their extensive backgrounds in interventional pain medicine to diagnose and treat your sciatica pain.
Are you interested in get more information about your condition or get a treatment?
Fill the form below to start!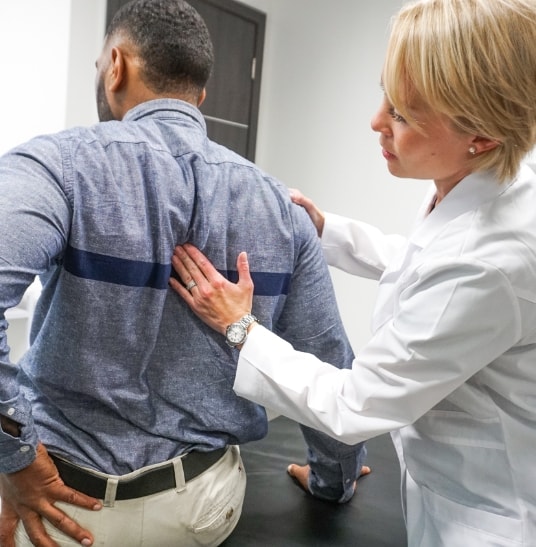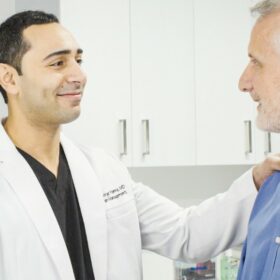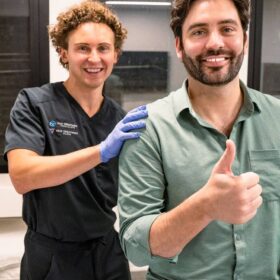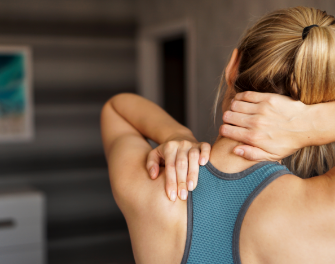 What is the Most Effective Pain Relief for Sciatica?
Sciatic nerve pain does not present itself the same way in every patient. Your sciatic nerve is the longest in your body, and runs from your lower back, down through your buttocks and hips, and into your legs. Some people report feeling a sharp, shooting pain that comes at lightning speed through their lower back. Others feel a dull ache that is persistent throughout the day. Does sciatica pain come and go? For some patients, this is true. They may feel sciatica burning sensation one moment, and the next it disappears. Do I need to see a doctor for sciatica, and who can diagnose sciatica? Since this condition manifests in a variety of ways, it's best to see an interventional pain doctor for the proper diagnosis and treatment of your sciatic nerve pain.
What is the most effective pain relief for sciatica? At Pain Treatment Specialists our back pain doctors suggest a variety of modalities to best treat your sciatic nerve pain.
Corticosteroid injections are one of the most common treatments for sciatic nerve pain. Your back pain doctor identifies the exact area for injection, and then administers a corticosteroid solution. This steroid injection dramatically reduces pain and swelling, and is much more effective than over-the-counter medicines for sciatic nerve pain. Can you use Aleve for nerve pain? Yes, but a corticosteroid injection provides longer-lasting and more effective back pain relief.
Once your lower back begins feeling less pain, you can begin a cycle of physical therapy. Your physical therapist is skilled in exercise science, and understands how sciatica stretches and strength-building exercises can prevent future sciatica flare-ups. For patients who suffer from chronic sciatica, a combination of corticosteroid injections and physical therapy sessions is often an excellent combination of treatments.
What is the most effective pain relief for sciatica? Schedule an appointment at Pain Treatment Specialists and see what therapies are appropriate for your specific back pain concerns.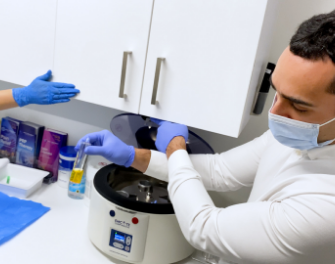 What Causes Chronic Sciatica?
If you have pain along any point of your sciatic nerve, you're suffering from sciatica. This condition is often caused by a herniated disc that puts pressure on the sciatic nerve. Sciatic nerve pain can occur in your lower back, buttocks, hips, or legs. What does sciatic nerve pain feel like? For some patients, acute sciatica is caused by a quick sneeze or cough, and feels like a sharp lightning bolt in your lower back. For others, the dull ache of sciatic nerve pain is ever-present throughout the day. Another hallmark of sciatic nerve pain is numbness or tingling in your legs and feet. Sciatica typically only affects one side of your body at a time.
In order to receive a proper diagnosis of your sciatic nerve pain, it's best to see a back pain specialist instead of continuing to rely on painkillers for joint pain. Book an appointment at Pain Treatment Specialists and begin feeling relief from your lower back pain.
Can I Reduce Inflammation of My Sciatic Nerve at Home?
Sciatica pain relief can be found at home through a combination of applications. You can reduce inflammation with cold packs placed on your lower back in 20-minute increments. Follow this with a heating pad or hot shower to keep your blood flowing and also increase your flexibility. Massages are also an excellent tool for loosening stiff and sore lower back muscles, and easing the pain in your buttock, hips, and legs. You can also complete the stretches learned during your physical therapy sessions to ease the pain and pressure on your sciatic nerve. One effective stretch for sciatica is a spinal stretch. Sit on the ground with your legs extended straight out, flexing your feet upwards. Then, bend your right knee and place your foot on the floor, positioning it on the outside of your opposite knee. Now, your body is somewhat twisted towards the side, and you can use your elbow to press on your knee and help you turn your body towards the right even more. Do this slowly and gently, holding for about 30 seconds, and then switch sides. You should feel a gradual release in your lower back and decreased pain and pressure.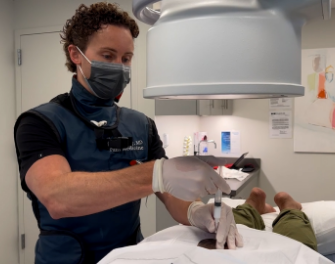 If you're starting to look online for phrases like "topiramate for sciatica", "Neurontin 300 mg for nerve pain", and "how long should I take gabapentin for nerve pain", it's time to find a better alternative for lower back pain that does not involve medication. Instead, meet with the Harvard-trained back pain doctors at Pain Treatment Specialists and see how our minimally invasive back pain treatments quickly change both your pain levels and your outlook on life!
FEATURED POSTS BY PAIN DOCTORS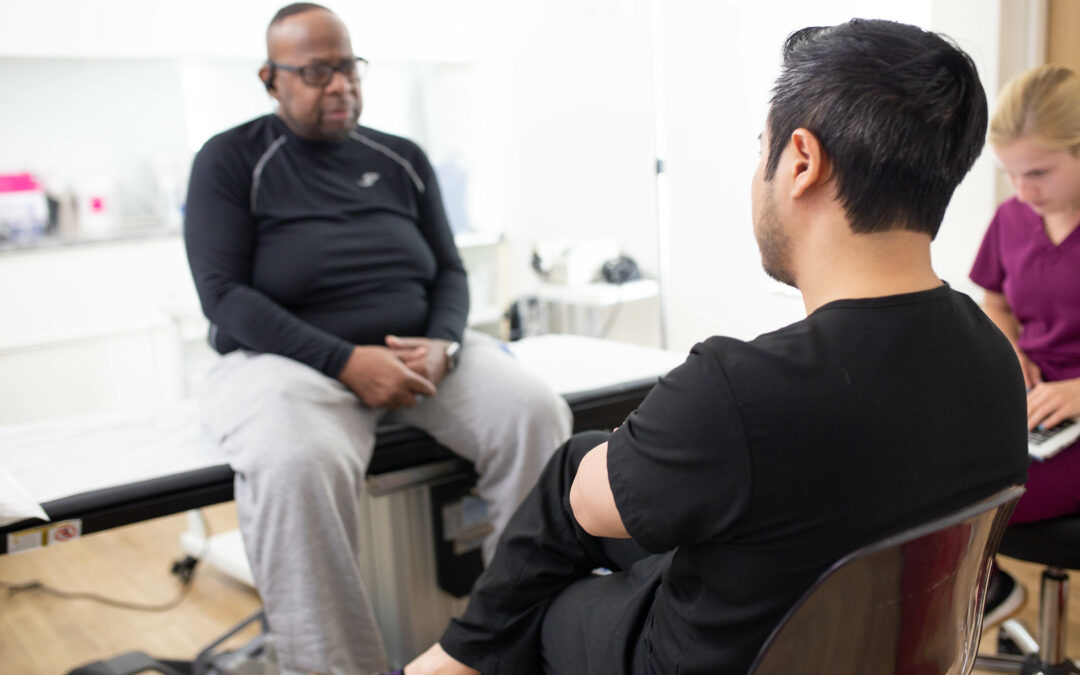 What is a Back Specialist Called? Find Back Pain Relief at Pain Treatment SpecialistsOctober 23, 2022HARVARD TRAINED PAIN DOCTORS | VOTED #1 PAIN CENTER | PAIN TREATMENT SPECIALISTSAs the fall foliage begins to turn colors, it's time to take the family on an outdoor...

What is the Most Effective Pain Relief for Sciatica? A Harvard-Trained Back Pain Doctor Responds
ultima modifica:
2023-05-13T04:19:14-04:00
da