What Kind of Doctor is Best for Knee Pain? Meet With a Pain Management Specialist for Top Results
Knee pain, much like snow and cold weather in the spring, tends to hang around longer than you'd like. Even though you're diligent about icing, taping your knee before workouts, and stretching before beginning anything strenuous, your knee pain still lingers. When you were younger, it seemed like your knees could tackle anything in your rigorous and active day. Fast forward a few years and your knees ache and creak whenever you walk up a flight of stairs. Instead of waiting for your knee pain to increase, you want to meet with a knee doctor to find effective pain relief. However, what kind of doctor is best for knee pain?
At Pain Treatment Specialists, our nationally recognized knee pain specialists are known as interventional pain doctors. This is of knee pain doctor uses interventional pain medicine treatments to address your current knee pain, and also prevent future reoccurrences. Before you decide to meet with a doctor specializing in joint disorders or a rheumatoid arthritis specialist, first schedule an appointment at one of Pain Treatment Specialists' knee pain clinics in NYC, Long Island, or northern NJ. By the time the ground begins to thaw, your knee will be ready for warm weather fun!
Are you interested in get more information about your condition or get a treatment?
Fill the form below to start!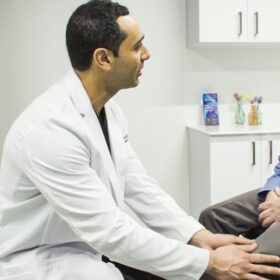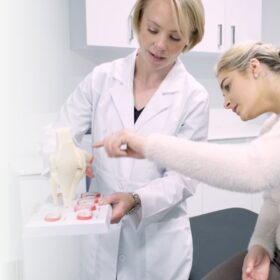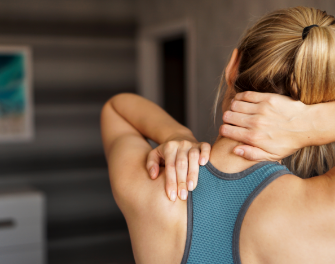 What Kind of Doctor for Knee Pain?
If you rely solely on the internet to remedy your knee pain, you'll be pulled in many different directions with no clear focus. If you search for "what kind of doctor for knee pain" the results you'll find could be as varied as "should I see a rheumatologist for osteoarthritis", "rheumatoid arthritis called", "RA pain management near me", or "rheumatoid arthritis doctors in my area." None of these results apply to you, since you don't suffer from rheumatoid arthritis. However, since RA affects many people who experience knee pain, it's one common search result that shows up in your feed. Rheumatoid arthritis is an autoimmune disease that attacks the joints, and is best treated by a rheumatoid arthritis specialist doctor. A rheumatologist specializes in joint pain and is a rheumatoid arthritis specialist.
Similarly, you may also see search results that encourage knee replacement surgery or refer you to an orthopedic surgeon. While your knee aches, you're certain that an orthopedist or orthopedic doctor isn't necessary for your type of knee pain. Your chronic knee pain is most likely the aggravation of an old injury that is being aggravated by normal wear and tear. This type of knee pain injury is best treated by an interventional knee pain doctor.
At Pain Treatment Specialists, all of our knee pain specialists are board-certified knee pain doctors who do not utilize surgery for knee pain relief. Schedule a consultation at one of our knee pain clinics and see how our thorough appointments address your knee pain concerns.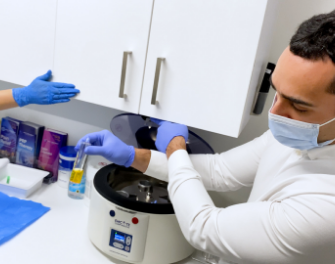 What Are Effective Treatments for Chronic Knee Pain?
Chronic knee pain refers to pain that lasts longer than a few days after standing, vigorous exercise, or long periods of sitting. If you go for a run on Monday and still feel knee pain on Wednesday, you're suffering from chronic knee pain. The underlying cause of knee pain is best diagnosed by an interventional pain doctor, who discusses your knee pain symptoms and completes a gentle physical examination to narrow down your knee pain condition. Common knee pain conditions include a meniscus tear, jumper's knee, osteoarthritis, and patellar tendonitis. At Pain Treatment Specialists, we offer a variety of minimally invasive knee pain treatments including:
Hyaluronic Acid Injections: Hyaluronic acid is the main component of joint fluid, which is often lost as we age. Your knee joint needs this fluid in order for all of its parts to move smoothly. A hyaluronic acid injection helps replace this critical fluid, and has zero downtime.
Steroid Injections: Your knee pain doctor uses an x-ray to determine the best location for a steroid knee injection. The corticosteroid injection provides powerful anti-inflammatory relief that reduces pain and swelling.
Physical Therapy: Steroid injections are sometimes used in conjunction with physical therapy to help patients reduce pain before beginning therapy. During your PT sessions, your physical therapist exercises your knee to not only reduce pain, but also build strength. The goal is to build up your knee and its surrounding muscles to prevent future injuries.
Not sure what type of treatment is right for your knee pain? When you're scheduling an appointment at Pain Treatment Specialists, know that you'll have plenty of time during your consultation to discuss your treatment options.
How Can I Treat a Knee Injury at Home?
If you've had a recent accident or fall, you may have suffered a knee injury. In most cases, pain goes away after a few days. If you've suffered a knee injury, these tips will help expedite your healing process:
RICE: This common acronym stands for "rest, ice, compress, and elevate." When used together, these steps are effective at relieving knee pain and swelling.
OTC Medications: Using over-the-counter medications like aspirin or ibuprofen help dull your knee pain.
Massage/Hot Tub: A massage therapist can help your knee's pain and swelling with specific motions that keep the knee fluid. If you have access to a hot tub, this is another therapeutic tool that provides enough heat to help reduce your pain.
Book an appointment at Pain Treatment Specialists and get your knee ready for sunshine and warm weather! Know that our interventional pain doctors are nationally recognized knee pain specialists who consistently receive 5-star patient ratings for their care. If you're not sure about what kind of doctor to see for knee pain, the team at Pain Treatment Specialists is top-notch!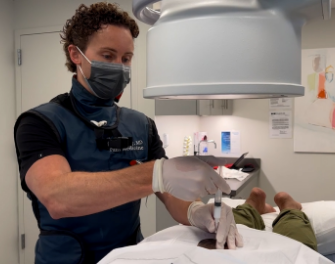 FEATURED POSTS BY PAIN DOCTORS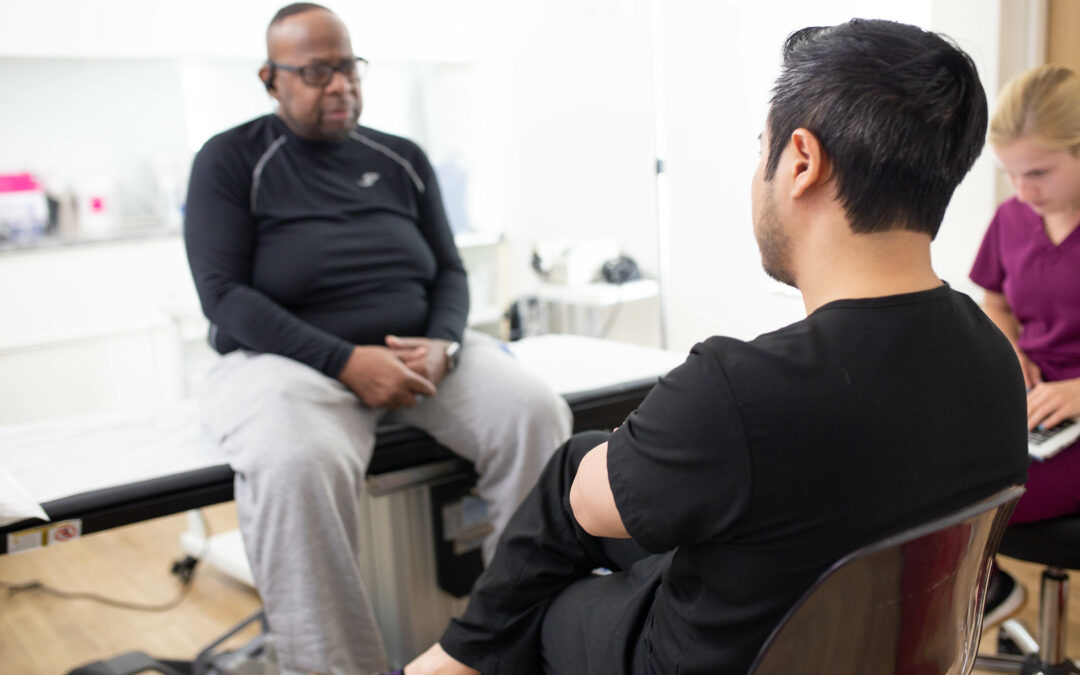 What is a Back Specialist Called? Find Back Pain Relief at Pain Treatment SpecialistsOctober 23, 2022HARVARD TRAINED PAIN DOCTORS | VOTED #1 PAIN CENTER | PAIN TREATMENT SPECIALISTSAs the fall foliage begins to turn colors, it's time to take the family on an outdoor...

What Kind of Doctor is Best for Knee Pain? Meet With a Pain Management Specialist for Top Results
ultima modifica:
2023-08-13T10:14:50-04:00
da