What Can a Back Doctor in Manhattan Do For Chronic Back Pain?
A weekend road trip is the perfect way to break up the weekly monotony of work, laundry, cooking, and daily chores. Not only does it give you something to look forward to, it also gives you an opportunity to discover an area within your state that you might not have explored before. Even packing the car is a breeze, since a cooler and an overnight bag are all you need. As you bend over to load the cooler into your trunk, your back freezes. This has happened before, and you know that your weekend trip plans are instantly spoiled. The only place you'll be exploring this weekend is your couch.
Back pain and neck pain are common conditions that affect many people on a daily basis. It can range from minor discomfort, to a complete inability to walk, stand, or move without intense pain. Booking an appointment with a back doctor in Manhattan is the best way to get rid of chronic back pain for good. Pain Treatment Specialists are the best back doctors in Manhattan, as evidenced by their team of Harvard trained pain specialists who are experts in the field of pain medicine. When you schedule an appointment at Pain Treatment Specialists, you're taking a step in the right direction to find a long-term solution for your chronic back pain.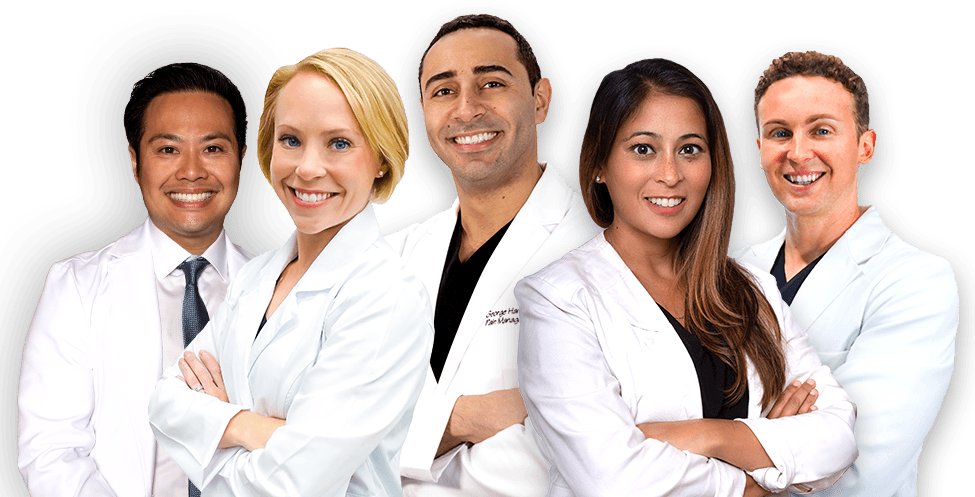 Meet The Best Back Doctors in Manhattan
Located on Madison Avenue, Pain Treatment Specialists is conveniently located near Penn Station and Grand Central Station, making it easy for people across NYC and NJ to reach their state of the art office. The top back doctors in Manhattan do not recommend surgery or narcotics for back pain relief, but instead rely on their expertise as interventional pain doctors for patient care. Some of the top back doctors in Manhattan include:
Dr. Namrata Khimani:Dr. Khimani's goal as a pain specialist is to ensure that every patient leaves her clinic pain free. As an honors graduate of Harvard Medical School, as well as a nationally recognized pain specialist, Dr. Khimani's career is devoted to using the most modern interventional pain medicine treatments for back pain, neck pain, and knee pain.
Dr. George Hanna:During Dr. Hanna's time as a Clinical Instructor at Harvard Medical School, he was appointed Director of Pain Innovations and Technology. He uses this knowledge daily when working with patients as a back doctor in Manhattan. Dr. Hanna's kind and compassionate bedside manner makes every patient feel comfortable describing their back pain issues.
Dr. Michael Nguyen:If you're looking for the best back doctor in Manhattan, look no further than Dr. Nguyen. He is a triple certified pain specialist whose work in the field of pain medicine is recognized worldwide. Dr. Nguyen pioneered many of the interventional pain treatments that are currently used across the globe for treating chronic back pain.
If you're ready to get off of the couch and back on the road, book an appointment with Pain Treatment Specialists and receive expert guidance and back pain relief from a member of our world-class team.
Do I Have Spinal Stenosis or a Herniated Disc?
When you're stuck on the couch for hours on end, you might try to find the cause of your back pain. Through some internet research, you dive deeper into two common causes of back pain: spinal stenosis and herniated discs. You learn that spinal stenosis is the narrowing of spaces within your spine, which puts pressure on sensitive nerves that travel within your spine. The result is numbness, tingling, and muscle weakness that gets worse over time. The cause of spinal stenosis is osteoarthritis, which occurs through the aging process, and also through wear and tear.
A herniated disc occurs when there is an issue with the spongy, rubbery cushions (known as discs) between your vertebrae. These discs sit between your vertebrae and offer shock absorption in your spinal column. A herniated disc occurs when the soft center of the disc pushes out through a tear in the tough, outer casing known as the annulus. When this happens, it can push on nearby nerves, which causes pain, or numbness and weakness in your arms or legs.
The only way to diagnose and treat herniated discs and spinal stenosis is to meet with a back doctor in Manhattan. Physical therapy and lumbar epidurals are back pain treatments used by our team of interventional pain doctors that effectively treat spinal stenosis and herniated discs.
How Do I Describe Back Pain To My Pain Specialist?
Describing back pain sounds like it would be pretty self-explanatory (it hurts!) but many people are unsure how to articulate what they're feeling. When you live with chronic back pain, it's easy to ignore it, or just suffer in silence throughout your day. This makes your back pain feel like background noise– an inconvenience that you live with, but is always present. Accurately describing back pain is critical in assisting your pain specialist's diagnosis and treatment of your back pain condition. Here are some tips from our back pain specialists in NYC for ways you can describe back pain:
Keep a pain diary for a few weeks leading up to your appointment. Track when your back pain occurs (waking up, during the day, at night) and what movements or activities led up to your back pain. If you've suffered an accident or injury and know that this is the likely source of your back pain, note what types of movements are most painful. Also note times when your back is pain free, or what types of movements do not hurt your back.
Specify your back pain using words that relate to the pain you're feeling. Do you feel weakness in your back, arms, or legs? Do you feel a stabbing or shooting pain, or a dull ache? Does your back feel like it's frozen and can't move? Using these words to describe your back pain helps your doctor understand what you're feeling.
Use numbers to describe your back pain from 1 (little to no pain) to 10 (excruciating) when describing different activities. Sitting up first thing in the morning may be a 1, but touching your feet to the floor and standing up for the first time that day might be an 8. These levels of intensity help your pain doctor in NYC refine their diagnosis and treatment of your back pain.
Book an appointment at Pain Treatment Specialists, located in midtown Manhattan near the Chrysler Building and Bryant Park. Using minimally invasive back pain treatments that relieve back pain, our team of pain specialists look forward to getting you back on the road with a new, pain-free outlook.
Book a Consultation
Scheduling a consultation with one of our pain treatment specialists is one of the best ways to determine the proper solution for pain relief.
What Can a Back Doctor in Manhattan Do For Chronic Back Pain?
ultima modifica:
2020-07-01T14:21:33-04:00
da