Learn How A Top Knee Dr. Provides Treatments for Knee Pain
After watching the latest episode of the Chicago Bulls documentary about their glorious championship run, you decide it's time to dust off your old Jordans and hit the b-ball court. Inspired by the high-flying legend, you make what you think is a glorious, picturesque jump shot. With visions of Michael dancing through your head, you spread wings and… you don't fly away. Landing your mistimed leap, your inside knee pain tells you that you belong back in elementary school gym class, and not the NBA. "I fell on my knee!" are your final words before limping back to the bench. 
Knee pain, bruised knees, knee joint pain, and sore knees are actually quite common. When your knee pain doesn't subside, where can you turn for knee pain relief? How do you know which doctor treats knee pain and what type of doctor to see for joint pain? At Pain Treatment Specialists, we have not just one knee Dr., but an entire team of Harvard trained knee specialists who are the top knee pain doctors in NY and NJ.
What Kinds of Knee Pain Treatments Can a Knee Dr. Utilize?
Once you request an appointment with your knee Dr., they will not only give you a knee pain diagnosis, they will then create a customized knee pain treatment plan. At Pain Treatment Specialists, our board certified knee doctors have a wide variety of treatments for knee pain, and none of them involve knee surgery or dangerous narcotics. Here are some of the knee pain treatments that provide tremendous knee pain relief:
Physical Therapy: Your knee Dr. works with a physical therapist to provide a highly-effective treatment for knee pain. The goal of physical therapy is to identify and isolate the specific areas of your knee that are problematic, and then tailor motions and exercises to build strength in those muscles and knee joints.
Injections: Treating chronic knee pain can be as quick and simple as an injection of corticosteroids, which reduces pain and inflammation. An injection can also insert a lubricating agent into the knee joint, which increases flexibility and mobility. The best part about injections is that you'll be up and back on your feet very quickly, since recovery time is minimal.
Nerve Block: Only a board certified knee Dr. can administer a nerve block, which is a speciality trained knee pain treatment. During a nerve block, the pain signals are blocked from affected nerves in your knee to your brain.
If you're ready to recover from your basketball dreams of grandeur, it's time to request an appointment at Pain Treatment Specialists, where a knee Dr. can use a variety of modalities to treat your knee pain.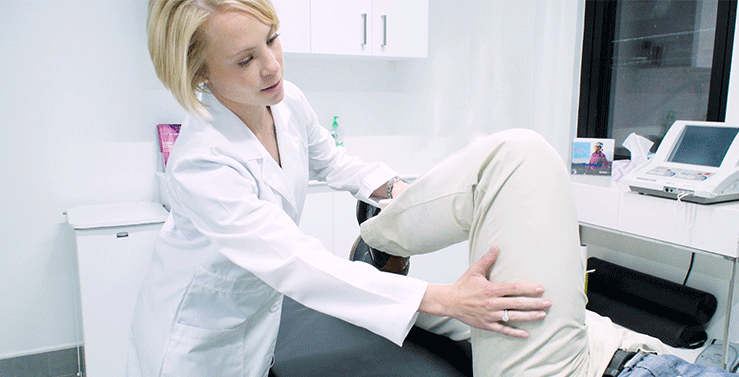 Who Are The Best Knee Pain Doctors in NY and NJ?
As you're sitting on the sideline of the basketball court, now your mind begins to race about the next steps you'll have to take once you get home. You're afraid that searches for "what doctor for joint pain", "orthopedic surgeon near me" and "knee doctor near me" are likely in your near future. Before you let your mind get too far away from you, your friend reaches into his wallet and pulls out a card for Pain Treatment Specialists. "These guys know knee injuries and conditions. You should request an appointment with a knee Dr. there." You quickly pull out your phone to check out these knee pain doctors in New York and New Jersey. You find the following top knee doctor:
Namrata Khimani: Graduating from Harvard Medical School with honors is just one of the many impressive accomplishments achieved by Dr. Khimani. She also passed the incredibly rigorous certification process to become a nationally recognized pain specialist by the American Board of Anesthesiology, and pursued an advanced fellowship in interventional pain medicine at Brigham and Women's Hospital, Harvard Medical School. Her focus is on lower back pain and knee pain, and she is highly-regarded by her peers as one of the top knee pain doctors in NYC, as well as the country.
George Hanna: Dr. Hanna also completed a pain management fellowship at Brigham and Women's Hospital, Harvard Medical School. Additionally, he was a clinical instructor at Harvard Medical School for 3 years, training medical students in the fields of anesthesiology and pain management. Not only is Dr. Hanna highly-qualified in the field of interventional pain medicine, he also has an exceptionally kind bedside manner, and carefully listens to patients' knee pain concerns.
You know that your friend wouldn't lead you astray, and it's clear from reading these knee doctors' backgrounds that they are at the top of their field. When you get home, you know it's time to schedule an appointment at Pain Treatment Specialists.
What Are Common Knee Pain Causes?
When you fell from grace on the basketball court, it was pretty clear that your awkward landing was to blame for your subsequent knee pain. What you might not know is that knee pain can be caused by a myriad of reasons. Knee pain falls into one of three categories: acute injury, overuse/chronic conditions, or medical conditions. Your knee Dr. will discuss common knee pain causes and help you thoroughly understand which area is the source of your knee pain.
Acute Knee Injuries: This common knee pain cause happens from a one-time event, such as an accident or a fall. Tearing or injuring your ACL is a common acute knee injury.
Overuse or Chronic Conditions: If you consistently use your knee in the same repetitive motions, such as while cycling or skiing, your knee pain may be caused by overuse or a chronic condition. Patellar tendonitis (jumper's knee), bursitis, and osteoarthritis all fall into this category.
Medical Conditions: Your knee pain doctor in NY and NJ may ask you about your medical history, which could reveal an underlying cause of your chronic knee pain. Infections or rheumatoid arthritis could be potential knee pain causes.
Even if you've embarrassed yourself on the court, there's no reason to feel shame about your knee pain. Contact a knee Dr., such as the team at Pain Treatment Specialists, to see how our knee pain specialists can get you to be a little more like Mike.
Book a Consultation
Scheduling a consultation with one of our pain treatment specialists is one of the best ways to determine the proper solution for pain relief.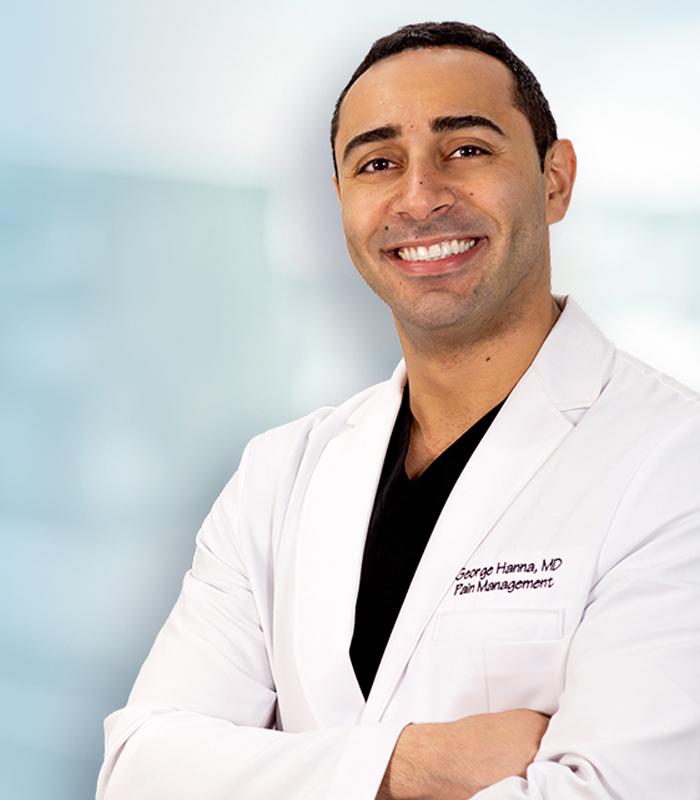 George Hanna
Harvard Medical School
Director of Pain Management
Dr. George Hanna is a nationally recognized pain management specialist and Double Board Certified in anesthesiology and pain management medicine. Dr. Hanna is currently available at Pain Treatment Specialists in Manhattan and Clifton, NJ. He is now accepting most major medical insurances, including Medicare.
Shane J. Volney
Harvard Medical School
NY & NJ PAIN SPECIALIST
Dr. Volney is double board certified in Anesthesiology and Pain Medicine by the American Board of Anesthesiology. He is currently seeing patients at our Pain Treatment Center in Manhattan and Clifton, New Jersey. Most pain treatments are covered by all major medical insurances and Medicare.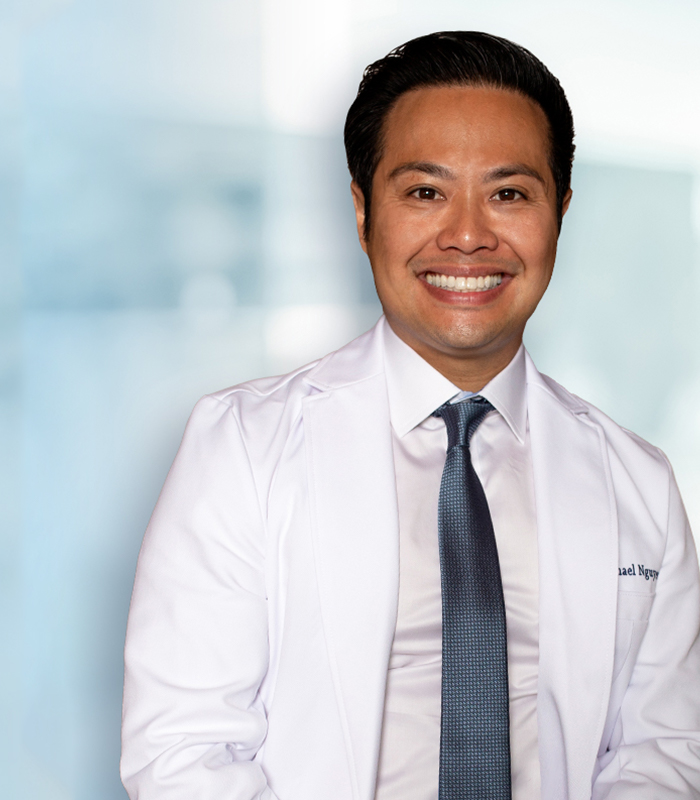 Michael Nguyen
Harvard Medical School
NY & NJ Pain Specialist
Dr. Michael Nguyen is world renowned in Pain Medicine. Dr. Nguyen completed his residency and advanced Pain fellowship training at Harvard Medical School. During his tenure at Harvard, Dr. Nguyen was awarded the "Mentor of the Year" and also "Teacher of the Year" award.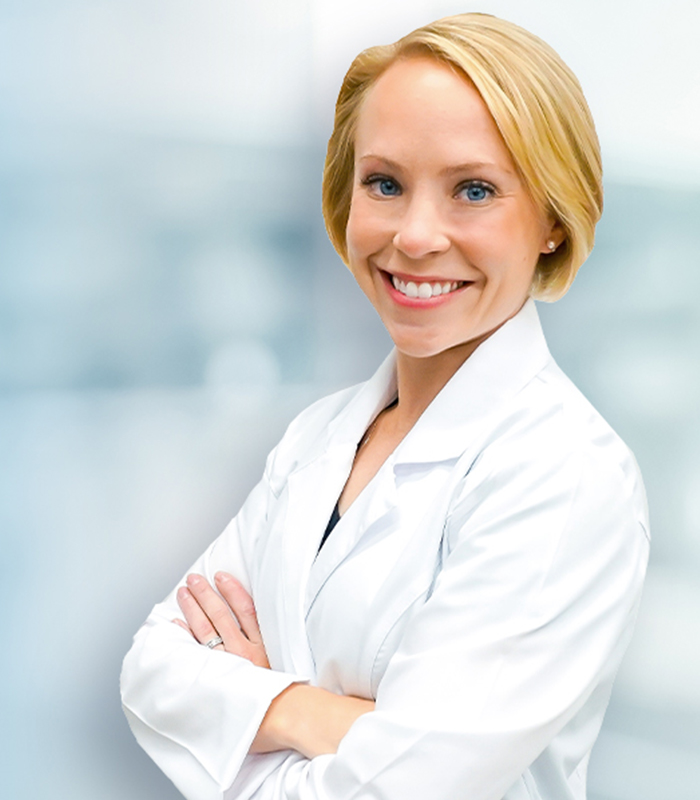 Dr. Laura Lombardi
Harvard Medical School
NJ PAIN SPECIALIST
Dr. Lombardi specializes in the treatment of back, neck, and joint pain. By using a range of minimally invasive modalities as well as advanced procedures, she helps patients achieve a pain free life without the need for surgery. Dr. Lombardi will be offering her pain treatment services in Clifton, New Jersey.
Learn How A Top Knee Dr. Provides Treatments for Knee Pain
ultima modifica:
2020-04-30T03:45:35-04:00
da