Schedule an Appointment at a Pain Doc in NYC for Highly Recommended Knee Pain Relief
Chilling with your dog on a chilly evening is exactly what you needed after a long week. Before you really hunker down for the evening, you decide that your best buddy needs a nice walk. After getting your pup calmed down from seeing his leash, you head out the door for a brisk walk. Suddenly, your dog's mortal enemy (aka a squirrel) dashes across his path. Your dog's brain can only focus on this nearby villain and goes into a full sprint. Unfortunately, your body isn't aware of the upcoming jolt and you crash to your knees while trying to keep control of the leash. The knee pain that follows is immediate and intense, and thankfully you're able to corral your dog and quickly head back home. You're still able to hang on the couch with your buddy, but this time with ibuprofen and ice packs!
Even though your dog feels like he's been a very good boy, your knees are telling a different story. While you're stuck on the couch, you begin to research a pain doctor in NYC who can quickly see you and find a solution for your throbbing knees. Pain Treatment Specialists are located nearby, and are easy to reach in Midtown Manhattan. You decide to schedule an appointment at their Madison Avenue pain clinic and see what their highly recommended pain management specialists can do for your dog walking injury.
What Can I Expect During My Visit to a Pain Doc in NYC?
You've never been to a pain doctor in NYC before, and aren't sure what to expect. Thankfully, you've dodged major injuries and chronic knee pain, back pain, neck pain, and hip pain aren't an issue. When you call to schedule your appointment at Pain Treatment Specialists, you're matched with a personal concierge who verifies your insurance information and also schedules your appointment. You've got several questions, and your concierge happily answers all of your concerns.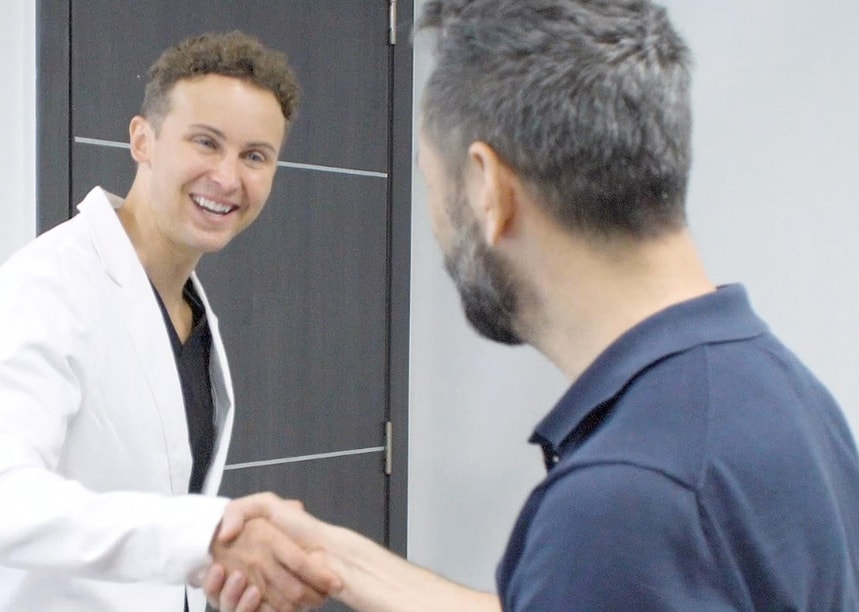 Your first question is about what a pain doctor does. You're not sure if this means prescribing narcotics, which is not something you're interested in. Narcotics are highly addictive, and you've seen too many people struggle with opioid addiction who were trying to find relief from chronic pain. This is easily answered by your concierge, who explains that a pain management specialist does not use narcotics, but interventional pain treatments. These types of treatments require specialized training for treating pain, and this type of doctor is often skilled in anesthesiology and interventional pain medicine. Some examples of interventional pain medicine treatments include physical therapy, regenerative medicine like PRP injections, nerve blocks, and epidural steroid injections.
The second question is about what you can expect during your first visit. Your concierge explains that your first consultation isn't going to involve any sort of treatment, and is focused on identifying the cause of your pain. Once the cause is isolated, then your treatment plan is created. You'll have plenty of time to ask questions about both your diagnosis and treatment during your consultation, since the pain management doctors are both knowledgeable and compassionate.
After answering these important questions, you feel really confident about your upcoming appointment at Pain Treatment Specialists.
What are the Best Methods for Treating Knee Pain?
One of your biggest fears about your recent tumble was that the only way to fix your pain was with surgery. Many knee injuries are easily treated with pain medicine, and knee surgery is only an option if there is a traumatic injury. You're still able to walk, but your range of motion is limited and you feel stiffness and soreness. The pain management doctors at Pain Treatment Specialists have a variety of methods for treating knee injuries and knee pain including:
Steroid Injections: This is one of the first methods utilized for knee pain, and uses a corticosteroid to reduce pain and swelling. By isolating the exact area for injection, your pain relief is targeted and effective.
Hyaluronic Acid Injection: This treatment is highly effective for patients who suffer from joint pain due to osteoarthritis. During this procedure, your pain doctor in NYC supplements your knee's natural joint fluid, which helps knee joints move smoothly over each other.
Genicular Nerve Block: A G-block stops the transmission of pain signals from your knee's genicular nerves. You may need 2-3 injections around the knee to sufficiently block pain.
During your appointment at Pain Treatment Specialists, your board certified knee pain doctor explains which knee pain treatment works for your knee injury or chronic knee pain condition.
Can I Treat Knee Pain at Home?
There are some effective at-home knee pain treatments suggested by the expert pain doctors at Pain Treatment Specialists. Try to keep your knee active with gentle exercises like yoga or swimming, and avoid strenuous activities like running or hiking. When your knee hurts, find time to ice it in 20 minute intervals to reduce pain and swelling. Compression bandages or knee braces provide additional support throughout the day. You can also find relief from over the counter medications like aspirin and ibuprofen.
Your best friend needs his squirrel chasing partner… I mean walking buddy… back again! Visit Pain Treatment Specialists,  located in Midtown Manhattan near Grand Central Station, for NYC's best minimally invasive knee pain treatments.
Book a Consultation
Scheduling a consultation with one of our pain treatment specialists is one of the best ways to determine the proper solution for pain relief.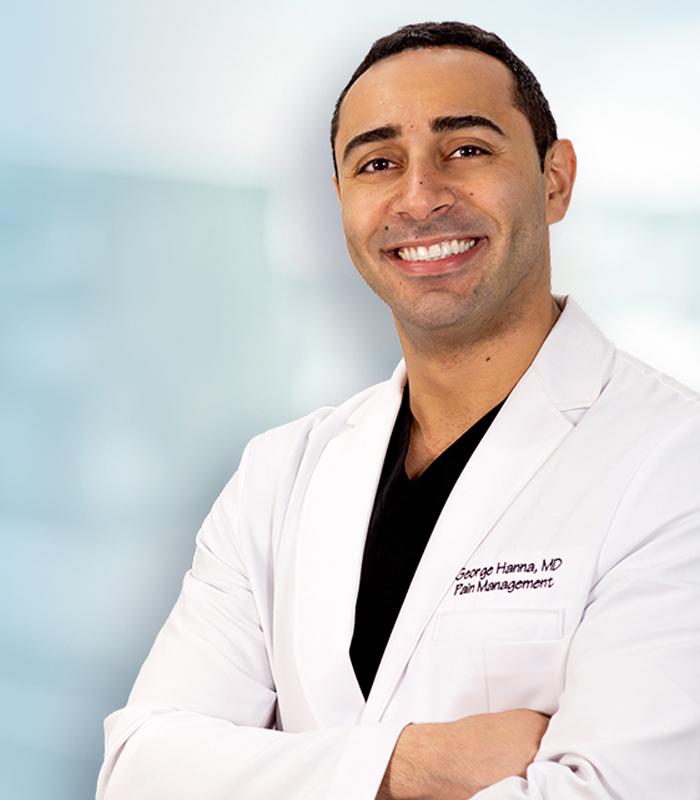 George Hanna
Harvard Medical School
Director of Pain Management
Dr. George Hanna is a nationally recognized pain management specialist and Double Board Certified in anesthesiology and pain management medicine. Dr. Hanna is currently available at Pain Treatment Specialists in Manhattan and Clifton, NJ. He is now accepting most major medical insurances, including Medicare.
Shane J. Volney
Harvard Medical School
NY & NJ PAIN SPECIALIST
Dr. Volney is double board certified in Anesthesiology and Pain Medicine by the American Board of Anesthesiology. He is currently seeing patients at our Pain Treatment Center in Manhattan and Clifton, New Jersey. Most pain treatments are covered by all major medical insurances and Medicare.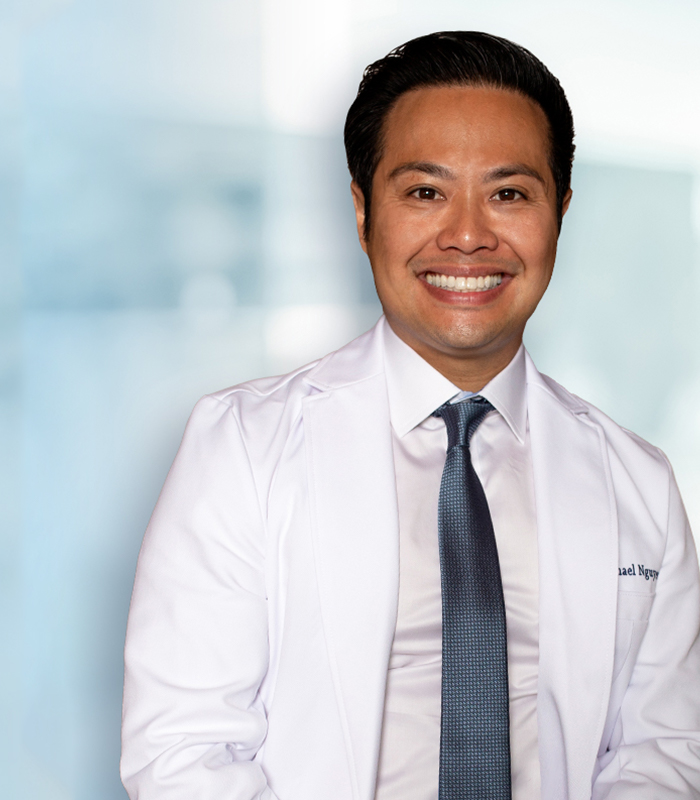 Michael Nguyen
Harvard Medical School
NY & NJ Pain Specialist
Dr. Michael Nguyen is world renowned in Pain Medicine. Dr. Nguyen completed his residency and advanced Pain fellowship training at Harvard Medical School. During his tenure at Harvard, Dr. Nguyen was awarded the "Mentor of the Year" and also "Teacher of the Year" award.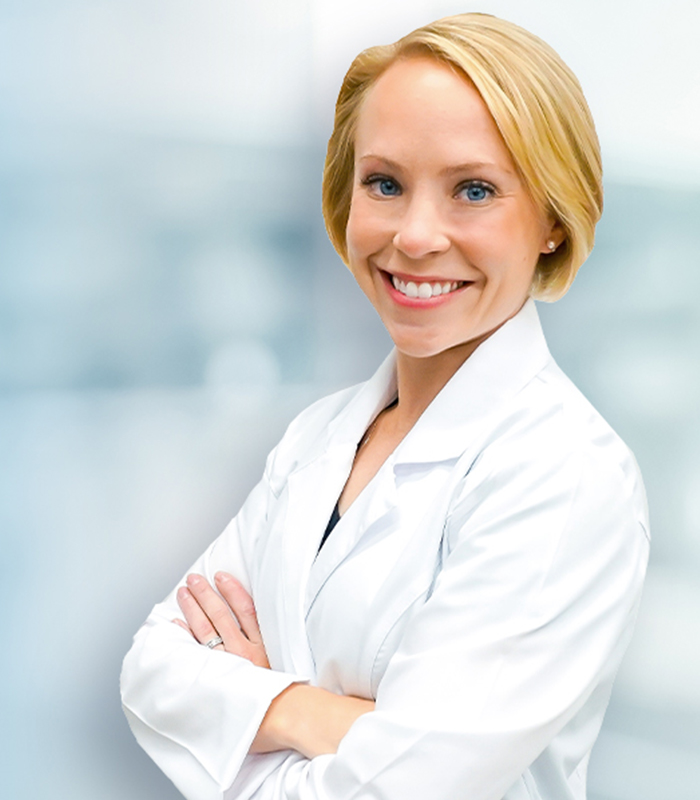 Dr. Laura Lombardi
Harvard Medical School
NJ PAIN SPECIALIST
Dr. Lombardi specializes in the treatment of back, neck, and joint pain. By using a range of minimally invasive modalities as well as advanced procedures, she helps patients achieve a pain free life without the need for surgery. Dr. Lombardi will be offering her pain treatment services in Clifton, New Jersey.
Schedule an Appointment at a Pain Doc in NYC for Highly Recommended Knee Pain Relief
ultima modifica:
2021-07-31T04:33:27-04:00
da