Meet with a Sciatica Doctor in New York to Eliminate the Symptoms of Sciatica
Lower back pain caused by sciatica makes every portion of your day excruciating. Need to sit and work on your upcoming presentation? Your once comfy desk chair now feels like it's studded with pins and needles. Want to snag a nap after all of your hard work? Sciatica pain causes you to toss and turn endlessly trying to find a comfortable position. You've been patient in your hopes that your lower back will just simply disappear, but the pain you've felt over the past few weeks is increasing. It's becoming too much for you to handle, and you decide that seeing a sciatica doctor in New York is your next best step for finding pain relief.
If you're not sure what doctor to see for sciatica, consider scheduling an appointment at Pain Treatment Specialists. Their team of Harvard trained back pain doctors are conveniently located in Midtown Manhattan, and are the best doctors for sciatica nerve pain in the area. As sciatic nerve pain specialists, our team of pain doctors use minimally invasive sciatica treatments for sciatica pain relief. In addition to their cutting-edge pain treatments, you'll find a warm and comforting environment dedicated to helping people re-capture a pain-free life. From their personal concierge service that confirms your insurance information and books your appointments, to the knowledgeable ultrasound technicians, to the compassionate pain doctors, the team at Pain Treatment Specialists strives for excellence with each consultation.
Meet the Best Sciatica Doctor in New York
Before you landed on Pain Treatment Specialists for your back pain treatment, your search history was littered with phrases like "what doctor to see for sciatica", "sciatica specialist doctor near me",  and even "how do you spell sciatica?" To be fair, it's not a word that you search for very often! Once you've gotten the spelling correct, you continue to see Pain Treatment Specialists land at the top of every "best of" list in your area. Their patient reviews are glowing, with more than one person stating that these are the best doctors they've ever visited. This is because each pain doctor at Pain Treatment Specialists is carefully vetted to ensure not only a wealth of experience and education in pain medicine, but also a commitment to quality patient care.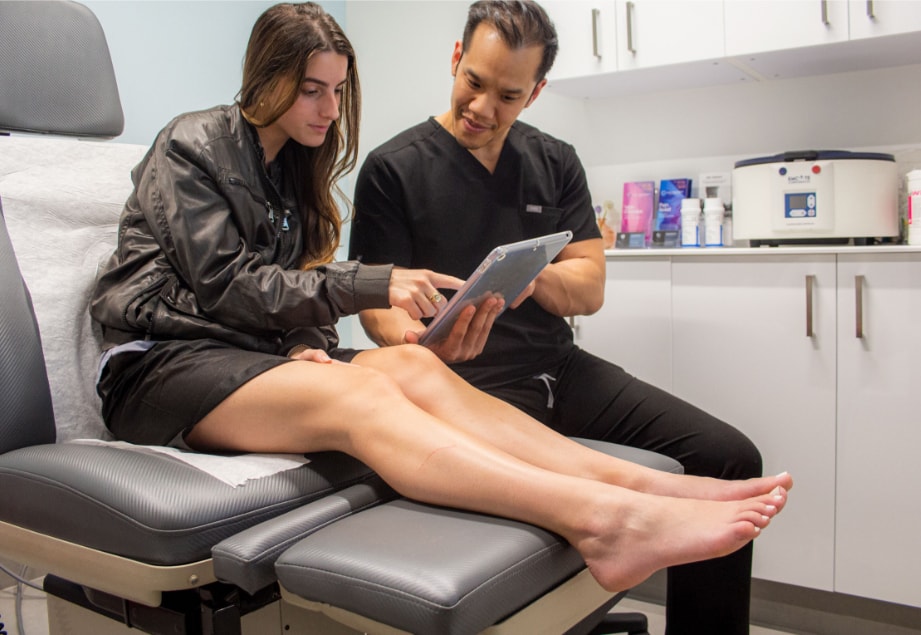 One of the top sciatica doctors in New York is Dr. George Hanna, who is the former Director of Pain Innovations and Technology at Harvard Medical School. He is double board certified in anesthesiology, pain medicine, and pain management, and served as a Clinical Instructor at Harvard Medical School for 3 years. In addition to his impressive resume, he also makes each patient feel valued and cared for at his Midtown Manhattan pain clinic. Many of his patient reviews mention how thoroughly he explains each patient's diagnosis and treatment plan, providing time and space for questions. You'll never feel rushed during your appointment with Dr. Hanna, or any of his colleagues at Pain Treatment Specialists, Their goal is your complete satisfaction with both the process of your back pain treatment as well as its results.
Book an appointment at Pain Treatment Specialists and see how our entire staff strives to return you to a pain-free life.
What are the Symptoms of Sciatica?
Your sciatic nerve is one of the largest nerves in the body, running from your lower back down through your buttocks, hips, and legs. The condition called "sciatica" occurs when something compresses or irritates the nerve. This could be caused by a herniated disc, spinal stenosis, or a bone spur. This irritation creates an immense amount of pain, and causes people to avoid activities or motions that might irritate their sciatic nerve. Is surgery for sciatica necessary? Most cases do not require surgical treatment, and are effectively handled through minimally invasive back pain treatments. However, in some rare instances where sciatica affects a person's bowels or bladder, then surgical treatments may be considered.
What are the common symptoms of sciatica? Feeling pain that radiates from your lower back into your buttocks and legs is one of the dead giveaways that sciatica is the cause of your lower back pain. Sometimes the pain is mild, and other times it is sharp, shooting, and aggressive, feeling like an electric jolt.  Sitting for long periods of time or quick movement like sneezing can also trigger sciatic pain. Many people also report feeling numbness and tingling in their lower back or legs in addition to lower back pain, which is a common symptom of sciatica.
Sciatica treatments, and real pain relief, are easily found at Pain Treatment Specialists. Schedule an appointment and address the symptoms of your sciatica with our board certified pain doctors.
Are Steroid Injections Effective for Sciatica Pain Relief?
Steroid injections are highly effective for sciatica pain relief. One procedure that uses this injection is called a lumbar epidural, which soothes inflamed spinal nerves caused by herniated discs or spinal stenosis. Medicine is delivered to the epidural space of your spine, and provides pain relief that lasts for weeks, if not months. This treatment is also used to help patients feel enough pain relief that they're able to begin physical therapy, which is another component of many back pain treatment plans at Pain Treatment Specialists.
At the best doctor for sciatica nerve pain in your area, you'll also find additional cutting-edge treatments used for back pain. A lumbar facet injection is useful at treating back pain caused by arthritis and numbs the facet joints located along the sides of each vertebra. Your back pain doctor uses a special x-ray to determine the exact location of these facet joints, and then administers a local anesthetic to block the pain.
If you're tired of feeling exhausted by your lower back pain, consult with a sciatica doctor in New York and find long-lasting solutions for your sciatica. Contact Pain Treatment Specialists, conveniently located on Madison Avenue near Grand Central Station for the city's best sciatica pain relief.
Book a Consultation
Scheduling a consultation with one of our pain treatment specialists is one of the best ways to determine the proper solution for pain relief.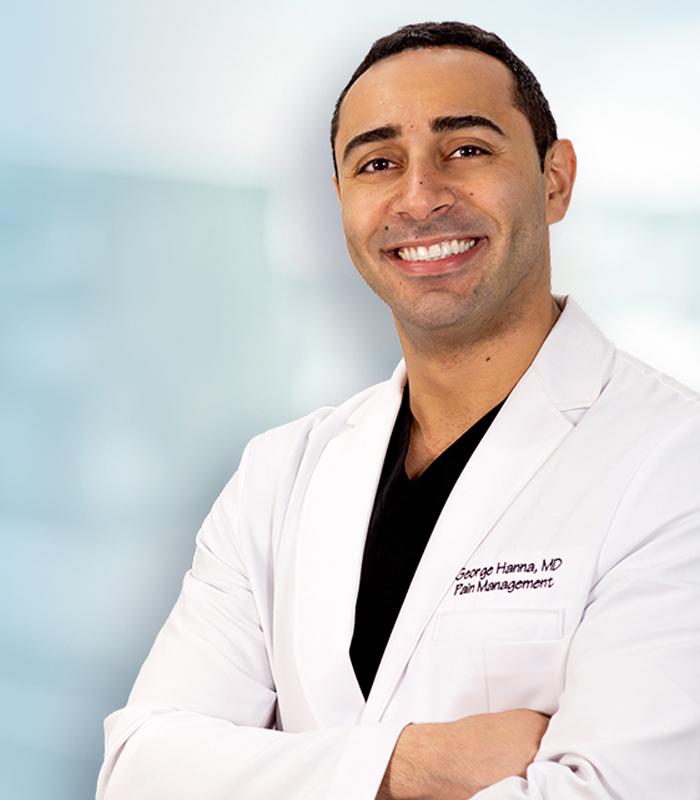 George Hanna
Harvard Medical School
Director of Pain Management
Dr. George Hanna is a nationally recognized pain management specialist and Double Board Certified in anesthesiology and pain management medicine. Dr. Hanna is currently available at Pain Treatment Specialists in Manhattan and Clifton, NJ. He is now accepting most major medical insurances, including Medicare.
Shane J. Volney
Harvard Medical School
NY & NJ PAIN SPECIALIST
Dr. Volney is double board certified in Anesthesiology and Pain Medicine by the American Board of Anesthesiology. He is currently seeing patients at our Pain Treatment Center in Manhattan and Clifton, New Jersey. Most pain treatments are covered by all major medical insurances and Medicare.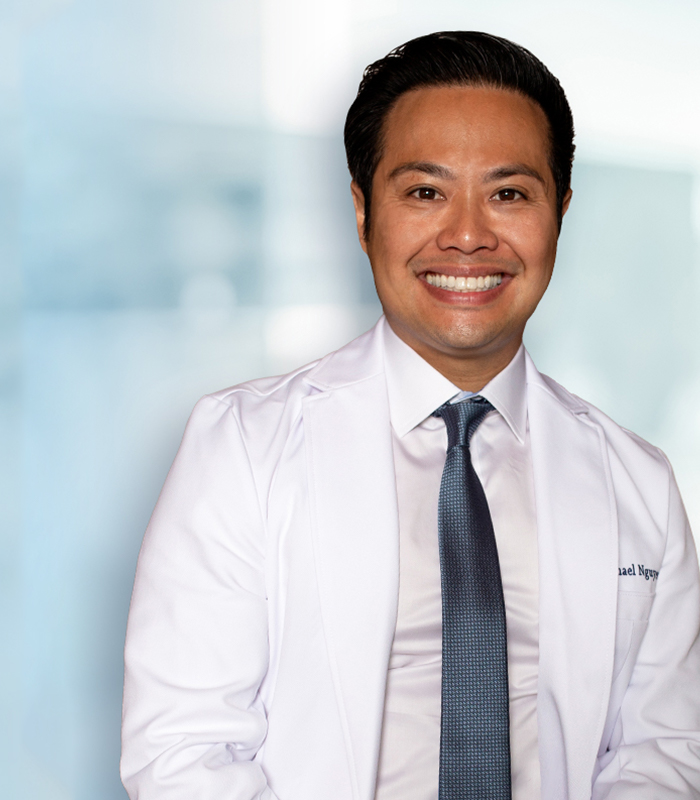 Michael Nguyen
Harvard Medical School
NY & NJ Pain Specialist
Dr. Michael Nguyen is world renowned in Pain Medicine. Dr. Nguyen completed his residency and advanced Pain fellowship training at Harvard Medical School. During his tenure at Harvard, Dr. Nguyen was awarded the "Mentor of the Year" and also "Teacher of the Year" award.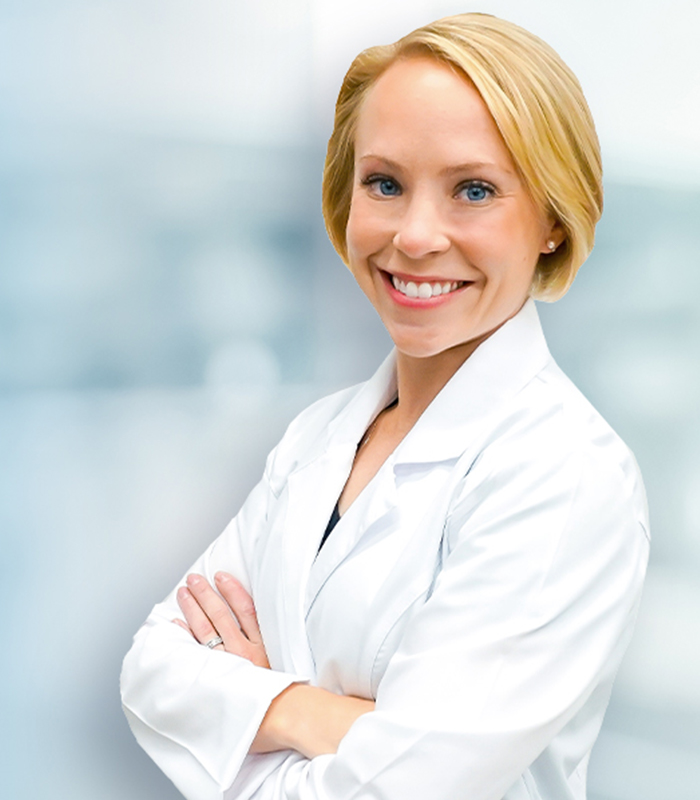 Dr. Laura Lombardi
Harvard Medical School
NJ PAIN SPECIALIST
Dr. Lombardi specializes in the treatment of back, neck, and joint pain. By using a range of minimally invasive modalities as well as advanced procedures, she helps patients achieve a pain free life without the need for surgery. Dr. Lombardi will be offering her pain treatment services in Clifton, New Jersey.
Meet with a Sciatica Doctor in New York to Eliminate the Symptoms of Sciatica
ultima modifica:
2021-06-13T07:13:06-04:00
da